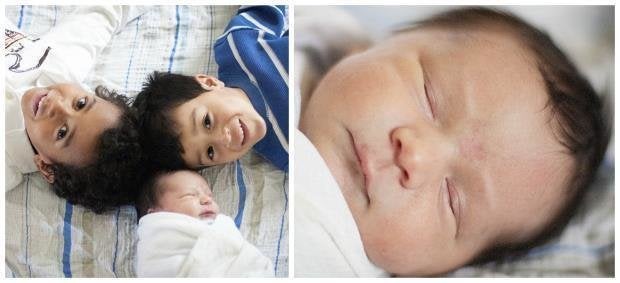 This is the twenty-seventh post of "30 Adoption Portraits in 30 Days," a series designed to give a voice to people with widely varying experiences, including birthparents, adoptees, adoptive parents, foster parents, waiting adoptive parents and others touched by adoption.
We Didn't Get To Keep the Other Baby, But This One Is Ours Forever
Written by Lindsey Redfern for Portrait of an Adoption
As I write this, I am sitting at my kitchen table waiting for the call for us to come to the hospital to meet our hopeful third son.
I'm nervous and relieved that this day has finally arrived. If I am being totally honest with myself, I am scared. We've been to this point before but experienced a reversed adoption after placement.
My heart is racing, my neck muscles are tight, my toes are tapping and I am grateful to have something to keep my fingers busy while we wait. Tears are close to the surface -- not sad tears, more sacred tears ... if that even makes sense.
I cried tears of joy and relief for her last night when she told me her contractions were getting closer and closer together and that the baby was coming soon. She is a dear friend and has been so miserable. Although so anxious, my heart and home have been filled with peace.
Right now my house is full of my husband's siblings who will be holding down the fort here while we are blessed to experience this miracle. My shoes are on and I have a bag packed -- camera, lenses, book, phone charger and candy.
We started talking to this expectant mom early this summer. She is the sister-in-law of one of my oldest friends and college roommates. I've known her family for a decade and they are such great people, fun people, loving people.
Ahhh. So anxious. Waiting. Waiting. Waiting. Checking my phone every 15 seconds. I can't believe this is really, finally happening.
We got the call about 40 minutes ago that Baby was arriving soon and were invited to come to the hospital. We shot out of bed where we were trying our hardest to catch a few last minute winks (I did eventually give in and take my shoes off) and drove to the hospital downtown in record time.
Utah has just had its first big snowstorm of the season and the trees and ground were blanketed with a covering that reminds me of frosting on gingerbread houses. The sky was clear boasting a deep plum and the stars were visible over the Wasatch Mountains. What a beautiful city to be born in.
I caught myself in the car daydreaming of how I will react when I see Cammi and the baby for the first time since her delivery. My emotions run deep. Will tears stream down my face like they did with my oldest? Will my smile stretch from ear to ear like when we saw our second son? I wonder what his hair will look like! I hope he is chubby so I can kiss on his fat neck from Day One. That really is my favorite place to kiss on babies ... OK, and on toddlers too.
Right now I write from the Labor and Delivery waiting room. We feel peaceful, and tears acknowledging the miracle of life are close to the surface. Can this really be happening again?
We just got a text message that he is here and cute ... and a boy -- something we had already known, but it made us giggle. We told Cammi and her family to take their time. Although anxious to see her and him, we are in no rush. We know how precious this time is.
Finally able to relax a little bit, I now realize that I forgot my glasses/contacts. Ha! I also forgot to wear the special jewelry I had picked out that will have more meaning along with the gift we got her and her family for placement time. Oh well, if that's our biggest concern right now, then I think we are sitting pretty.
What a miracle it is to be invited into this tender time. We have no right to be here; we're just blessed with a generous family who opted to include us. I don't know how we got so lucky.
My thoughts are turned to Cammi. I hope this experience is everything she wants it to be. As we chatted about this last weekend when we hung out, I hope she will do everything just the way she wants so she can look back with no regrets.
Cammi and my mutual friend just arrived. She's a professional photographer and Cammi asked her to document this whole event with some photos for her.
Next: "It's going to be a big week."
Monday, 5:30 am

I write now from the comfort of my home right before I crawl into bed to catch up on some sleep. It's going to be a big week.
We had the beautiful experience of being invited into Cammi's room after what she said was a really easy delivery. Good for her! Due to an infection that the baby was born with, he was rushed off for an antibiotic treatment right after delivery and she didn't get to spend any time with him. It breaks my heart. The hospital is aware of her adoption plan -- I wish they would communicate better with her and make sure she has as much time with him as possible.
After what seemed like forever, he was finally wheeled into her room. She grinned from ear to ear. I love seeing how proud she is of him. The nurse seemed to be in slow motion and in my mind I was seriously yelling at her, "Get that baby to his mama! She hasn't even held him yet!"
My husband and I tried to sit out of the way and just watch her hold him and love on him -- memories we will for sure share with him as he grows. He is so loved by his birth mother and they look exactly alike! Cammi looked radiant and is a natural. She dove right into the loving and snuggling. I loved seeing it.
Tears stung my eyes as she held him, kissed him, inspected him. She is amazing. He is amazing. We are so blessed to be part of this experience.
We didn't stay long and only held him for a few minutes before getting him back into the arms of his mother. My heart swelled as she teared up watching my husband hold her baby. She had told me weeks previous that she chose us to be the family of her baby because of my husband. Interestingly enough, it is something that all of my boys' birth mothers have expressed. After all, they are/were/could be amazing mothers, but they couldn't be a dad. I love hearing that he was the reason -- after all, I picked him to be my husband. I think all three of them have great taste.
I just got a text message from Cammi from the hospital. I have been worried sick about her as we haven't heard from her since we left the hospital. My heart beats wildly as she tells us how much she loves us and how cute Baby Jackson is getting. She adores him. We chose his name together with his middle name being Cameron after her (Cammi) and my great grandfather (a hardworking, good looking blacksmith).
It was hard to not hear from her, to wonder what she is thinking, but this time is so sacred and I would hate to impose on it. If she invites us back to the hospital, then we will go and support her. If not, then we will respect the space that she needs. We would do anything for her ... including wait patiently for her to be ready.
I am praying for Cammi tonight -- like I have done since the early summer. An overwhelming feeling of love and peace radiates in my heart and I drift off to sleep with a calmness that I have come to recognize in all the adoptions we have had that have worked out. There is clarity.
Today is my day to volunteer in my oldest son's classroom. I wake up early and get ready. Placement is scheduled for shortly after I get home at the hospital. Placement gifts, car seat, diaper bag and camera are ready to go.
I was teary on the way home from the elementary school. I cannot wait to see Cammi. I miss her! I think I will walk right into the room and give her a huge hug.
I excitedly walk into our house with a huge smile on my face and see my husband's countenance. It does not match mine.
"What?" I say. I know by the look in his eyes that it is serious.
"Placement is cancelled for today. She needs more time with him. She wants to try again tomorrow," he replies with a forced smile.
I shed some tears and lay down on the couch. Of course we wanted placement to happen today, but her feeling good with her decision is more important. If she needs more time, she needs more time and we can give that to her. We would do anything for her.
Just as was the case with our second son, his birth mother is taking him home from the hospital. Although disappointed and worried, I am glad that she was able to express what she needed. Again, good for her!
Next: "I tell her to please take all the time she needs and that she is brave."
I get a text from Cammi thanking us for being patient and understanding and saying that she just needs more time. I tell her to please take all the time she needs and that she is brave.
My husband and I pull ourselves together and pick up the kids from a neighbor's house and school. Today we will celebrate them -- the family that we do have. We head to lunch, to a movie, to a cupcake shop, take a train ride, eat dinner, play at the Apple store and head to "Disney On Ice." There is just something so healing about Disney magic. It was just what we needed.
Placement has already been pushed back two hours today. I am grateful for my mother-in-law who flew in from the East Coast last night to spend time with my big boys -- ages 4 and 5. I head to the gym and over-do it trying to work out some nerves.
I jump in the shower and after blow-drying my hair, run into our home office to ask my husband how long he needs to get ready. Not long.
"Let's get ready as fast as we can and go out to a fancy lunch." Done.
I am a ball of nerves and need the distraction. We put the car seat, placement gifts, diaper bag and camera into the car and head to one of our favorite steakhouses. I think of all the times I have been this nervous -- driving to our oldest son's birth mother's house to meet her for the first time, driving to the courthouse to hear the judge's decision during our second son's contested adoption ... and now. I think it's just because I don't know what to expect and we haven't really heard from Cammi.
We have a beautiful and tender lunch together. I thank my husband for being the rock of our family this year. In January we had a failed adoption where the expectant mom changed her mind about an adoption plan for her baby girl. In August we experienced a reversed adoption where we had to bring the baby boy back to his mother after spending 3 perfect days with him. Both events rocked me to my core.
"I could never have made it through this year without you," I confess.
"I could never make it through any year without you," he replies. I love that man.
We finish our lunch and head to the agency where she has chosen to have placement. My nerves do not settle until we turned onto the agency's road ... and then peace envelops me. Whatever happens we can handle and we will never stop loving Cammi.
We wait in another room for her to sign papers and spend some time with her baby. She is surrounded by her wonderful family. My heart breaks for her.
Next: "This girl, there are no words to express our love and gratitude."
We are invited into the room where Cammi is with her son and her family. There is a reverent feeling and lots of tears. I sit down and then think better of it and rush over to give her the biggest hug. This girl, there are no words to express our love and gratitude.
I finally take a seat next to my husband. With Cammi, her family and our caseworkers we chat and laugh and tell stories. Cammi's sister mentions something about my husband wearing flip-flops (there's snow outside!) and we all chuckle at how his footwear was actually a major hurdle in Cammi wanting to choose us to be her baby's family. It all seems so silly now. I can't wait to give her a pair of his favorite flip-flops for Christmas.
After a while, Cammi stands up and makes her way to our side of the room. She literally takes three steps forward, two steps back. With each retreat she snuggles her baby's little face, kisses his perpetually cold nose and whimpers. I have only seen bravery like this two other times, and that was with the placement of my oldest two sons.
It takes courage to break your own heart for that of your child. Hers was a hope of a family with a mom and a dad who were married and loved each other. We were blessed to be recognized as that family, that longing family.
Eventually she made her way over to us and placed her baby in my husband's arms. We stood, wept together and I hugged her with every ounce of love I could give. Together we are motherhood for this little baby.
She then pulled all four of us -- me, my husband, herself and her baby -- into a hug that I will always cherish. It was a hug of hope, of trust and unconditional love.
My husband kissed her on the forehead and said, "This is not goodbye."
I took her face in my hands and whispered, "I love you."
And then, after hugging everyone in the room one more time, she and her family left the room.
There is a bittersweet feeling at placement. The bitter is knowing and seeing the cost that such an act of bravery requires. The sacrifice is deep. The sweet is being trusted with a new perfect little life. In our case, a blessing we have been anxious to see for the last 16 months through other adoption plans that didn't work out.
We leave the agency and my husband walks ahead of me holding a new baby in a baby carrier. Tears come. It feels more real now.
I sit in the back of the car next to Jackson Cameron and stare at him. I text our family and friends, "Finally a family of five." There are tears of joy.
After having experienced a failed adoption and a reversed adoption, we know better than to tell our oldest two children about the possibility of a new sibling for them. They had planned for six months for a baby sister when that adoption unraveled in January. It's a scar we all carry although we respect her choice. But, we live and learn and in this moment that meant two things: 1) We did not prepare our home for this baby. No crib is set up. There's no formula at the house. Our next stop is the store. 2) Our oldest two children do not know that they are now big brothers to this darling baby. It's about to get crazy at our house.
We pick up formula and head home. My mother-in-law and sister-in-law keep the oldest two upstairs while we come in and get the video camera ready. I sit on the couch with Baby Jackson. My husband records the older boys' reaction as they walk down the stairs and see their baby for the first time.
"A new baby?!" They scream and joy instantly covers their faces.
There was kissing and feeling of soft baby hair. There was talk of sharing their favorite TV shows with their new baby brother. There were declarations of love, adoration and protection by these two big brothers.
And then, my oldest -- a wise 5-year-old -- said something that seemed to sear into the hearts of everyone in the room.

While loving his new brother he proclaimed, "We didn't get to keep the other baby, but this one is ours forever."
I choke out a "That's right, Buddy" and give him a squeeze. This is what Heaven feels like.
There is such a profound feeling of peace and contentment in our home. My 4- and 5-year-olds are calmer. Love permeates the walls of our home. This is the miracle of a newborn baby. They change everything.
Sitting on the couch with my three boys all snuggling into me. This is Mommy Heaven.
My phone rings. It's Cammi. She wants to come over. Right now. Dishes fill the sink, the older boys' art project for their birth mothers covers the kitchen table and my reaction is, "OF COURSE!"
About an hour later she knocks on our door with her best friend and her mother. Lots of hugs. Lots of smiles. It's so good to see her.
She stays for four hours or so -- snuggles Jackson, feeds him, changes him, takes some pictures, wonders about his furry ears, gets him in his jammies and all ready for bed. We sit on the couch and tell stories. With tears we talk about placement, the hospital and our emotions. We laugh. We tease. We stare this at amazing little life she created. It's perfect.
This is what open adoption is to me. It makes my heart soar.
I walk Cammi and her family out to her car. We hug in my driveway and she whispers a tender, "Thank you." I squeeze her tighter. She tells me that the hug I gave her at placement was the best hug she's ever gotten. I tell her I wanted her to remember it.
"Come back soon!" I yell from across the street.
"Oh I will!" She answers.
I lay in bed that night with this feeling of complete adoration for Cammi, her family, my children, all their birth mothers, open adoption and this incredible life I have been given.
This, right here, is the good stuff.