Welcome to "Moving Image," our roundup of the best photos from around the world this week.
The following images tell the story of the past seven days' most compelling events, capturing happenstance moments and monumental occurrences all over the globe.
Our picks for this week are:
1. This rainbow scene in Tokyo.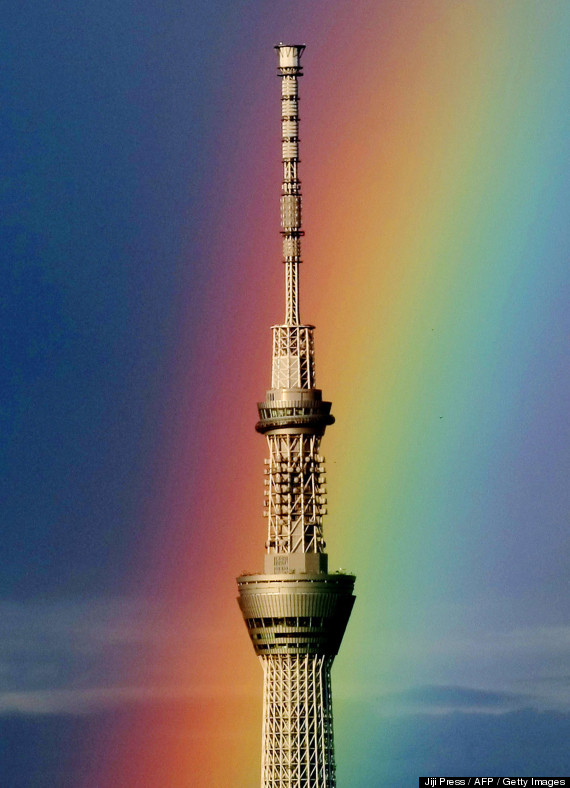 A rainbow is seen behind the world's tallest radio tower "Tokyo Skytree" in Tokyo on October 2, 2013. A large rainbow was seen in Tokyo after typhoon Sepat passed near the Tokyo metropolitan area. (Jiji Press / AFP / Getty Images)
2. This image of a smuggling tunnel between Egypt and the Gaza Strip. A Palestinian worker rests inside a smuggling tunnel in Rafah, on the border between Egypt and the southern Gaza Strip. (Hatem Moussa / AP)
3. This image of church service in Kenya.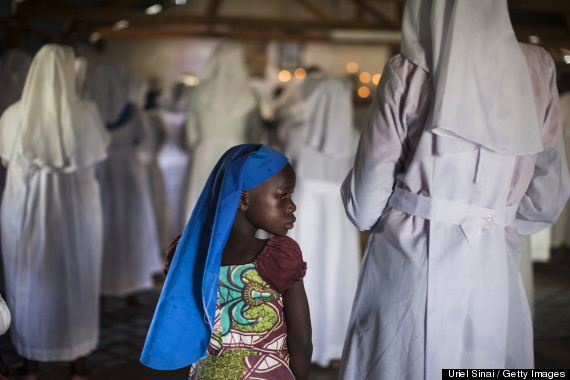 A Kenyan girl prays as they hold a church service for the victims of the Westgate Shopping Centre attack on September 29, 2013 in Nairobi, Kenya. (Uriel Sinai / Getty Images)
4. These fish in the Czech Republic.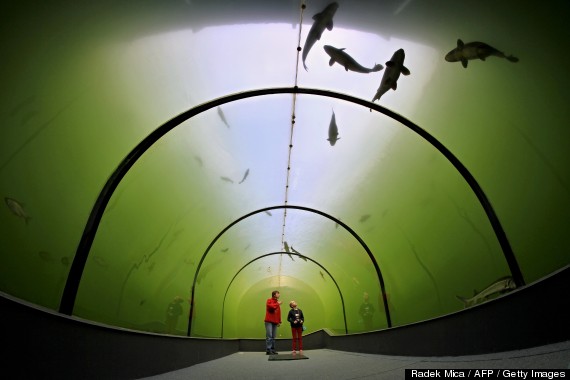 Visitors look at the fish through the transparent walls of a tunnel in a lake in Madra, 70 km southeast from Brno, South Moravia, Czech Republic on September 30, 2013. The tunnel is located at a depth of three meters, measuring eight meters in length, from which one can observe sturgeon, carp, catfish, perch, tench, eel and trout. (Radek Mica / AFP / Getty Images)
5. This harrowing image in Pakistan. A Pakistani man carrying a child rushes away from the site of a blast shortly after a car bomb exploded in Peshawar, Pakistan, Sunday, Sept. 29, 2013. A deadly car bomb exploded on a crowded street in northwestern Pakistan Sunday, in the third blast to hit the troubled city of Peshawar in a week, officials said. (Mohammad Sajjad / AP)
6. These adorable children in South Korea. Jung Ha-yoon, 2, appears to be stuck inside a ceramic container while playing with other children at the traditional sports square during the "Taste Korea! Korean Royal Cuisine Festival" held at Unhyeon Palace, also known as Unhyeongung Royal Residence, in Seoul, South Korea, on Tuesday, Oct. 1 2013. (Jacquelyn Martin / AP)
7. This miniature puppy in Canada.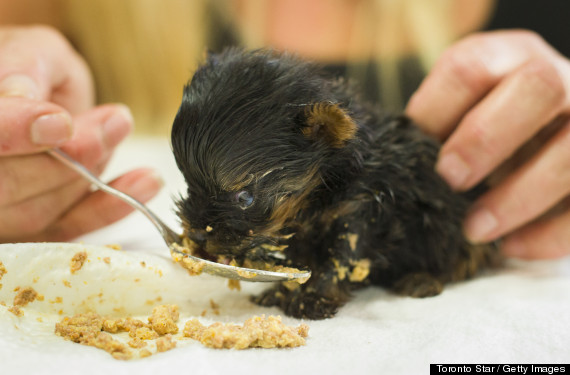 Kim Passero thinks her Yorkshire terrier puppy, born in a recent litter, might be a Guinness contender for world's smallest puppy. At 163 grams, the other puppies in the litter are around 400 grams, its mouth is too small to feed from its mother and has to be fed with a syringe or spoon. October 1, 2013. (Toronto Star / Getty Images / Bernard Weil)
8. These sheep in England. Lucy Steele of Withernsea (L) with her champion Oxford Down Gimmer Lamb and David Holt of Pickering with his 2nd place Oxford Down Gimmer Lamb during the sheep fair in Masham September 28, 2013 in Masham. (Nigel Roddis / Getty Images)
9. This ceremonial mass in the Czech Republic. Prague Archbishop Dominik Duka (C) follows after the skull of Saint Wenceslas, the patron saint of the Czech state, during a ceremonial mass on September 28, 2013 in Stara Boleslav, Czech Republic. The mass was served to mark the anniversary of Wenceslas' death. (Frantisek Vicek / Getty Images)
10. These gamers in London. Gamers wear high-definition virtual reality (VR) headsets, manufactured by Oculus VR Inc., as they play Gaijin Entertainment's "War Thunder" video game on personal computers (PCs) during the Eurogamer Expo 2013 in London, U.K., on Saturday, Sept. 28, 2013. (Matthew Lloyd / Bloomberg / Getty Images)
11. These soldiers in Germany.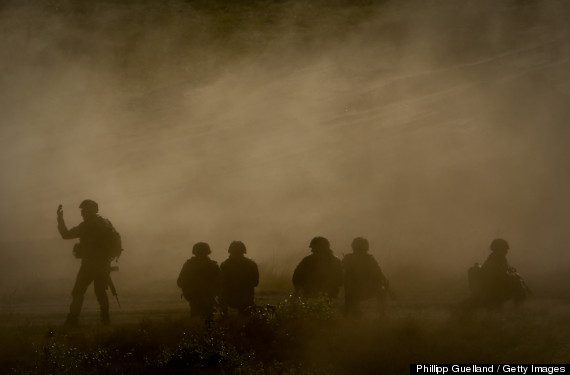 Soldiers of the Bundeswehr are silhouetted during the annual military exercises held for the media at the Bergen military training grounds on October 2, 2013 near Munster, Germany. The Bundeswehr is transitioning to a professional army as Germany recently ended mandatory military service. (Phillipp Guelland / Getty Images)
12. This snapshot of the Lincoln Memorial in Washington, DC.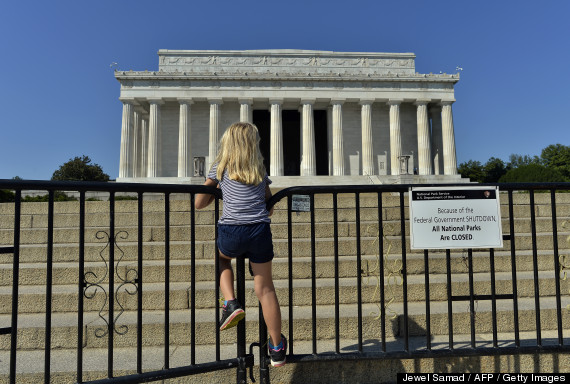 A child stands on the barricade around the Lincoln Memorial in Washington, DC, on October 2, 2013, on the second day of the federal government shutdown. (Jewel Samad / AFP / Getty Images)
13. These pigeons in India.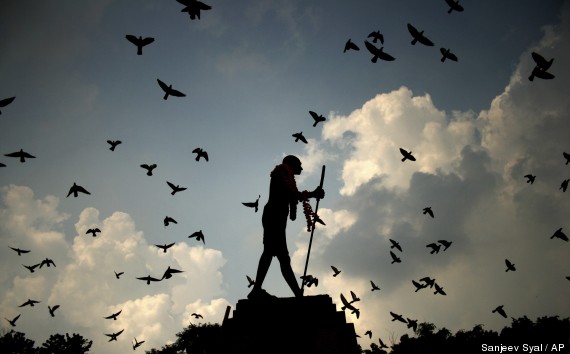 Pigeons fly behind a silhouetted statue of Mahatma Gandhi adorned with garlands on Gandhi's birth anniversary in Amritsar, India. Wednesday, Oct. 2, 2013. (Sanjeev Syal / AP)
14. This performer in China. This photo taken on September 28, 2013 shows a performer going onstage at a theater for a performance of Peking Opera at the historic Yangliqing village in Tianjin, northern China. (Mark Ralston / AFP / Getty Images)
15. This protest in London.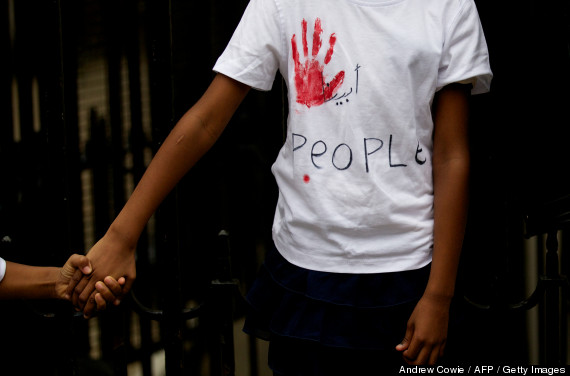 Members of the campaign group Sudan Change Now protest outside the Sudanese embassy in London on September 28, 2013 during a demonstration about the NCP regime and its brutal attacks' on Sudanese protestors taking part in ongoing fuel subsidy and anti-corruption demonstrations. (Andrew Cowie / AFP / Getty Images)
Let us know your favorite photos in the comments section and check back next week to see new images.
This story appears in Issue 69 of our weekly iPad magazine, Huffington, in the iTunes App store, available Friday, Oct. 4.