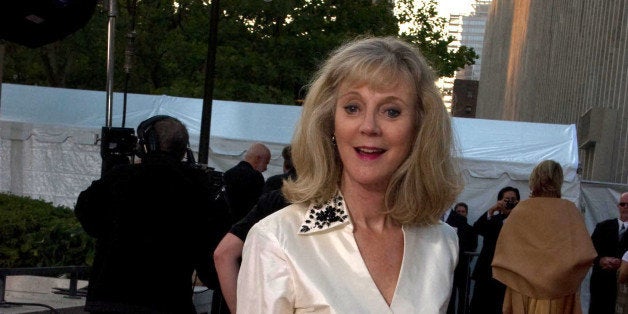 Have you noticed that lately, women over 50 are actually visible in movies and online series? Yes! We're still here -- visible, vocal and active.
I've just finished binge-watching "Grace and Frankie," and although I haven't lost a husband to his male lover, there was a lot to relate to in the strength of these two women negotiating senior singleness. Despite very different viewpoints, the two women bond and support each other. Many of may have unlikely support networks. One of my own groups consists of nine women who had nothing more in common than being available on Wednesday nights. We've been together since 2009, through moves, new jobs, weddings, deaths, retirements, vacations, illness and successes.
At the movies, Blythe Danner is also negotiating the single life in I'll See You in My Dreams. The death of her dog opens her up to a series of new experiences, including romance, that many of us can relate to. This is a realistic portrayal of a woman, full of energy and busy at 70. We revisit our equally active friends (although in a less realistic setting) in The Second Best Exotic Marigold Hotel. I love that Evelyn embarks on a new career because she needs the money and ends up wildly successful -- never mind her age. I've documented women in their eighties creating successful businesses, so it isn't a surprise in the real world, but is still a novelty on a movie.
The magnificent Helen Mirren, currently on Broadway, is enjoying her new TONY as she reminds us of Queen Elizabeth's long career. In Woman in Gold, she also reminds us that you don't have to be the Queen of England to be tenacious and tough.
Yes, I know that we still have a long way to go and that visibility doesn't automatically mean equality. Still, I want to celebrate this recognition that we're still here. You can probably add dozens of examples to this short list. And I know that everyone reading this is standing up and standing out in her own way.
Because we're still here -- and we're not going away!
Calling all HuffPost superfans!
Sign up for membership to become a founding member and help shape HuffPost's next chapter