With the final season of seminal TV show Mad Men upon us (although let's not fool ourselves, these last 14 episodes will drag on for two years), it's interesting to look back and see just how much this show has influenced the landscape of cocktail culture.
It's pretty safe to say that when the show premiered in 2007, cocktails like the Old Fashioned, and Manhattan weren't on the lexicon of most drinkers. But over the years, as we've watched Don Draper consume countless cocktails (in season three he even made an Old Fashioned for hotel baron Conrad Hilton), barflies and casual drinkers alike really started to appreciate the classics.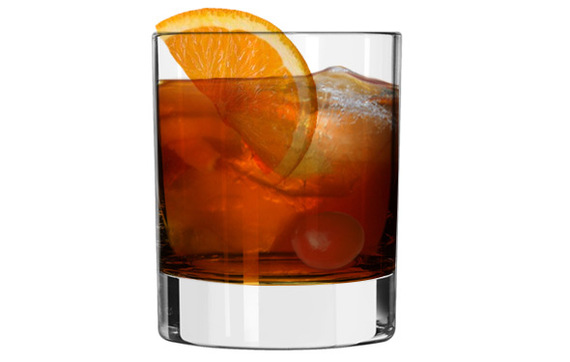 "Mad Men began at about the same time that the renaissance of true cocktails first started being recognized in the bar scene, at least in Los Angeles," says Nancy Kwon, Beverage Director and Head Bartender at The Copper Still Bar. "Prior to 2007, I would say that it was pretty rare for an Old Fashioned to even be ordered by anybody under the age of 60 in a typical bar, and even rarer still for it to actually be served anywhere close to what it was originally created like. It is still surprising to me that even now in 2014, with the huge growth in popularity of pre-Prohibition era drinks in the current bar scene, that I cannot get an Old Fashioned or Manhattan made to traditional standards in 95 percent of the bars I visit."
Personally, I'm pretty much over the Old Fashioned, and Manhattan. Just like Mad Men, they had a good run. While I can still appreciate them, I really resent it when bartenders fall back on those two standbys when suggesting a drink. It just makes them seem lazy to me. At this point and time in my drinking game, I'd much rather have a Sazerac, or Negroni -- unfortunately it's so hard to get a decent one these days. And don't even get me started on trying to find an authentic Daiquiri -- just a hint, there's nothing tropical about a traditional one.
So what's going to be the next drink du jour?
Even with the success of The Walking Dead, I haven't seen zombies take over the bar scene (bummer). Sure, 1886 Bar in Pasadena has the Smoking Jacket (an amazing mix of pot still Irish whiskey, homemade tobacco bitters, Maplewood smoke, and orange vanilla ash), probably the best libation in the Southland since 2011. But what's the next new, big thing?
Call it bold or just plain crazy, but Bowmore Scotch ambassador Johnnie Mundell and the folks at the new Tipple & Brine on Ventura Boulevard in Sherman Oaks have come up with a dozy called the Oyster Luge. It's a disservice to call this "drink" an Oyster Shooter as it goes way beyond that.
Start with a fresh oyster, get a shot of Bowmore (9, 12 or 18-year scotch), and then do the following: Step 1--take a wee sip of the oyster brine; Step 2 -- take a wee sip of the Bowmore; Step 3--lift and eat the oyster; and Step 4 -- Luge... which means pouring some of the scotch into the shell and drinking the remaining peaty juice.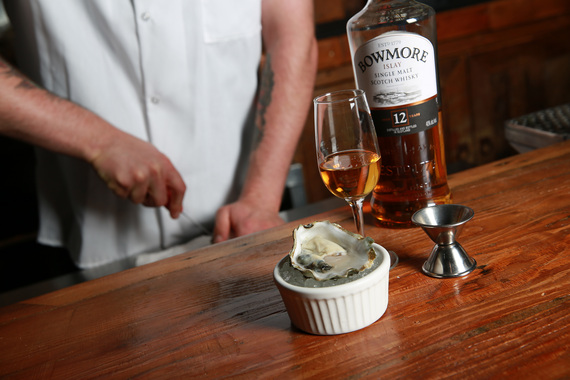 Forget about seasoning the oyster with lemon, cocktail sauce or Tabasco, drink a bit of the brine, which never occurred to me before, taste the peaty scotch (the brine actually helps neutralize some of the harsh peatiness), and then enjoy the oyster followed by an interesting and tasty shot of scotch with the remaining brine. Good stuff. Who knew?
"Bowmore is an Islay scotch that's very peaty, smoky and robust," Weisblatt explains, "and Johnnie saw guys drinking scotch out of oysters. This is more than just an occasional pairing; the two complement each other very well."
But is this really just a complicated oyster shooter?
You don't want to call it a shot and it's not a cocktail because it's consumed in different steps," Weisblatt says. "I love the ritual of it. These rituals make eating and drinking fun. And it really works. It's taking two products that are good on their own and create a lovely balance of one flavor. It's a new drinking ritual like tequila with salt and lime."
I've even seen people walk up to the bar at Tipple & Brine, order an Oyster Luge and then walk out into the night. I'm not sure if it will catch on everywhere but I love the way the bar program really thought outside the box.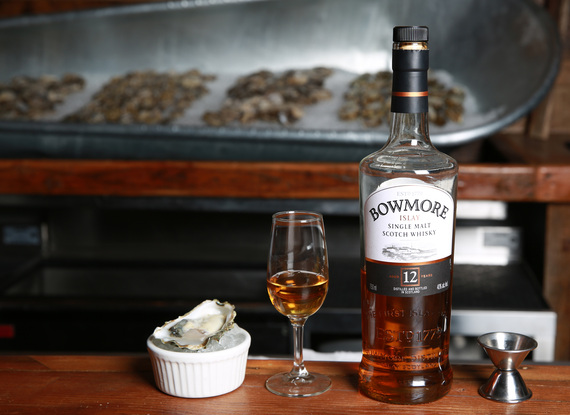 I really appreciate it when a bartender (dare I say mixologist?) gets creative. And The Copper Still's Nancy Kwon is winning over new fans with her innovative approach. And while I'm over some of the Mad Men era drinks, Kwon isn't giving up on them just yet.
"I think these are classic drinks that should never go out of style," Kwon says, "however; if you are a seasoned cocktail drinker that has been drinking the same variation of them over and over again for however many years, sure, it may get a bit boring. Although, it is important to remember that at least with an Old Fashioned, you are only referring to a certain style of drink, not a specific drink. It is sort of like ordering a steak. A steak could refer to any kind of meat, with the option of a variety of different sauces, similar to an Old Fashioned, which doesn't always just refer to a whiskey and aromatic bitters drink, but could be used as a template for any spirit and any type of bitters. You can even play with many different types of sugar while still making a technically correct and proper Old Fashioned, and with the variety of bitters and spirits we have nowadays, the delicious possibilities are endless!"
Tipple & Brine is located at 14633 Ventura Blvd. in Sherman Oaks.
The Copper Still Bar is located at 4485 Beverly Blvd.