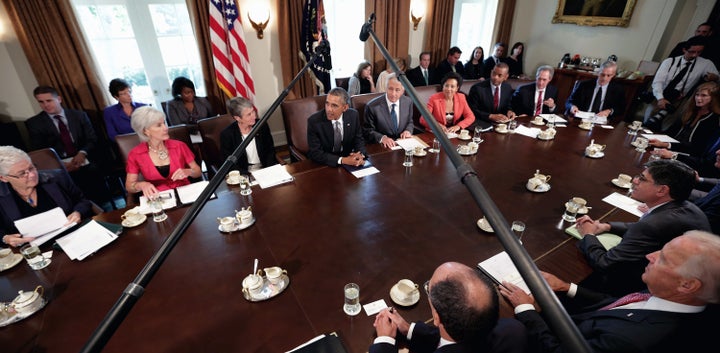 Eight years ago, when our kids were 7, 4 and 1, their dad started work in the West Wing of the White House. They are now high school, middle school, and elementary aged kids. None of them have clear memories of their dad's professional life prior to these eight years.  As our time in the White House comes to a close, I've thought a lot about what they have learned from this experience, aside from witnessing long hours and missed family events.
It will be awhile before they understand the importance and intricacies of policies made in the Obama administration, even though the immediate impact of these years is already apparent. They've had unique opportunities, like meeting Justin Timberlake and playing basketball at Camp David, that any kid would remember. But the life-changing opportunity has been meeting countless talented, hard-working men and women who make up our federal government, not just in Washington but across the country.
We met just a small number of the more than 4 million permanent employees in the federal government and I'm not naïve to think that every employee is extraordinary. But those we did meet – and they were many, from all walks of life – are remarkable public servants. Several, in fact, have served as role models for our children. These are experts who could have worked fewer hours, for more pay, in more hospitable surroundings in the private sector. They chose instead the federal government. Judging from the ridicule they endure from Congress and the intermittent pay freezes that have had their salaries grow at less than inflation, they surely didn't select this for fame or fortune. 
Watching them work and hearing their pride in that work makes clear that they did it because they want to be part of something bigger, to look out for the public, and work on behalf of its security, opportunity, and freedom. And from what my kids have seen, federal employees are doing that.
Our kids saw National Park rangers, stewards of the world's largest collection of federal lands and national parks, who shared what young people can do as Junior Rangers to help protect our natural resources, and explained to us their work to control invasive species and combat the effects of fire and drought.
They met members of the Armed Forces who, as we learned in visits to Fort Belvoir, Fort Mead, Joint Base Andrews, Joint Base Myer-Henderson Hall, and the hallowed grounds of Arlington National Cemetery, dedicate years to the intense training, teamwork and reverence for their fellow comrades at arms that undergird the best military in the world.  And we have seen our friends over these eight years move their families at least every three years― just one indication of the intense sacrifices military families endure to make our military work. 
They got to know researchers at the National Institute of Health (NIH) who talked to us about the new treatment options they are working on for patients with life threatening diseases whose options have been exhausted and hope for a healthy outcome otherwise beyond reach.
They learned from State Department employees who discussed youth exchange programs they have with over 160 countries, and programs that empower girls and women around the world.
They met doctors and nurses at the Veterans Administration and Walter Reed who discussed increased knowledge about and development of new brain treatments benefiting our wounded troops – and which at the same time advance our understanding of other brain injuries and concussions in children like them.
They have been greeted by political and career staff of the White House who showed us – and 4.5 million other visitors over the past eight years – the beauty and history of the president's home. They saw a staff that includes a pastry chef who organized the baking of over 25,000 elaborately decorated holiday cookies each December, butlers who have worked for first families for several decades, establishing trust with presidents and their families, and a ground's crew that treats the eighteen acres of the White House ground as lovingly as they would their own home.  
And our kids spent time with Secret Service agents and Uniformed Division officers who never complained about being away from their families over holidays, and whose hard work allowed so many to meet their president and first lady at events around the country.
Our kids experienced a core part of what makes this country strong: a federal government made up not just of institutions, but of people who make the institutions work.  If more Americans could see what we've seen, I am confident they would respect and value that this federal government is not made up of faceless bureaucrats but of passionate, committed, and talented patriots.  That is a lesson from one mom and three kids that I hope will reverberate for families across the country.
Kari Hillstrom McDonough is the co-founder of Vets Community Connections. She is married to outgoing White House Chief of Staff Denis McDonough.
Calling all HuffPost superfans!
Sign up for membership to become a founding member and help shape HuffPost's next chapter
BEFORE YOU GO