Not since the New England Patriots won their second consecutive Super Bowl in 2004 has the NFL seen a back-to-back champion team. The 6-4 Seattle Seahawks -- with newly inked All-Pros in defensive backs Earl Thomas and Richard Sherman -- entered this season as the prohibitive favorite. Quarterback Russell Wilson was back, as was his fellow Pro Bowler, running back Marshawn Lynch. The offense promised to be more explosive with the healthy Percy Harvin on the perimeter as well.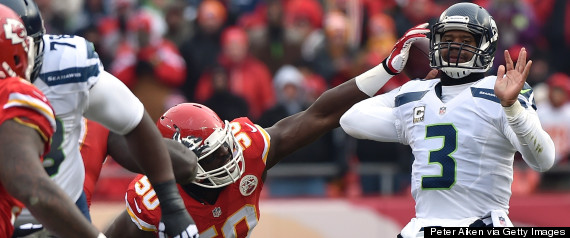 We've nearly reached Thanksgiving, and one of the game's all-time defenses has regressed to where it now ranks 12th in points allowed and has among the lowest turnover and sack ratios in the league. Perhaps even worse, this is a defense that cannot get off the field, ranking 23rd in third-down conversion percentage. The loss of free agent Chris Clemons certainly hurts, but the duo of Cliff Avril and Michael Bennett -- who led the team in sacks last season -- also have not been able to generate the same pass rush they did in 2013.
Most glaring of all has been the play of Sherman. Whether or not you believe him to be the game's premier cornerback, there's no denying that teams have gashed him over the top and in underneath coverage. New York's Odell Beckham, Jr. recently got Sherman on a go route for 44 yards, as have Carolina's Kelvin Benjamin and Dallas' Terrance Williams. Sherman remains an elite corner by most metrics, but he rarely got beat deep last season -- when, to be fair, the Seahawks' defense had a much better pass rush.
"We can go either way," Thomas said earlier this week, following Seattle's 24-20 road loss to Kansas City. "We can run, or we can stay on track. I think we'll stay on track."
On the other side of the ball, Wilson is dealing with a myriad of issues on an offensive line that cannot stay healthy and cannot pass protect. Despite ranking first in quarterback rushing by a full 249 yards, the 25-year-old Wilson has been under duress all year. That has led to several errant decisions in the pocket, compounded by receivers who are rarely open and by an offensive coordinator, Darrell Bevell, who routinely strays from the running game inside the 20s. During Sunday's game, we saw a fade route to Doug Baldwin on fourth-and-goal from the 2. It was as ridiculous as it sounds.
Moreover, the presence of the electric Harvin didn't change a thing because he was sparingly used down the field in Bevell's offense. The trio of Doug Baldwin, Jermaine Kearse and Paul Richardson have been bottled up at the line of scrimmage, and Seattle ranks near the bottom of the league in tight end usage, and did so even before Zach Miller suffered an injury. Make no mistake: Wilson has been very good at times, but he ranks a mere 23rd in yards per attempt and 14th in total QBR. To put those numbers in perspective, consider that he ranked 4th in YPA and 12th in QBR just last season.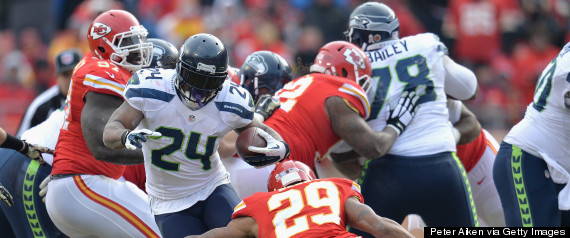 From an offensive perspective, the only real saving grace for head coach Pete Carroll and his team has been the stellar play of Lynch (above), who remains a workhorse back willing to absorb every last hit for the extra yard. And yet each week seems to bring some fresh new drama for the four-time Pro Bowler. Lynch, who held out of training camp this summer because of a contract dispute, was irate when the front office dealt Harvin, and recently drew the opprobrium of fans when he refused to join the team at halftime while they were in the process of losing to the Chiefs.
"Do I think I'll be gone after this season?" Lynch told NFL.com on Sunday. "I don't know, man. The Seahawks, their front office gets in the media; they talk a lot. I don't talk too much. I just play the game."
As we look forward, this remains a team in flux, lacking the definitive identity of the 2013 squad that lost just three games en route to a world championship. Arizona is 9-1, and even without the injured Carson Palmer, they are in firm command of the NFC West by three games. The Seahawks will face a murderers' row of teams in these final six weeks, including home-and-aways with both the Cardinals and the 49ers, along with another eastern swing, this time to Philadelphia in December. Carroll, at the helm, has shown that he can be marvelous in the closing weeks, with a combined 9-3 record for the final six games of the past two seasons. All is certainly not lost, but right now the Seahawks are a team on the outside looking in when it comes to the postseason. A lot will need to change, and fast.
A previous edition of this article incorrectly stated that Chris Clemons led the Seahawks in sacks last season. It now accurately reflects that Michael Bennett did so.
Email me at jordan.schultz@huffingtonpost.com or ask me questions about anything sports-related at @Schultz_Report, and follow me on Instagram @Schultz_Report. Also, be sure to catch my NBC Sports Radio show "Kup and Schultz," which airs Sunday mornings from 9 to 12 EST and 12 to 1 for fantasy football, right here.
Related
Popular in the Community