It's possible to create a neat and tidy map tracing the progress of American art over the last 50 years. Yes, you can draw some sort of shape connecting Pop Art to Minimalism to Conceptual Art, highlighting the famed (often white and male) artists associated with each.
It's certainly viable, and often probable, that American art will be recorded and remembered in this way. But it's a stagnant, small portrait compared to the one offered by the RISD Museum in their current exhibition "What Nerve! Alternative Figures in American Art, from 1960 to the Present." Instead of rendering a crisp guide from Art Then to Art Now, RISD presents a manic smorgasbord of artists, collectives and influences from creative hubs across the country. It's messy, aggressively so, and we suspect the artists on view wouldn't prefer it any other way.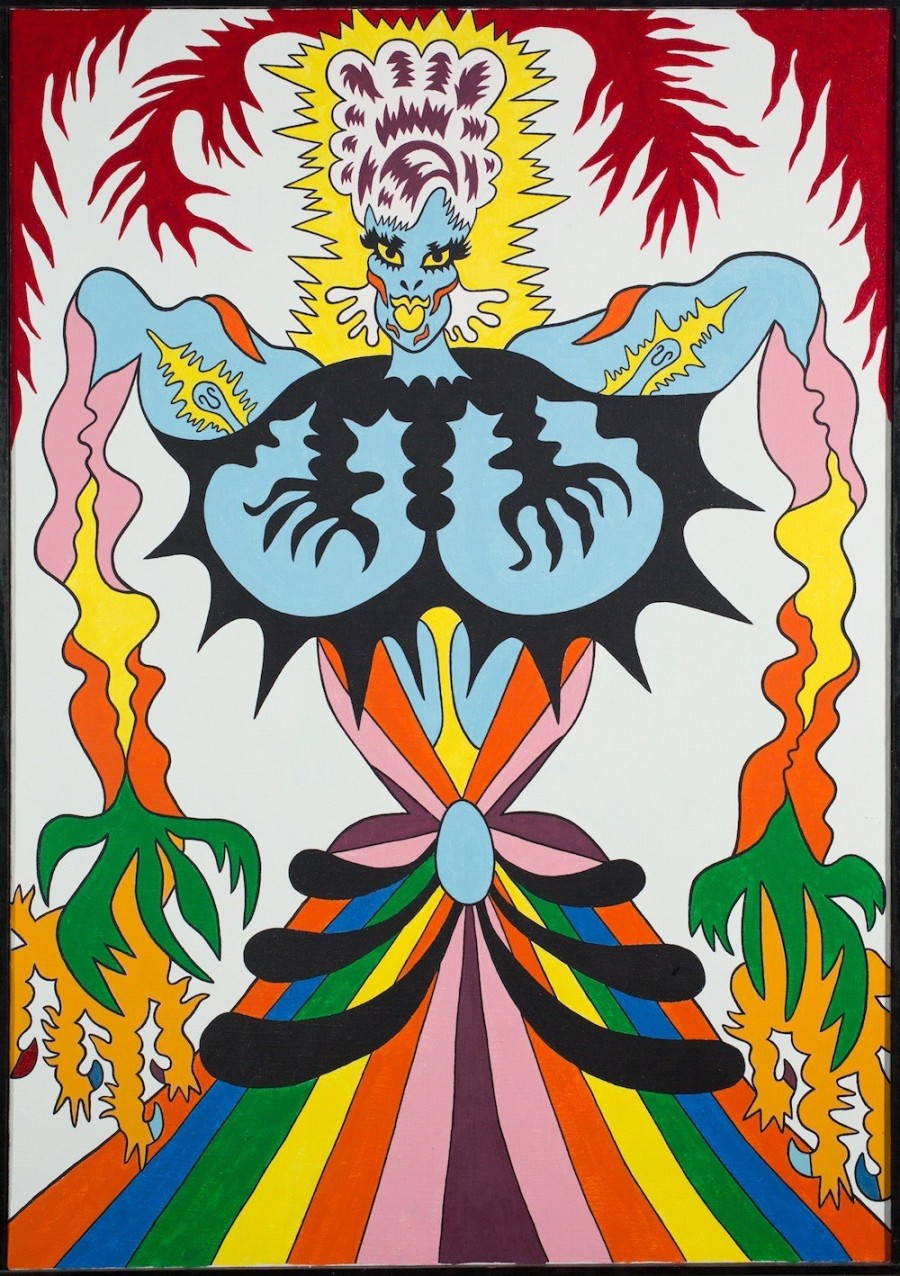 Karl Wirsum, Show Girl I, 1969. © The artist. Courtesy Karin Tappendorf.
"What Nerve!," curated by Dan Nadel and Judith Tannenbaum, features 180 artworks -- a multicolored serving of paintings, sculptures, drawings, prints, photographs, and videos, all aware of and decidedly distant from the predominant trends of modern art, namely the focuses on irony and theory. The exhibition is divided into four mini-shows, each focusing on a different movement: the Hairy Who (Chicago, 1966–1969), Funk (San Francisco Bay Area, 1967), Destroy All Monsters (Ann Arbor, 1973–1977), and Forcefield (Providence, 1996–2003). The show also spotlights six artists working outside of (but still influential to) the groups above: H. C. Westermann, Jack Kirby, William Copley, Christina Ramberg, Gary Panter, and Elizabeth Murray.
It's a lot to cover, and the jam-packed exhibition overview mimicks the sprawling range and grotesque detail of the displayed artworks in intensity. The exhibited artists do converge in certain ways -- their interest in the body, sexuality, disguise and politics, and their inspired allegiance to outsider art forms like comics, folk art and pottery. As Ken Johnson described in The New York Times: "They're everywhere, male and female, busily burrowing in a zillion directions. They're painting, drawing, doodling, whittling, tinkering and making comic books, zines, animated videos and Internet whatsits -- all, it seems, with no objective other than to just keep doing whatever they're doing."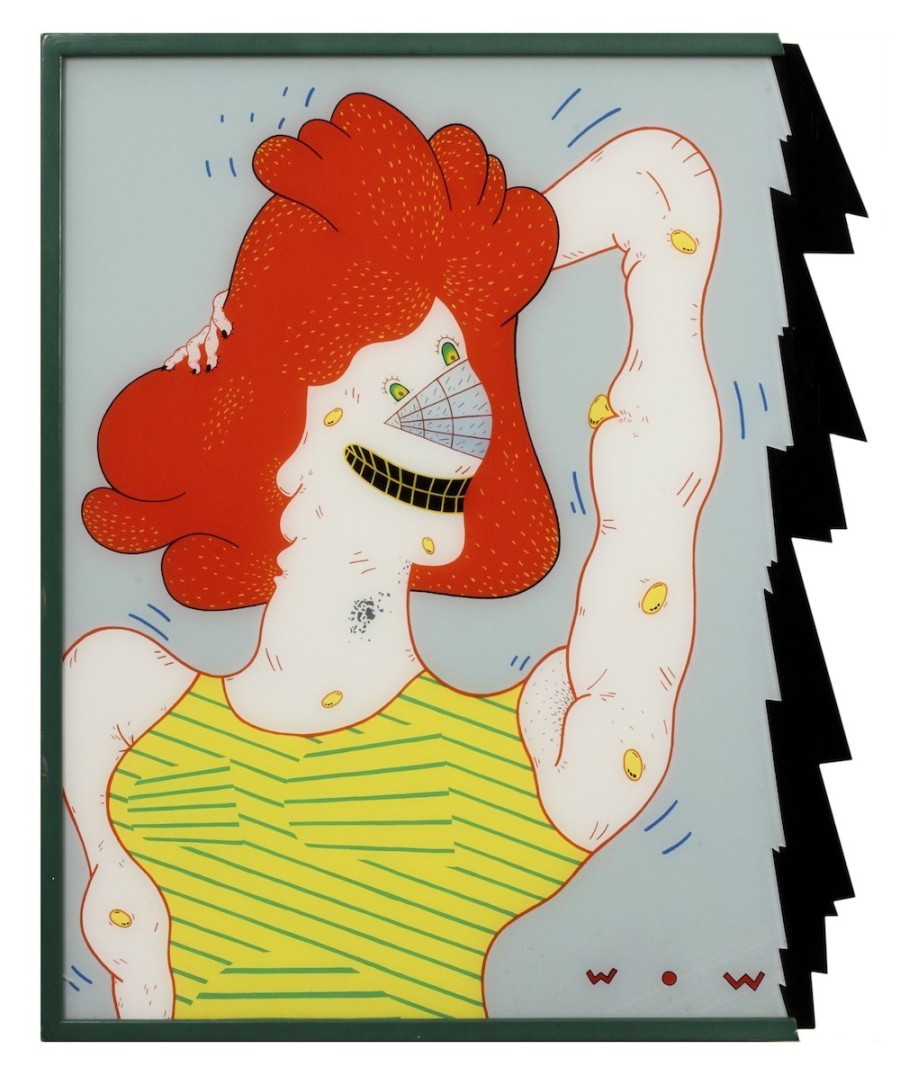 Jim Nutt, Wow, 1968. © The artist. Collection Karl Wirsum and Lorri Gunn
The Hairy Who, composed of School of the Art Institute of Chicago grads including Jim Falconer, Art Green, Gladys Nilsson, Jim
Nutt, Suellen Rocca, and Karl Wirsum, created artworks defined by visual puns, buzzing colors and electric lines. Nutt's "Wow," made in 1968, depicts a squiggly red head who seems to dwell somewhere between Picasso's Cubism and "Rocko's Modern Life." The abstracted figure is at once babely and grotesque, with wrinkles, hairs and mysterious yellow spots adorning her lumpy, light flesh.
The Funk artists on view, Robert Arneson, Joan Brown, William T. Wiley, Peter Saul, Roy De Forest, Robert Hudson, and Peter Voulkos, were never quite a cohesive "group," but all showed at the same Funk exhibition in 1967. Brown's 1962 sculpture "Fur Rat" is on view, a wood and chicken-wire creature inspired by a dream. The mutilated, rough skeleton beneath the critter's furry pelt serves as a metaphor for the human condition.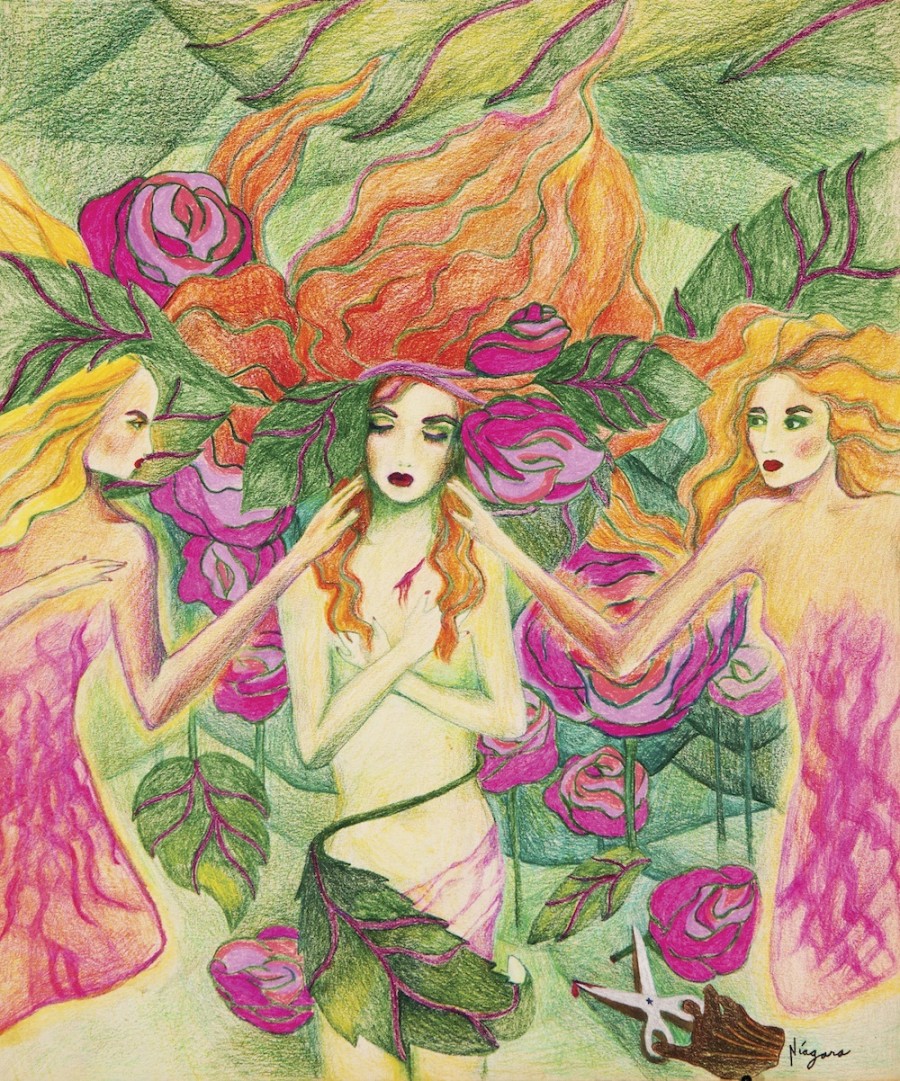 Niagara, Not According to Plan, 1974. © The artist. Collection Dan Nadel.
Ann Arbor's Destroy All Monsters was influenced by the Hairy Who and the Funk worlds, combining these artistic movements with aspects of sleaze culture to craft a particular brand of anarchic post-punk art. While Mike Kelley went on to become a contemporary art hero of Los Angeles, this exhibition focuses on his early work at the University of Michigan with Cary Loren, Niagara and Jim Shaw, much of which revolved around zines and musical performances.
Niagara's colored pencil piece "Not According to Plan," made in 1974, captures goth art at its very beginnings. Hippie-dippy goddesses frolic nude in a field of flowers, while a bleeding wound and lurking pair of scissors add a macabre element to the scene.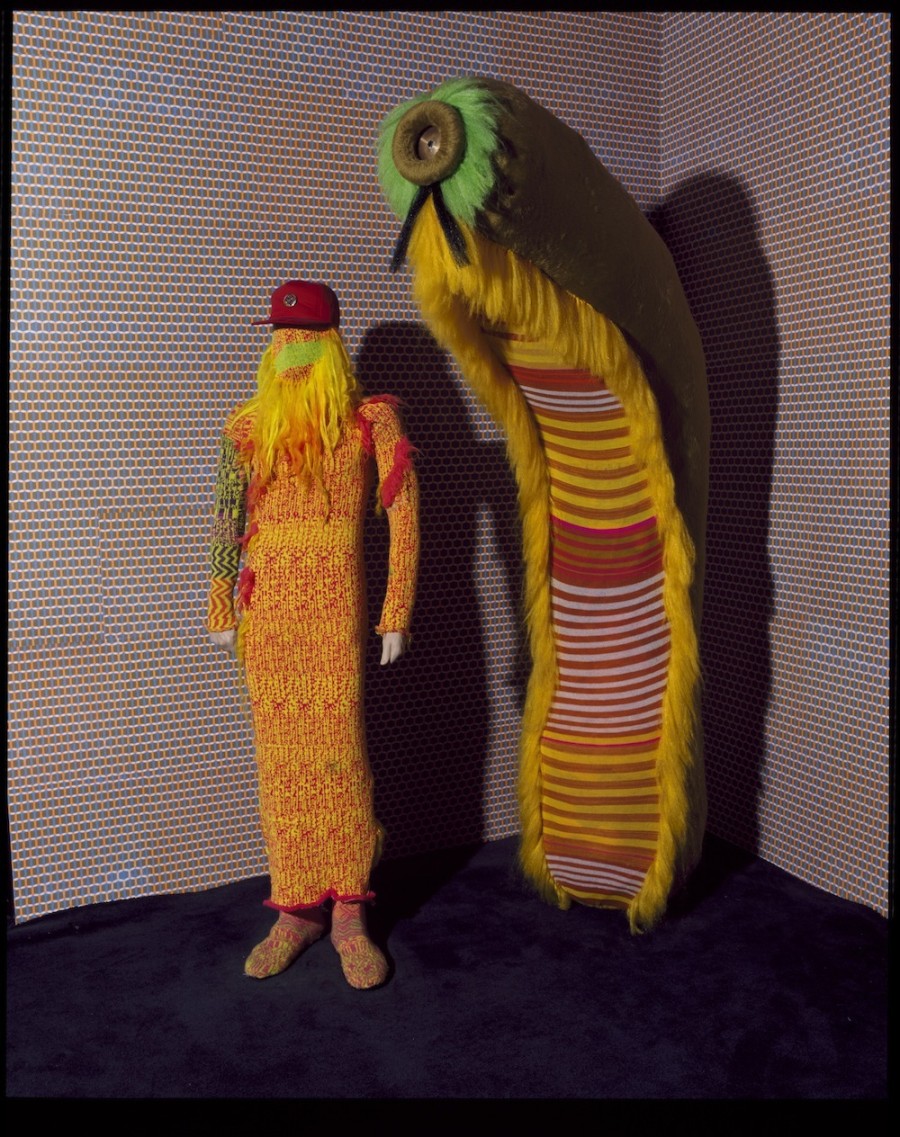 Forcefield, Installation view of Third Annual Roggabogga, Whitney Museum of American Art, 2002. © Hisham Bharoocha. Photo by Hisham Bharoocha.
And finally, there's Forcefield, a group of RISD students consisting of Mat Brinkman, Jim Drain, Leif Goldberg, and Ara Peterson, all centered around the sprawling Providence-based live/work space Fort Thunder. "Forcefield has to do with how it's not this or that," founding member Ara Peterson explained to The Boston Globe. "It's constantly failing at being one thing or another."
The group's output includes eight albums of music and a handful of singles and compilation tracks on cassette, vinyl, CD-R,
and CD. But the show-stealers are the knit ensembles donned during their performances; proto-Nick Cave's soundsuits, disguises as cozy as they are alien. The knits were displayed at the Whitney Biennial in 2002.
The whole show, as you may have guessed, is a doozy. It rambles on and squishes things together and mixes and matches disparate parts, as untamable and exaggerated as the works on view. "What Nerve!" opens up the narrow trajectory of art history into a dizzying knot of possible interconnections and influences, suggesting the shapes and lines formed by art history are works of art in themselves. Your eyes and your brain will be spinning for days.
"What Nerve!" runs until January 4, 2015 at the RISD Museum in Providence. See a preview below.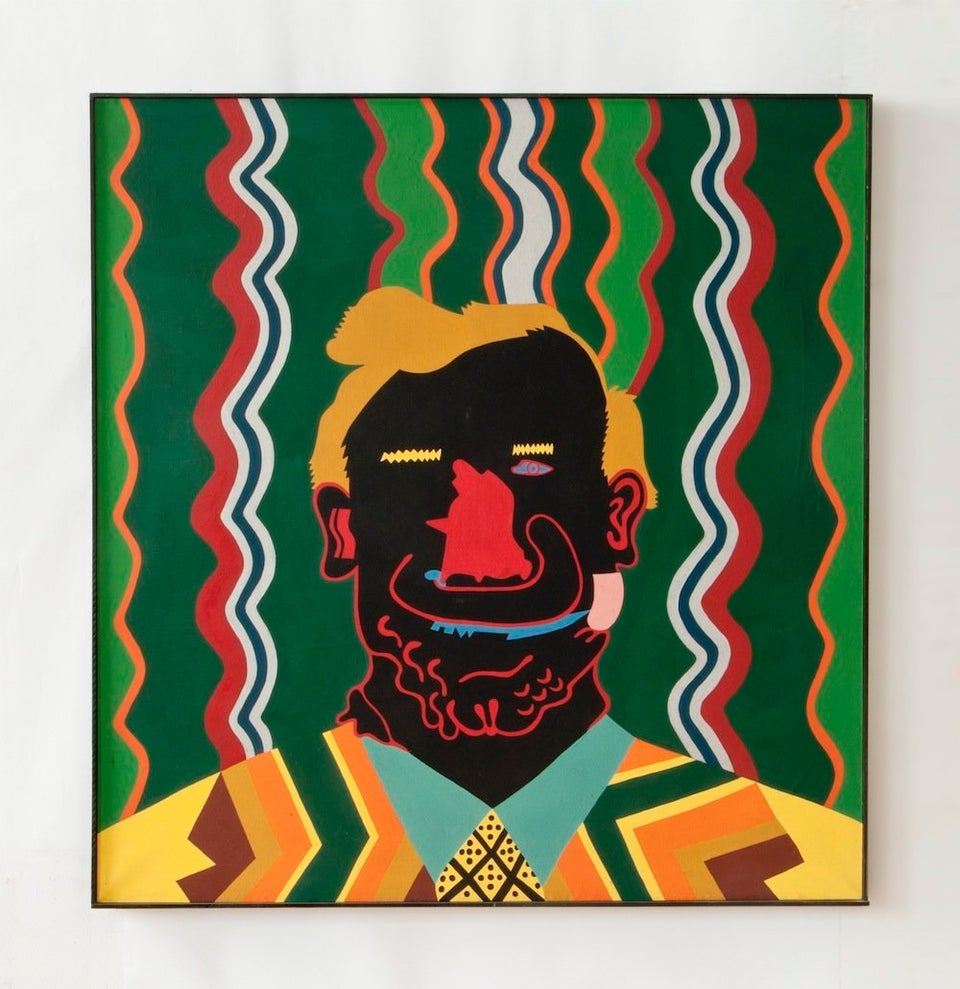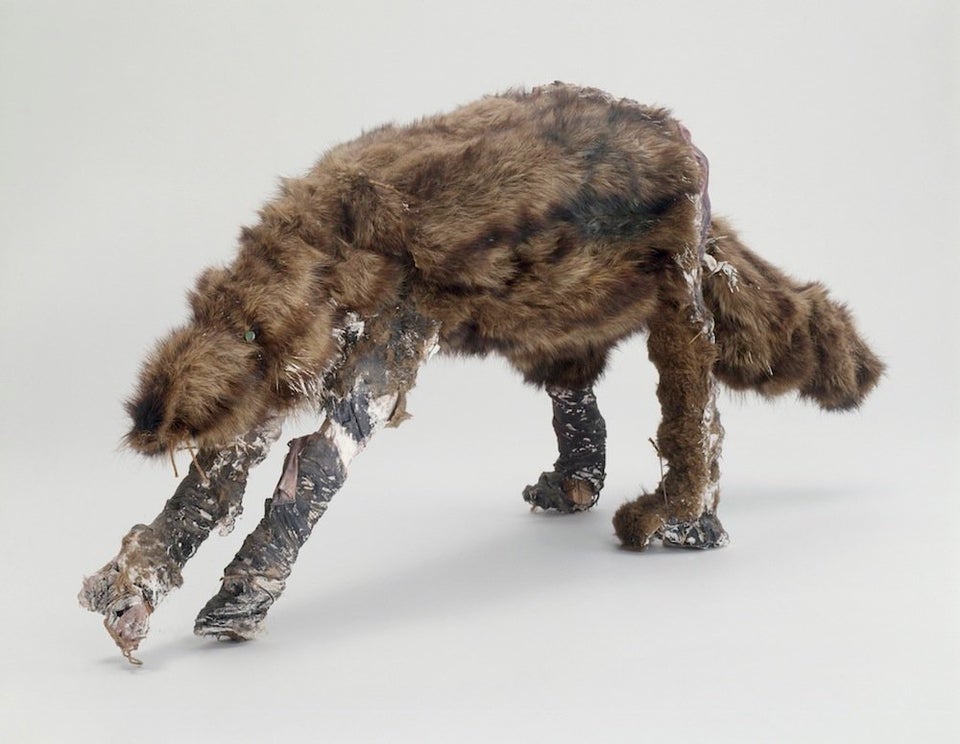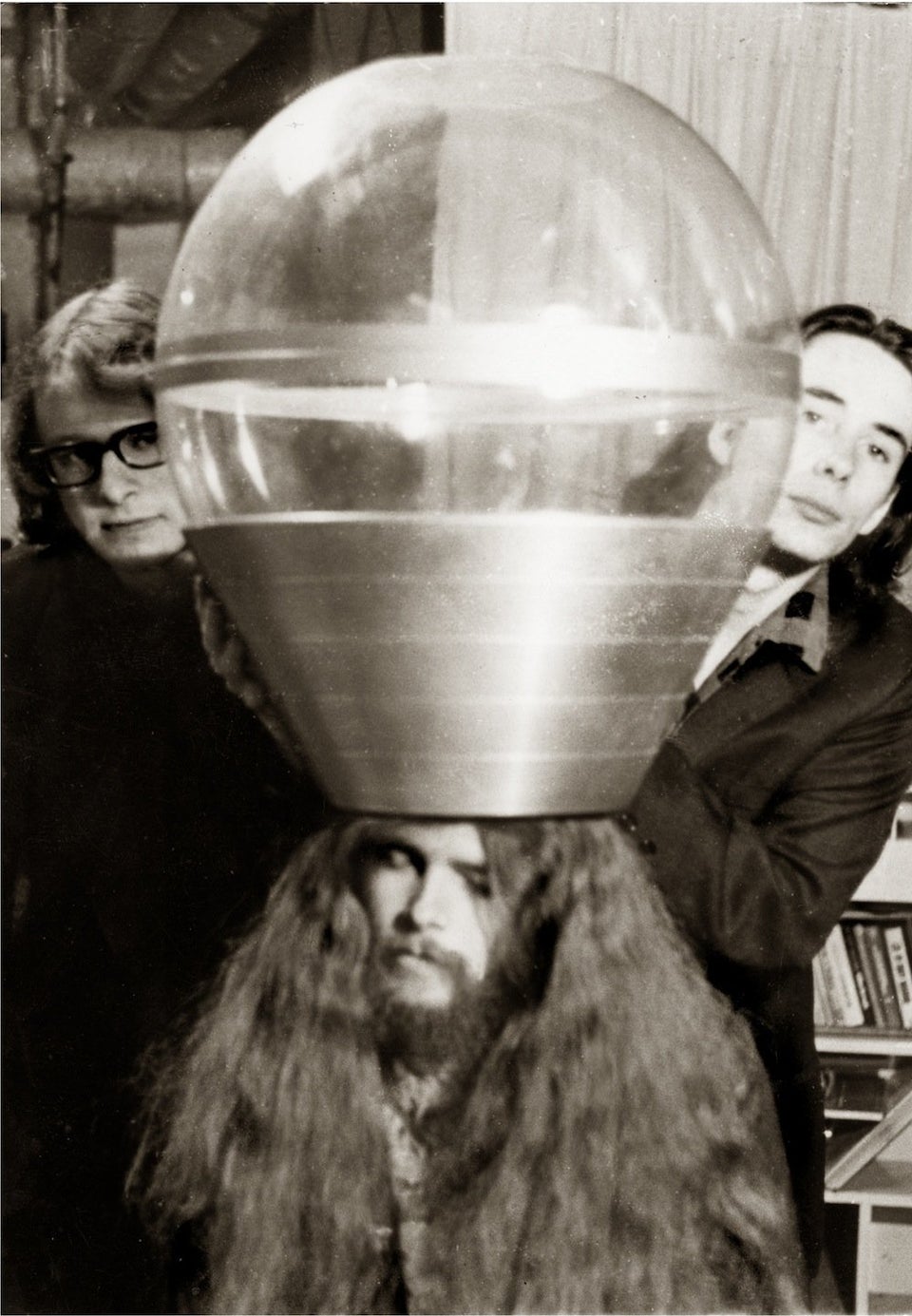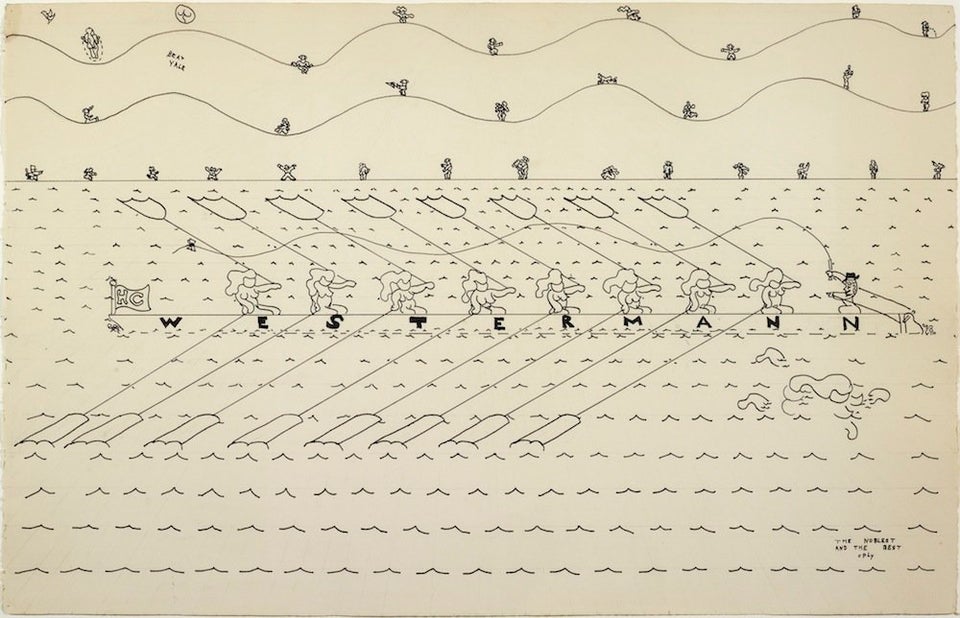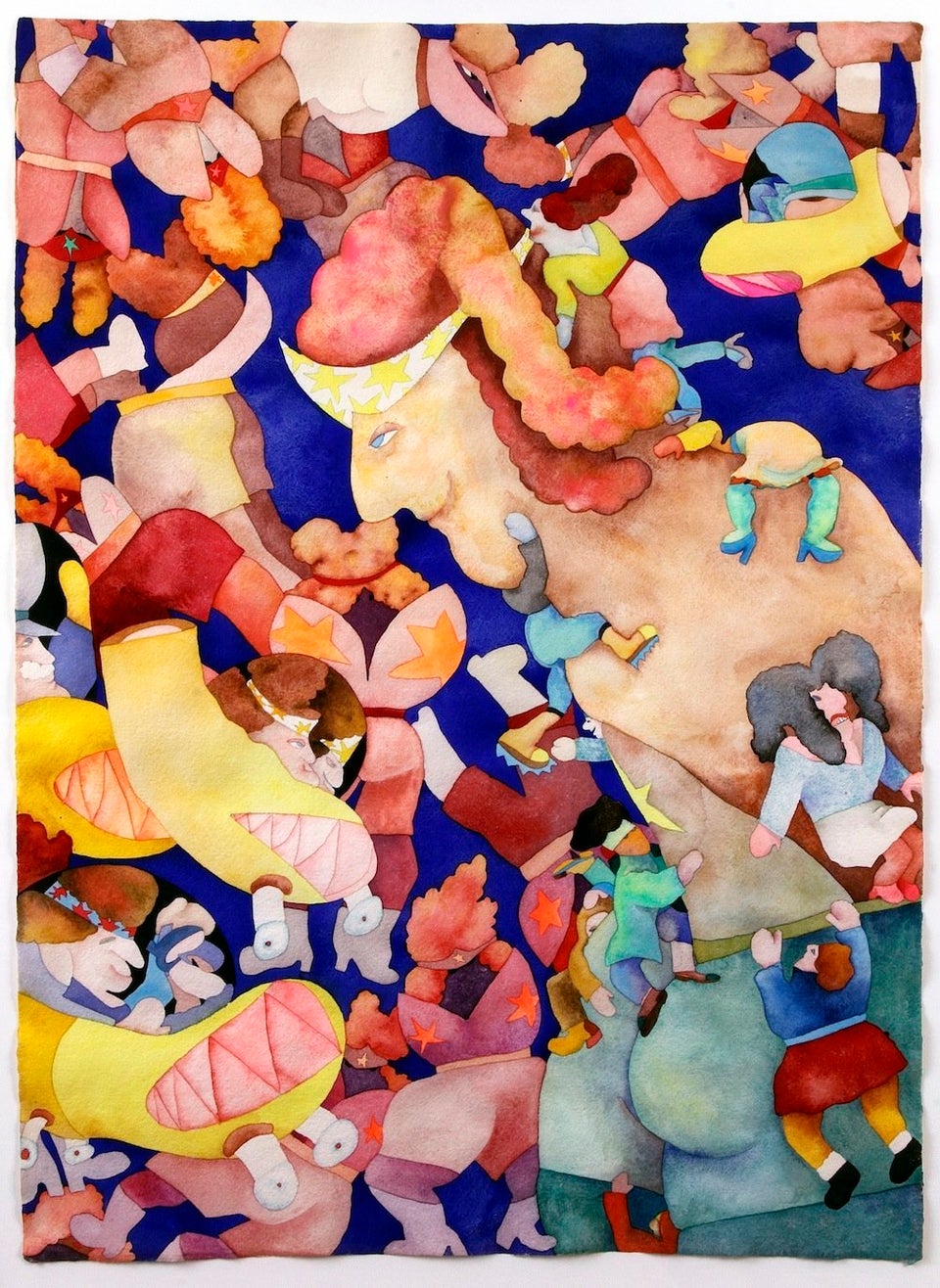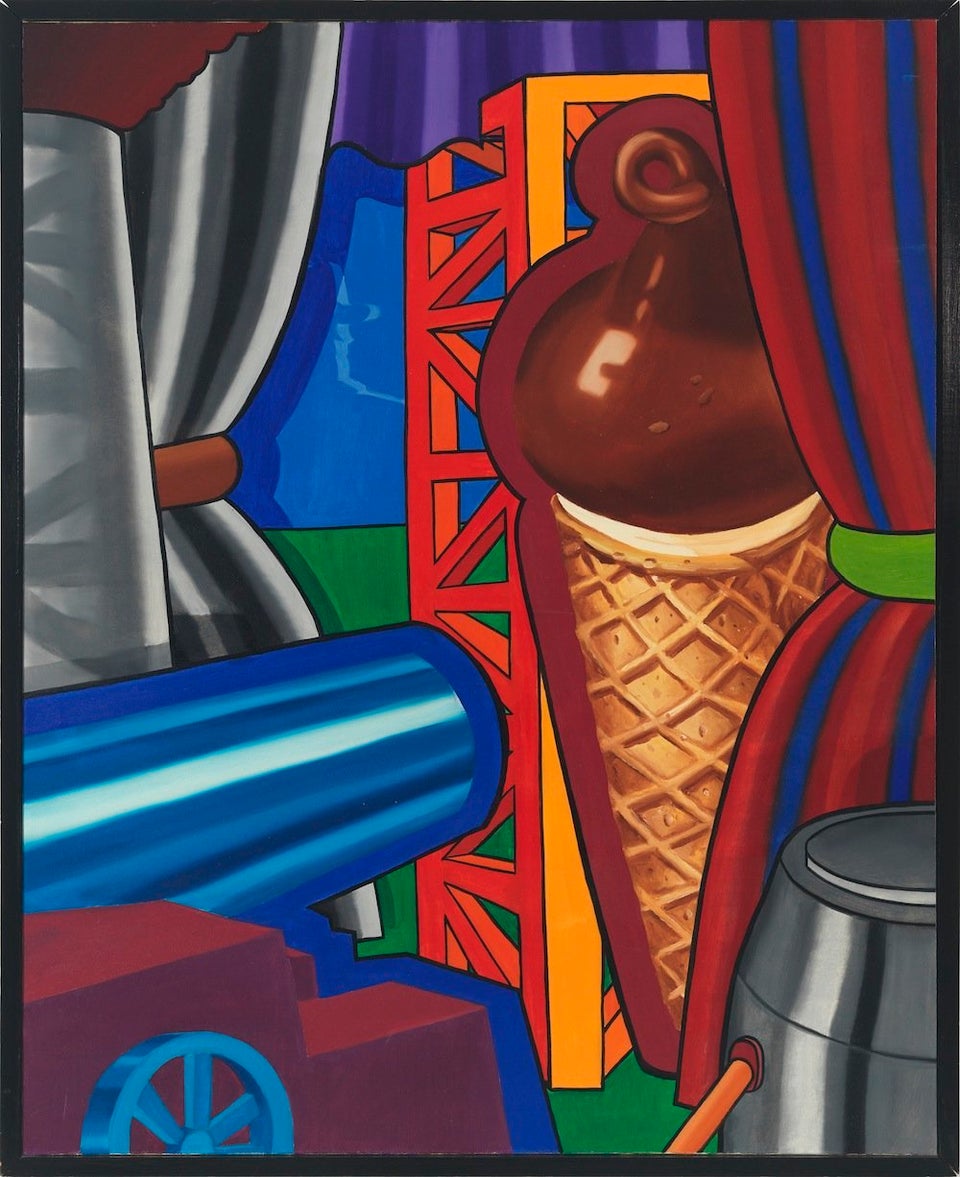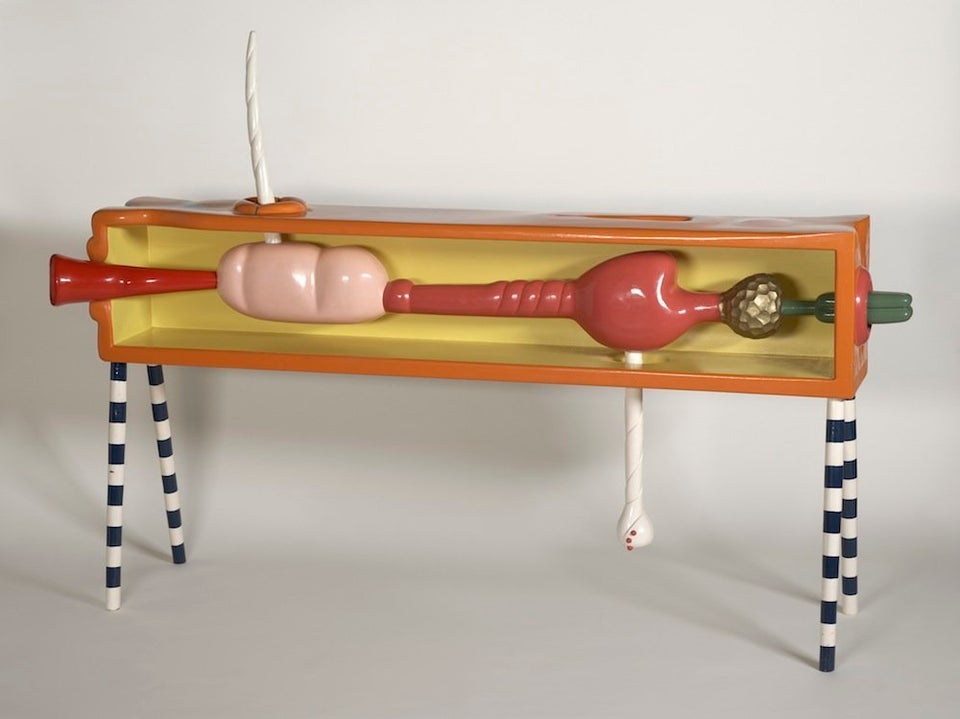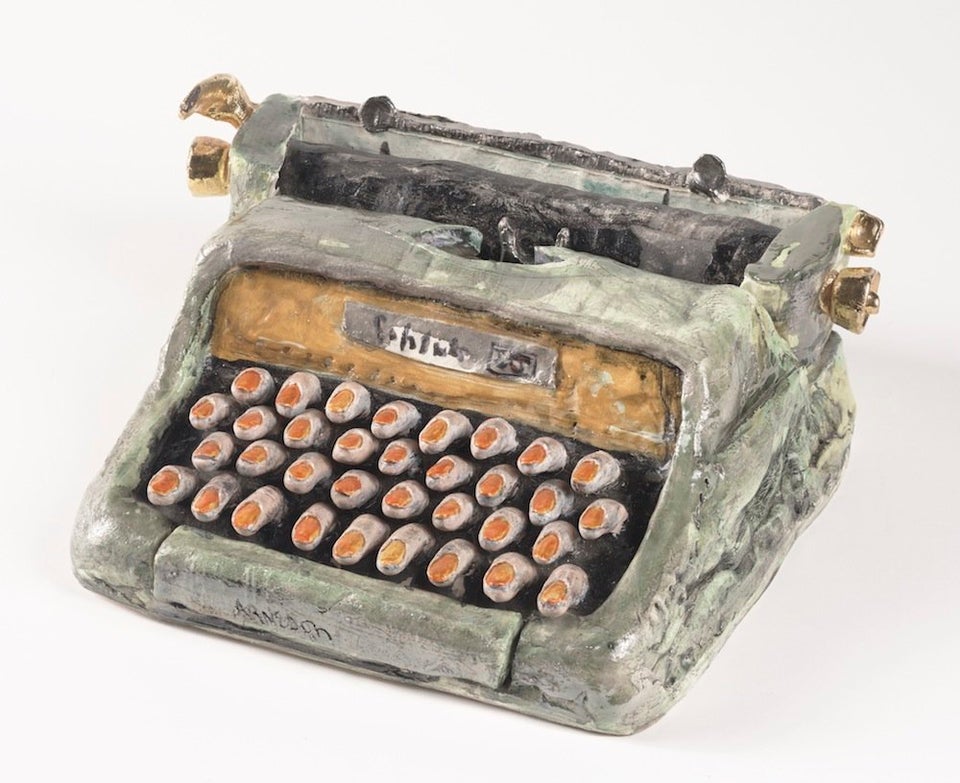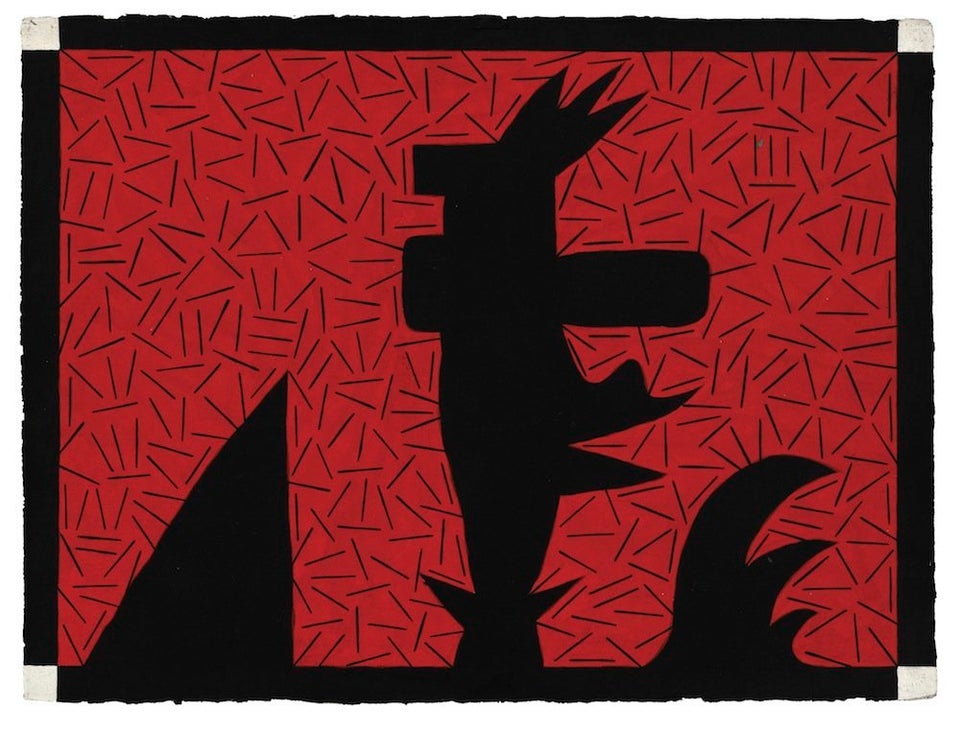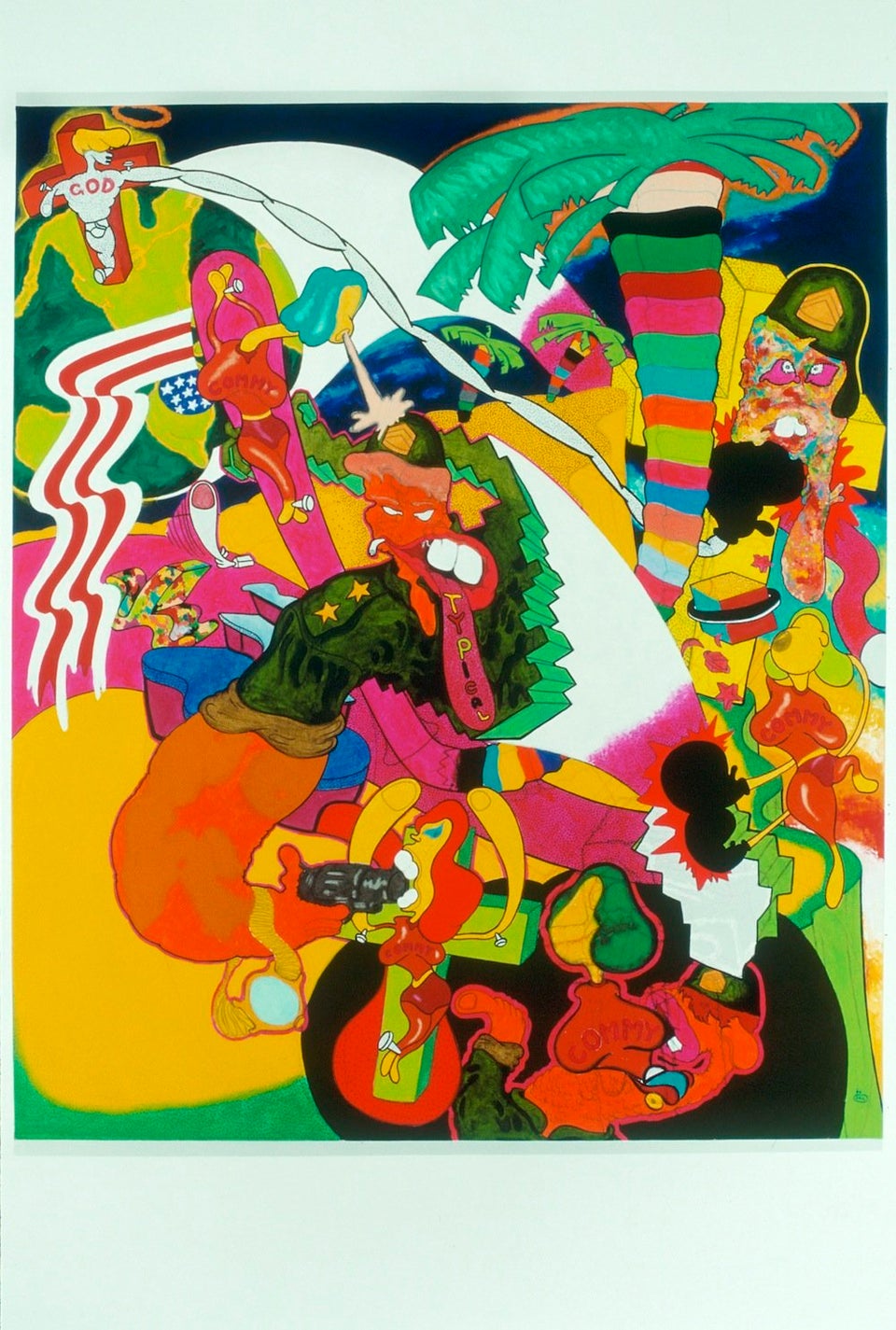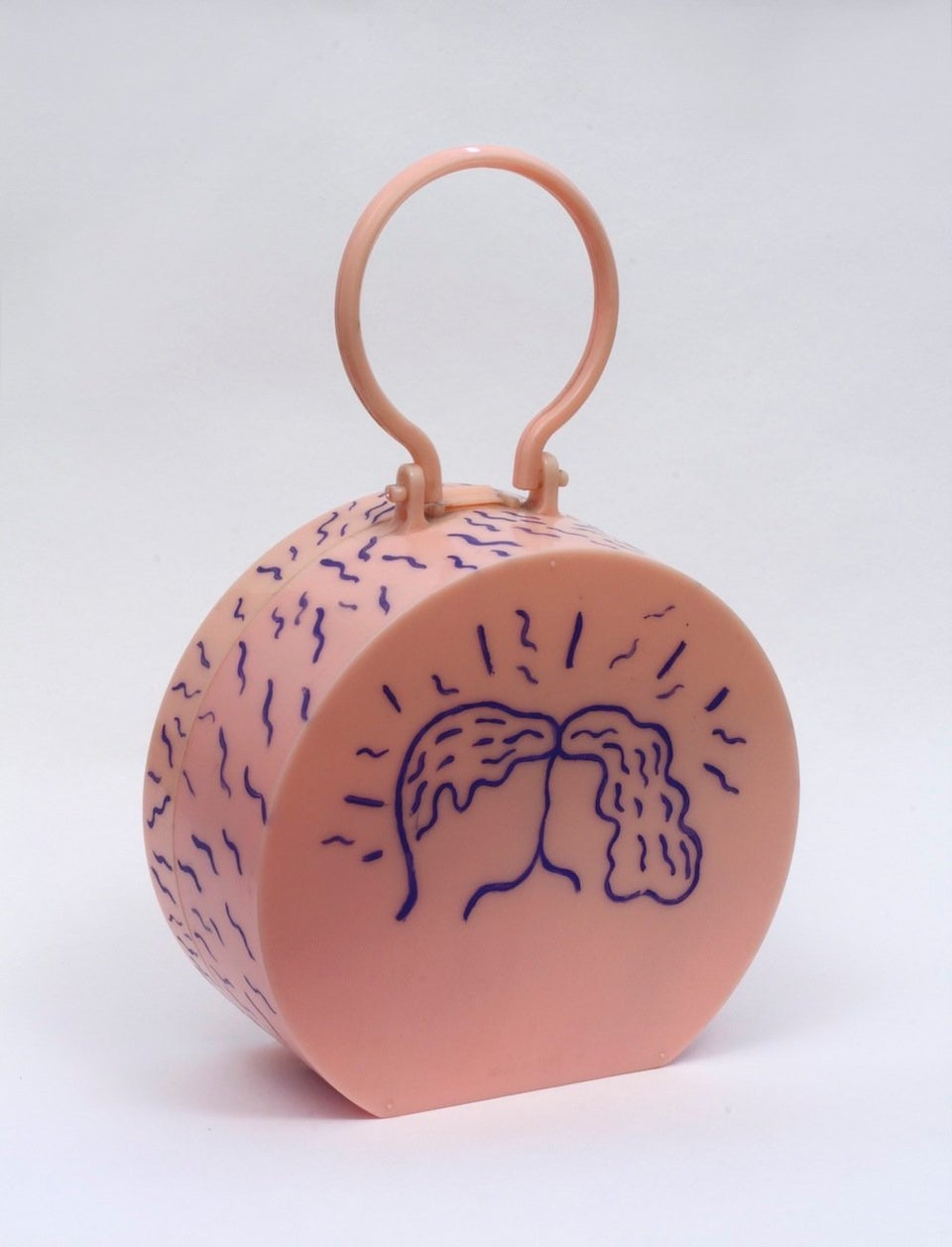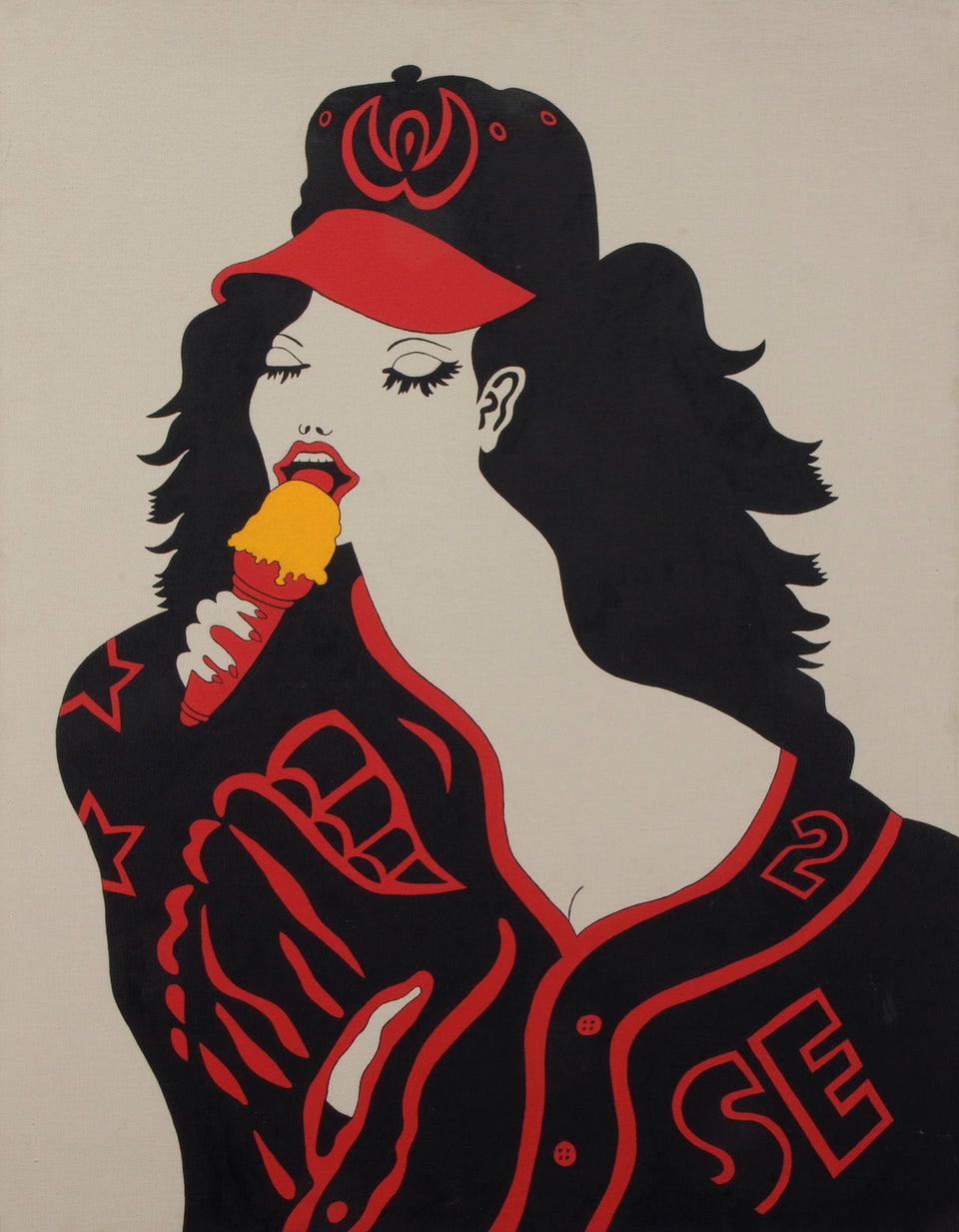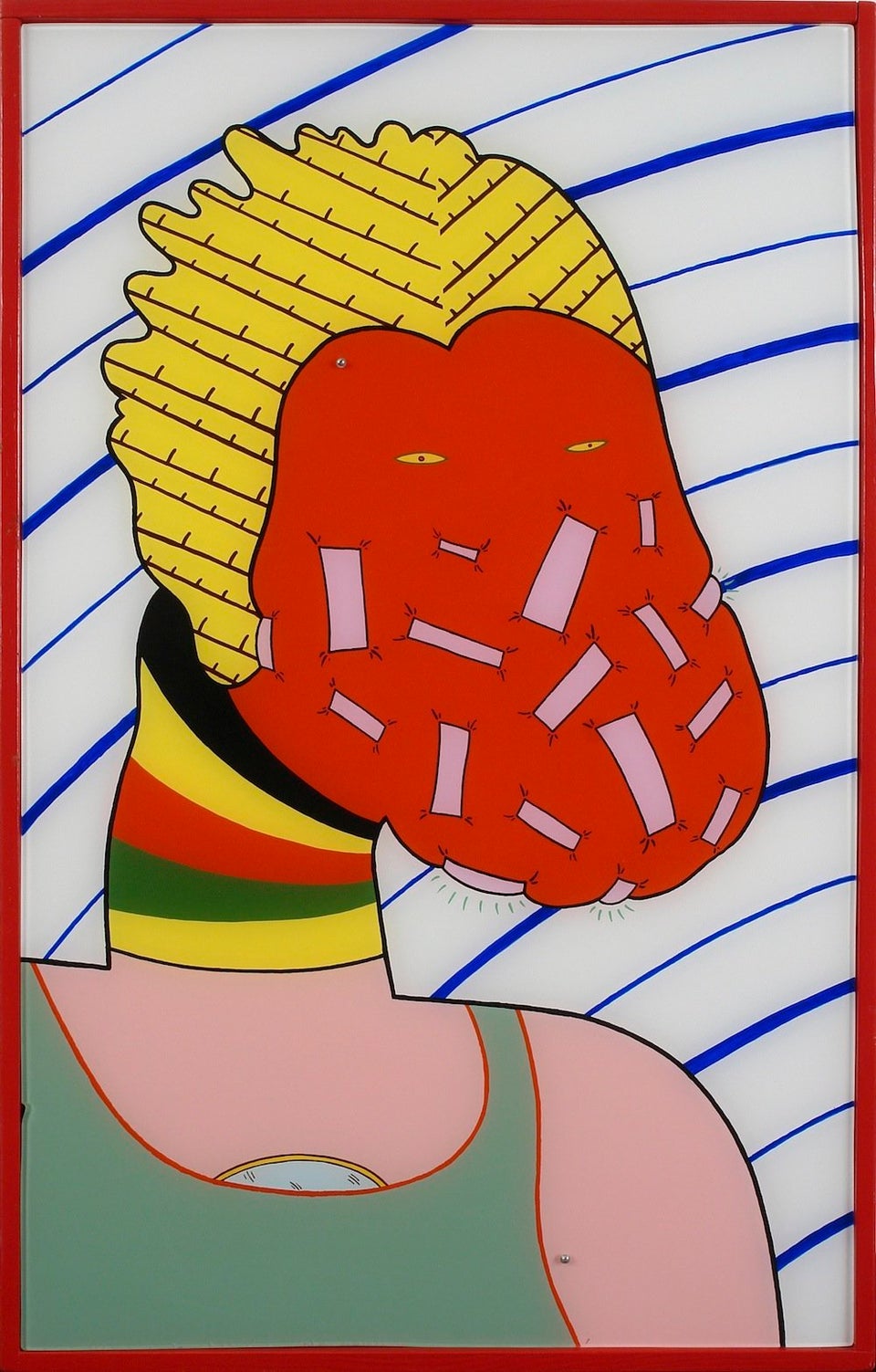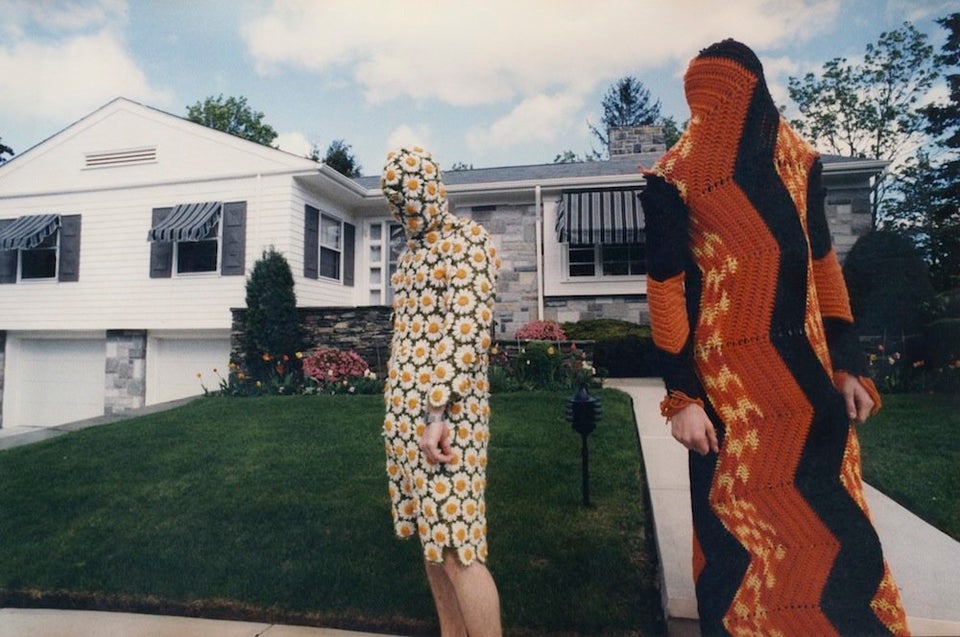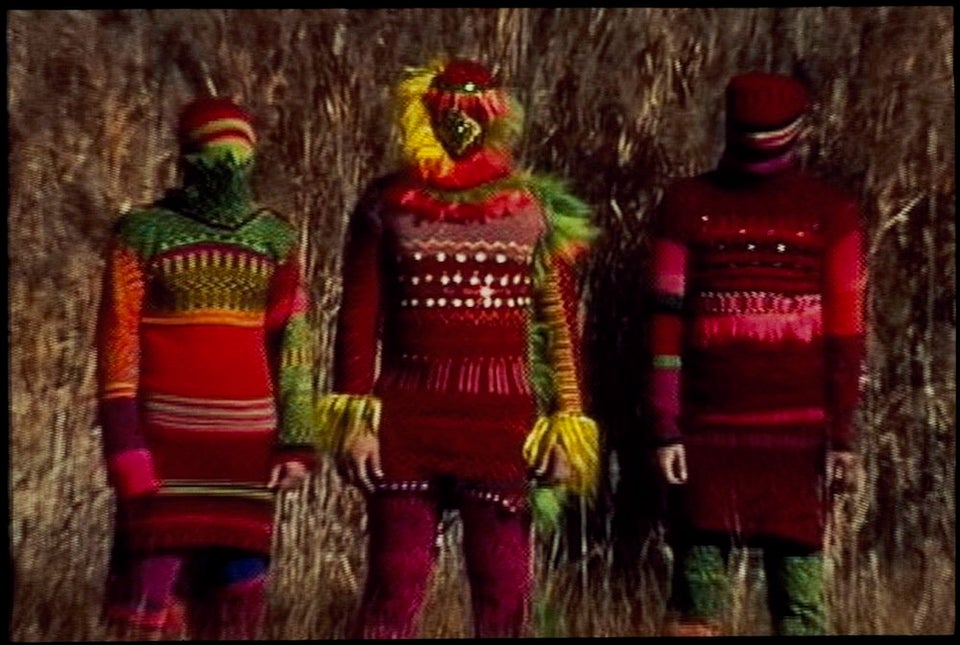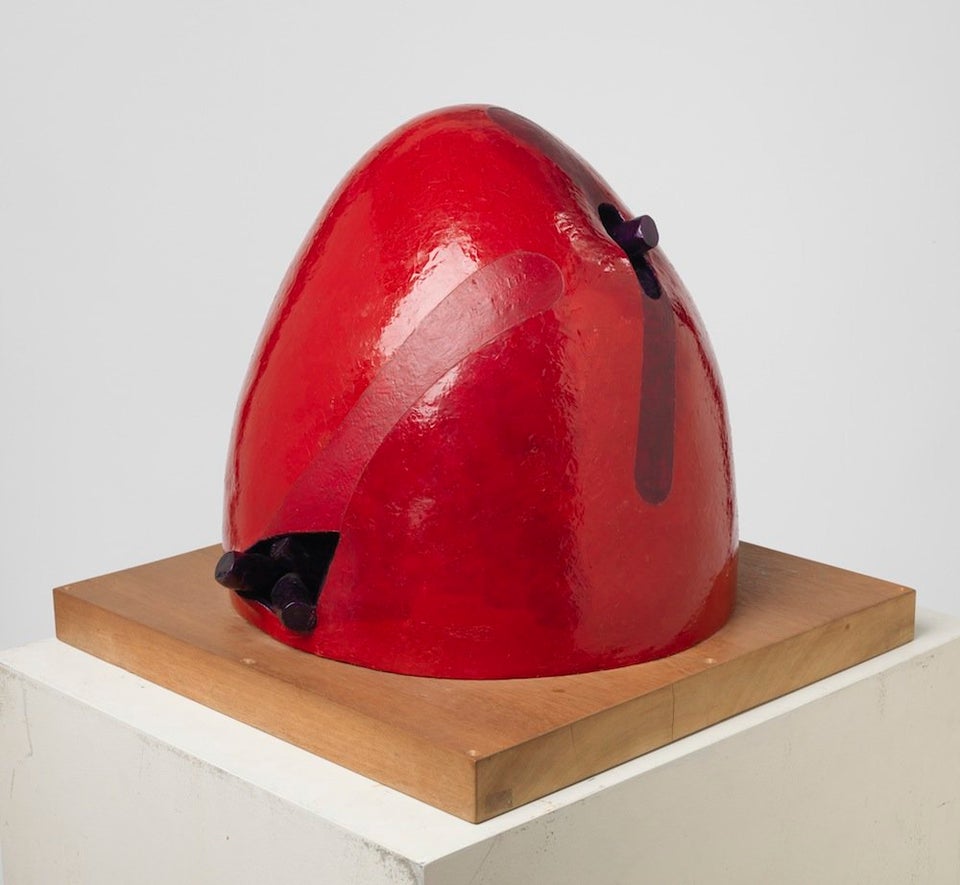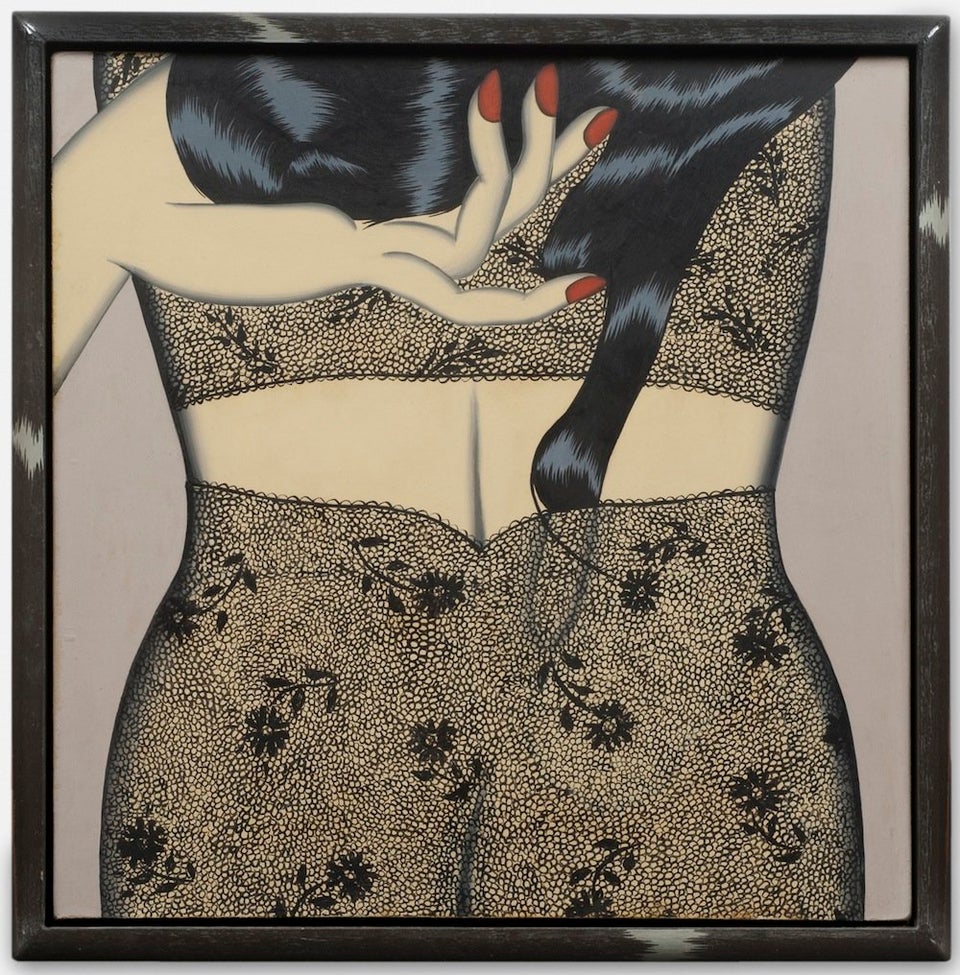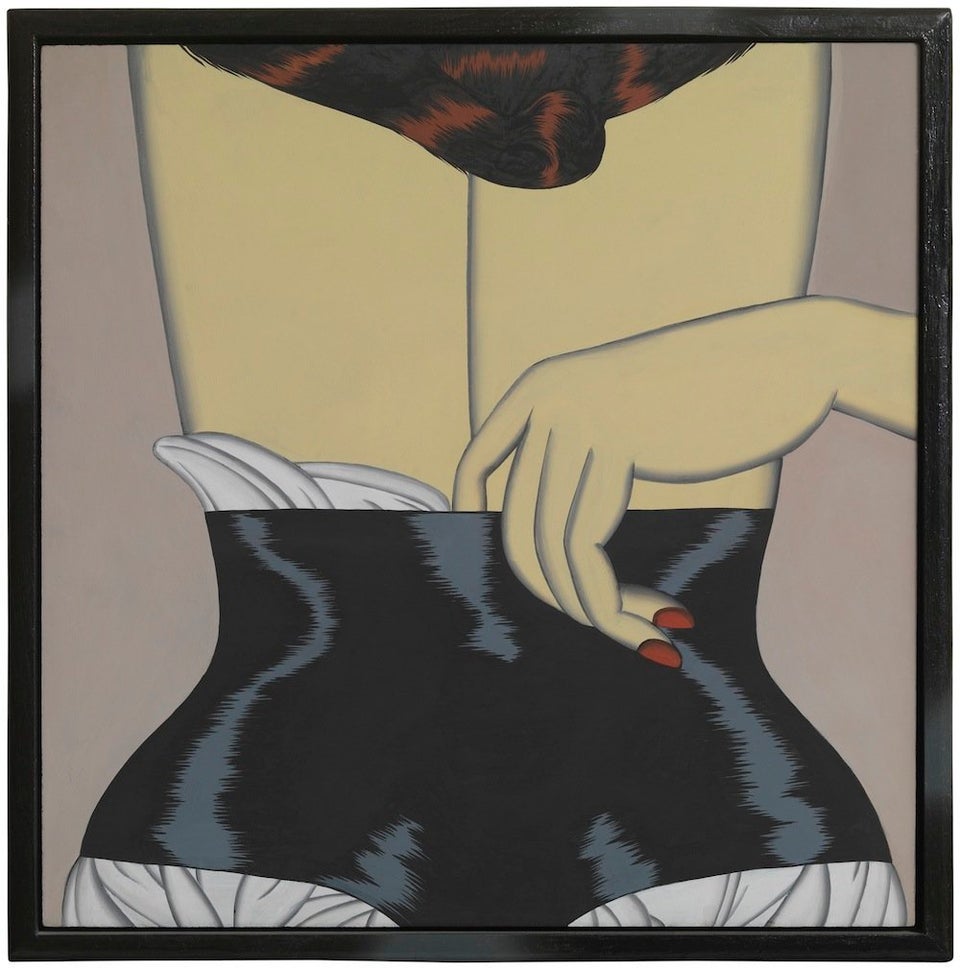 Popular in the Community