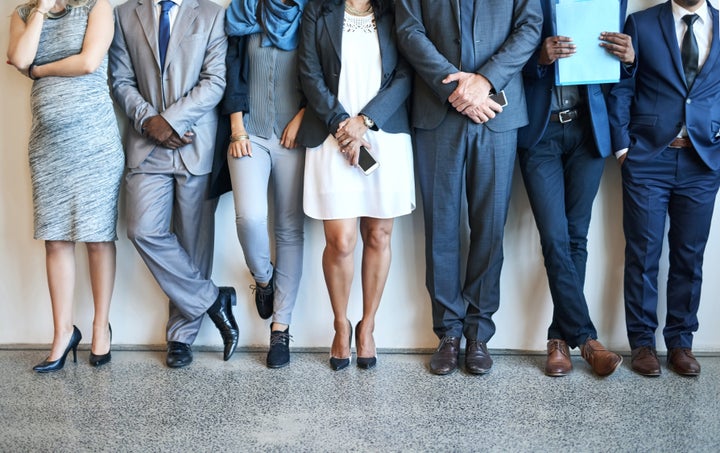 Preparing for a job interview is never easy. There are so many things to consider: Will I be able to answer all the questions? Will I say "like" too much? How do I show off my personality and prove I'm the best candidate for the role? What do I wear? Or perhaps, more importantly, what don't I wear?
According to various employers, there are a few items one should avoid when it comes to dressing for an interview.
The Absolute No-Nos
The worst offender might not come as a surprise: "Flip-flops," Andy Limpus, director of talent acquisition at Penske Media Corporation (which owns Women's Wear Daily and Variety) told HuffPost. "It happens and it's the craziest thing and I don't get it."
Sarah Tam, head of fashion and buying at Rent The Runway, agreed that flip-flops, "under any circumstances, are a no."
"Wear grown up shoes," she said. "It's important."
Brian Ricci, executive administrator at Rich Brilliant Willing, a New York-based contemporary LED lighting design manufacturer, echoed the sentiment, as did Laurel Pantin, editorial and fashion director at Coveteur.
"Men, I would say absolutely no open-toe anything, ever," Ricci said. He added that "for women, an open-toe sandal might be totally fine in the right climate."
"I would say no beachy sandals generally," Pantin said.
Ricci also advised against wearing any kind of workout gear or yoga pants, as well as anything that appears tattered or has holes in it. (So, yeah, maybe skip the hole-y Yeezy crop top, unless Kanye West himself is doing the interview.) Pantin added that visible bra straps should also be avoided.
Think About Your Scent
"Another thing that people need to think about is not just their clothing but their physical presence," Limpus said. "What I mean by that is, think about the way you smell. There are people who are wearing too much cologne, there are folks that come to us and they've just left lunch and they smell like the restaurant."
Pantin expressed a similar view, telling HuffPost, "I think a lot of people go very heavy-handed with their personal fragrance and I find that super distracting."
Tiffanie Lai, people manager at Native Shoes in Vancouver, Canada, recommended erring on the side of caution when it comes to colognes or perfurmes, and perhaps skipping a scent altogether.
"You never know what sensitivities people have, especially when it comes to allergies," she said.
Know What You're Applying For
You only have one chance to make a first impression, so you want to make it count. That means when you're scouring your closet (or store racks) looking for something that's sure to impress, you need to be mindful of the position you're applying for. You should also keep in mind where you're applying, as different work environments have different dress codes.
"If I am interviewing someone for a creative position and they are sitting in front of me in a suit, I'm thinking they don't really know us," Limpus said. "If you're interviewing for a creative job, you're going to be a little more fashionable and creative in your own style. But if you're interviewing for an accounting position, I do expect that person in a suit."
"I think it's more important to present yourself in a way that best represents the position more so than the company," he added.
Lai said a good way to determine the vibe or feel of a certain workplace is to tap into your network ― reach out to the hiring manager or a contact who works there ― to see what sort of insight you can get.
Another great tip, especially for jobs that place a lot of emphasis on their social media branding, is to check their Instagram pages. There's a chance there are office photos and photos of employees, which can give you an idea of the dress code.
Be Confident
If you're looking for some fail-safe options, Tam suggested blazers, which come in a variety of shapes these days, a crisp white shirt or a chic dress.
As Pantin suggested, "A really great, interesting button-down shirt is always a good choice."
"You just want to present the most polished version of yourself," she said.
Tam said that, "regardless of the industry, it's important to look pulled together and not sloppy. You want an outfit that will help you shine and not outshine you."
"Most of all, you should probably feel like yourself. Think about how you would like to come across," Tam added. "It's important to think about what gives you confidence."
At the end of the day, your skills and experience should be your selling point. But wearing an outfit that reflects the role you want and makes you feel comfortable and confident won't hurt.
Related