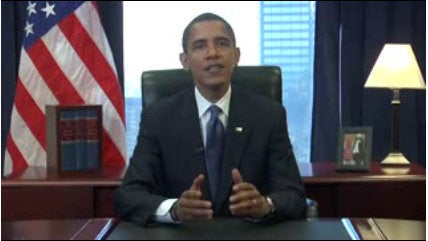 UPDATE: Linda Hirshman has expanded on this topic in the December 9 New York Times.
President-elect Barack Obama's economic agenda includes a goal of creating 2.5 million jobs by 2011. It's too early to know the details of the plan, much less what will be enacted by Congress and what its overall effects will be. But early indications are the plan will do more to improve the jobs outlook for men than for women (a problem suggested to me by sociologist Paula England, an expert on gender inequality).
Some general aspects of the agenda, such as small business and job creation credits, are ostensibly gender neutral. But what about the "immediate investments to rebuild America's roads and bridges and repair our schools"? According to government data, the construction industry employs 90% men. And the auto industry bailout? Motor vehicle and equipment manufacturing is a 73% male industry, car dealers' employees are 79% male. (The overall labor force is 54% male.)
Those may be worthy investments anyway, but what about the investment in human infrastructure? England suggests pre-K education. In a 2007 article, Makiko Fuwa and I listed the public childcare enrollment rates for 34 countries. In the U.S., 14% of preschool aged children are in public childcare, which is higher than some rich countries, like Australia (3%) or Japan (1%) - but lower than most, such as Britain (31%), and in a different league from Denmark (90%), Sweden (84%), and France (83%). Instead, the U.S. relies on a system of private care, which is spotty and unequally distributed. The Head Start programtripled in size in the 1990s, then grew only about 10% in the 2000s.
What does it mean to lag behind on this crucial investment indicator? The benefits of pre-k education are well known, as are the problems with its availability and quality in the U.S. Kids with good pre-k education are more likely to graduate high school, with less grade repetition and lower chances of being in special education programs or being arrested for a violent crime. When they grow up they are more likely to have jobs and earn higher wages. All this means the return on pre-k education investment is many-fold over the long run.
What would a universal pre-k program mean for women's employment? The direct effect is clear. Pre-k and kindergarten teachers are 98% female. Of course, these are low-paying jobs, but a shot in the arm from on high might help with that, too.
Indirectly, childcare problems put the squeeze on women's ability to get and keep jobs. Studies show that the costs of childcare for pre-school-aged children have strong negative effects on mothers' employment rates, especially single mothers. Lowering childcare costs to improve women's employability might even see lead to more women getting those good construction jobs Obama plans to subsidize.
Obama says he wants to address the immediate economic crisis in a way that supports long term goals. If one of those goals is reducing gender inequality, then universal pre-k education might be a good place to start.
REAL LIFE. REAL NEWS. REAL VOICES.
Help us tell more of the stories that matter from voices that too often remain unheard.