#OwnTheMedia: Positive News Becomes First Crowdfunded Global Media Cooperative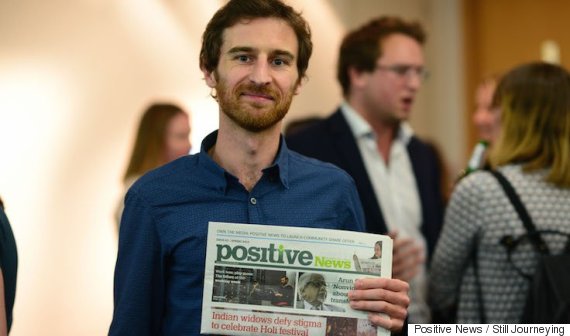 Seán Dagan Wood, the editor-in-chief of Positive News and co-founder of the Constructive Journalism Project, is rewriting the popular saying in journalism, "if it bleeds, it leads."
"If It Succeeds, It Leads," Wood says. That's his motto, which he hopes will inspire an entire new wave of journalists.
Wood's UK-based publication, Positive News, produces stories of hope, innovation and solutions to some of society's biggest problems. It challenges the conventional wisdom that news has to be negative and dark -- stories of crime, war and death. Yes, we must cover those issues, Wood says, but we can show the full picture by highlighting solutions to these problems as well. If we're talking about problems, we should also talk about solutions.
Now, Wood and Positive News are looking to a new business model -- crowdfunding -- to help them do that.
While many media companies are owned by large corporations, "Positive News is now giving its readers the chance to take ownership of the kind of media they want," Wood writes.
"Positive News will be owned by hundreds or thousands of people with an equal say on important matters, meaning it's a more democratic form of ownership," he says. "We will then be ultimately accountable to you, our readers, ensuring that we always report in your interests. And because we are a cooperative, our profits will be reinvested in achieving the aims of Positive News and serving our community."
The organization will sell "community shares," and hopes to raise at least $318,000 by July 8 to grow the business and continue to deliver high quality solutions journalism.
The What's Working Honor Roll highlights some of the best reporting and analysis, from a range of media outlets, on all the ways people are working toward solutions to some of our greatest challenges. If you know a story you think should be on our Honor Roll, please send an email to our editor Catherine Taibi via catherine.taibi@huffingtonpost.com with the subject line "WHAT'S WORKING."
Support HuffPost
The Stakes Have Never Been Higher
Related
Popular in the Community