I remember the first time I heard Gershwin's beautiful jazz standard Someone to Watch Over Me. Its melody reflected my longing for someone to find me and love me and watch over me forever.
It sounded perfect, echoing what I already knew from fairy tales -- that Prince Charming rescues the Princess and adores her happily ever after.
It took me awhile to wake up from my enchanted sleep and understand that I was way off with this love thing.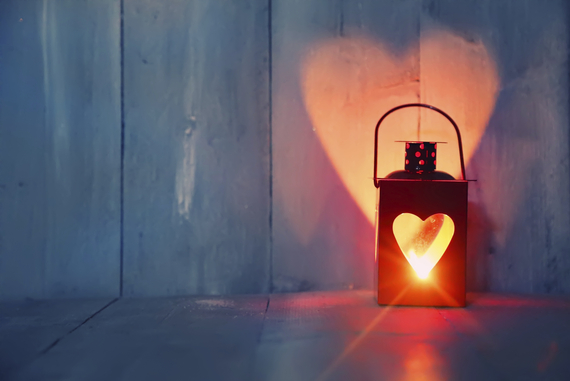 The first misconception was that love would be something a man would bring to me, along with the magic, trust, security and most importantly the sense that I mattered to him. I'd just have to sit pretty and respond when it happened. For a while, I did that.
At first it seemed feasible, because the magic was undeniably there. And it felt great! At least in the beginning. The trust, the feeling of security and the sense that I mattered were arguably more or less there, and yet sometimes completely absent.
When I expressed my disillusionment, someone told me that men can't deliver this love - that it can only come from God. That, too, seemed perfect. I thought that God would bring me magic, trust, security and that I'd matter to him. (I didn't really like the fact that God was a man again, but I let it go... I really wanted love to be brought to me.)
So I sat pretty and waited. And I experienced a few incredible moments in which I encountered God. God felt very loving. But also so powerful and huge that I almost ran away (like I would from a guy who was way too handsome and way too nice and who treated me in a way that was just too good to be true.) I didn't run, but I also felt incredibly unworthy and incapable of receiving and living with such love.
That's when I became lonely, depressed and scared. If I wasn't happy with God's love for me, then maybe there was no hope for me. Maybe I simply couldn't be found by love.
The moment I let go of this concept that some remote love would come to me (in the form of a man), I felt it. It surfaced from deep within me and completely caught me off guard.
It asked me, What would happen if you loved YOU?
I felt like Dorothy when the Great Oz told her she had the ability to go home all along - she just had to click the ruby red slippers that were already on her feet.
When love finds us, it doesn't feel like a first kiss, but rather more like that incredible combination of feeling both confident and humbled at the same time. When we finally look beyond our reflection in the mirror and see the beautiful inner soul that's created with and capable of love, we can begin to understand that we belong to the love that's simply always been there - from the beginning of time. The love in which we matter, in which we can trust and feel completely secure, and which is magical not just in the beginning but more and more each day as our familiarity with it deepens and matures.
In that love, we find ourselves. And each other.
DEE WORLEY
I reached out to Dee to ask if I could interview her husband Tim Worley (former NFL player and motivational coach) for my Waking Up in America show.
As my husband and producer Matthew Cameron coordinated the shoot with Dee, he asked how the two met. What unfolded was an incredible love story I had to share.
Dee always knew she was a gymnast. She followed her dream and became a national and international champion. She only recognized first place - everything that came below that wasn't good enough. Her bitterness set in as she realized that winning wasn't completely in her control, like when she couldn't compete because her ligaments were severely torn.
Or when her college boyfriend Tim, whom she planned to marry, cheated on her and left.
Using her determination, discipline and talents, she moved on and became a successful PR and marketing consultant. But she was too detached, and she didn't give herself enough time to process her grief and pain.
"[I got] really interested in things that just don't matter... climbing the corporate ladder, climbing the social ladder, living in a certain zip code in LA, having a certain view, having this having that... It was about the having, not so much the being..."
She did a 'Tim search' every six months for 18 years. And she knows now that it wasn't really Tim she was looking for.
"I could never find him. The best way I can explain is it was just a spiritual longing... I was searching for Tim but I was really searching for God."
When they finally re-connected, Tim wanted to know what had happened to the real Dee, not the one who was hiding behind her social status and life that only looked good on the outside. I mention my favorite Les Miserables line: "To love another person is to see the face of God," and Dee explains:
"Yes. The human that God used in this case was Tim to bring me back to God. Subsequently the other reward was that I was brought back to Tim."
A beautiful cycle, and a process through which Dee healed and found her lost self.
"I just forgave him from the bottom of my heart, and then I forgave myself for not forgiving him. I had to forgive myself for harboring that bitterness, that anger and that pain for that long... That pain really steered the ship for a long time, and led me to making different choices that I otherwise would not have made had the pain not been there. I couldn't do it on my own strength. I couldn't forgive him on my own."
Reconnected to God, Dee healed from her pain and was also reconnected with the person she was always meant to be - the one who loves to help others, use her gifts to make this world a better place, and live as a true champion in life.
Dee Worley is known in the world of sports as Dee Foster, USA and NCAA national and International Gymnastics champion. Today, Dee is a sought-after global branding, marketing, PR and business consulting expert who talks about how a long-lost love helped her to awaken to her purpose.
DISCLOSURE: I did not receive any payment, compensation, services or gifts in the process of writing this blog.
Calling all HuffPost superfans!
Sign up for membership to become a founding member and help shape HuffPost's next chapter