The charm of American baking is the rapidity and simplicity of its preparation, its ease in eating. Whipping up a banana bread or a pan of brownies at the last minute before the children get home from school, or batch upon batch of cookies for that school bake sale is every parent's savior. Slice off a hunk for breakfast or wrap up a piece in aluminum foil to tuck in a lunchbox or picnic basket, it is truly homey, everyday baking, a thing of our childhood, something so simple that we don't give two thoughts about it. Granted, we would never dream of serving a plate of cookies at a dinner party or trying to impress our guests with our age old recipe for quick bread, but then, that really isn't the point. This kind of baking, the cookies and muffins, the bars and the cupcakes, is for sharing, a simple and quick way to offer up a sweet treat anytime, any day.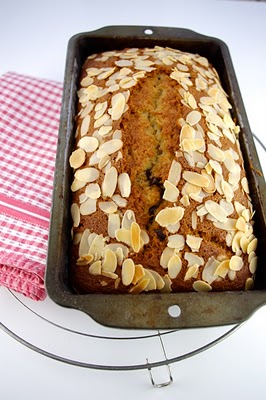 But move to France and the story changes. Pastry shops are filled with delicate beauties, light-as-air genoise or flakey pastry sandwiching rich, luxurious creams and custards, smothered under glazes and ganaches or tiny glasses filled with something creamy, something fruity, intriguing layers of textures and flavors, complicated in the making and most complicated in the eating. One never sees a Frenchman or woman walking down the street eating a Mille-Feuille or a Mont Blanc with their hands and one certainly would not pack one in a lunchbox or picnic basket. One carries these treats home in a tiny white box, elegantly beribboned, and serves them on dessert plates and always with a fork. Step into any boulangerie, that neighborhood bakery, for the simple snacks, the croissant, brioche and éclairs, the everyday treats, and though simpler indeed they are as elegant and fussy as their more sophisticated siblings. It's hard to whip up any one of these treats in one's own kitchen without organizing the entire day around it. Which makes a corner trip to the boulangerie a necessary part of one's day.
French pastries have a special place in American hearts; we think of them as the height of chic, something that many dream about being able to indulge in every day. Tourists arriving in France head straight for the nearest bakery for a warm, flakey croissant or visit a luxurious pastry shop, buying elegant little squares of intricate layers of flavor, beautiful tiny tartlets and, of course, ethereal, exotic macarons. Our own baked goods seem to pale in comparison, their simplicity a sign of our lack of refinement. So just imagine my utter surprise when I discovered the fascination my simple, home-baked snacks stirred up in our French friends! Plain, unfrosted squares of my spicy carrot snack cake, one-pan brownies with walnuts, pumpkin pie and blueberry muffins lead to groans of pleasure, layer cakes elicit festive excitement. They are intrigued by our use of pumpkin and sweet potatoes, carrots and zucchini in desserts, cranberries are strange things indeed and, yes, even bananas rarely make it into a French pastry. My sons' classmates beg for my baked goods, neighbors ask to take leftovers home with them and my simple, one-bowl chocolate cake actually brought tears to one Frenchman's eyes. What we think of as homely comfort food, goodies thrown together in just a few minutes so the kids will have something sweet for their lunchboxes, are exotic, special treats to the French.
My recipe for Chocolate Chip Banana Bread is a hands-down favorite among our friends and colleagues. Moist and flavorful, few French imagine just how simple it is to whip up, so simple that even the most novice among us, young or old, can easily put it together. Each ingredient, except, of course, for the bananas, is a pantry staple. My recipe calls for vegetable oil, so no waiting around for butter to soften. The bread is great to wrap up, whole or in slices, to take on a picnic or put in a lunch box. Every year, I bake batches in small aluminum tins to give as holiday gifts along with one or two other flavored quick breads. And as I said, this cake is so easy to personalize, adding "mix ins" from fruit to nuts to chocolate chips.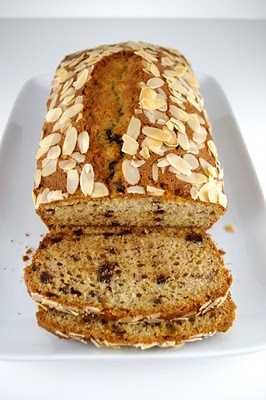 BEST CHOCOLATE CHIP BANANA BREAD

Or le cake à la banane et aux pépites de chocolat

2 medium bananas, the riper the better
2 large eggs
1 cup (200 g) sugar
1 ¾ cups (220 g) flour
1 tsp baking powder
½ tsp baking soda
½ tsp salt
½ cup (125 ml) vegetable oil
1/8 cup (25 ml) milk or buttermilk
1 tsp vanilla
Your choice of mix-ins although I always use about ½ cup mini chocolate chips

Mix ins : ½ - 1 cup chocolate chips, I prefer mini chips, ½ - 1 cup chopped walnuts or pecans, 1 cup fresh blueberries, 1 cup drained pineapple chunks, ½ cup grated coconut, etc. (optional)
Toppings - slivered almonds, streusel, or spread on a chocolate frosting, or drizzle on a chocolate or lemon glaze (optional).

Preheat the oven to 325°F (160°C). Grease and flour a 9 x 5 x 3 inches (8 cups) or 23 x 13 x 8 cm (1.9 liters) loaf pan. Or divide into smaller aluminum tins.

Mash or purée the bananas in a large bowl (I suggest hand-mashing the bananas with a fork, as I find that using an electric emulsion blender gives the bananas a pasty consistency that makes the finished bread a bit dryer). Don't worry if this is not perfectly smooth!

Add the eggs and beat well with the mashed bananas using a fork or wooden spoon.

Add the sugar and continue beating by hand for a minute or two until well blended and slightly thickened.

In a small bowl, blend the flour, baking powder, soda and salt. In a measuring cup, blend the oil, milk and vanilla.

Now, stir in the dry ingredients in 3 additions, alternating with the liquid ingredients in 2, starting and ending with the dry. Scrape down the sides and make sure the batter is well blended. Fold in the mix-ins of your choice, stirring until evenly distributed.

Scrape the batter into the prepared loaf pan and just give the pan a quick but gentle shake back and forth once to make sure the batter is even in the pan. I dust the top with a handful or two of slivered almonds. You can also choose to sprinkle on a streusel topping at this time if desired.

Put in the oven and bake for 1 hour 10 minutes or until risen and golden: the bread should be beautifully cracked and by gently pressing down on the center, you can tell that it is set. You can cook this for 5 minutes more if you prefer to be sure that it is done, it won't overcook; I prefer this bread just done. Don't forget to adjust cooking time if you use smaller tins.

Remove from the oven and allow to cool for 5 - 10 minutes before loosening it from the pan by sliding a knife all around the edges then shaking the pan up and down in quick sharp movements to loosen the cake from the bottom. Turn out and allow to cool on a rack. If topping with glaze or frosting: Drizzle the top with chocolate glaze or spread with frosting only after the cake has cooled; if brushing on a citrus glaze, do this while it is still warm.

Jamie Schler lives, eats and writes in France. To read more of her work visit Life's a Feast.