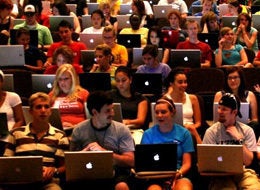 While law school tuition has skyrocketed over the past 15 years, federal loan limits have remained stagnant, putting more pressure on students to take out higher-cost private loans.
In 1994, students were limited to $18,500 in low-interest loans from the federal government. Fifteen years later, that limit has only increased to $20,500 though the $18,500 available to students in 1994 is worth $26,959.69 today in inflation-adjusted dollars.
Meanwhile, tuition and fees have tripled for in-state students at public law schools, and more than doubled for out-of-state students at public schools and those at private schools.
In the 1994-95 school year, low-interest federal Stafford loans covered full tuition for in-state students at every public university law school in the country. In the '07-08 school year, Stafford loans covered full tuition at 80 percent of public schools, according to a report released Monday by the Government Accountability Office.
Stafford loans used to cover full tuition for out-of-state students at 97 percent of public university law schools and 80 percent of private law schools. In the 2007-08 school year, those loans covered only 22 and 11 percent, respectively.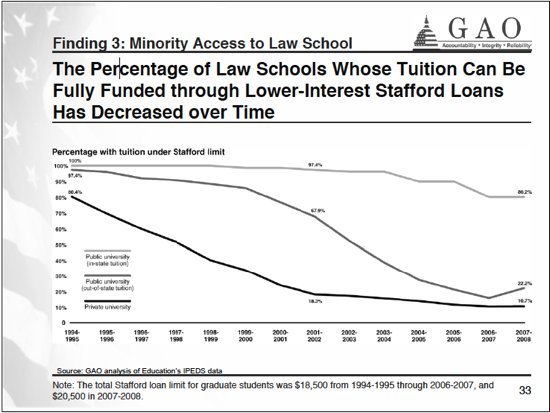 The effect has been calamitous for students. The average law school graduate in 2008 left school with more than $71,000 in debt, the GAO reports.
"The rising debt burden of law graduates and other graduates has a negative impact on the ability of highly qualified individuals to pursue careers in public service," the American Bar Association reports. The ABA has been calling for Congress to raise the borrowing limit under the Stafford loan program.
The U.S. House of Representatives recently passed a bill calling for reform in the loan program. It's now in the Senate.
Related
Popular in the Community