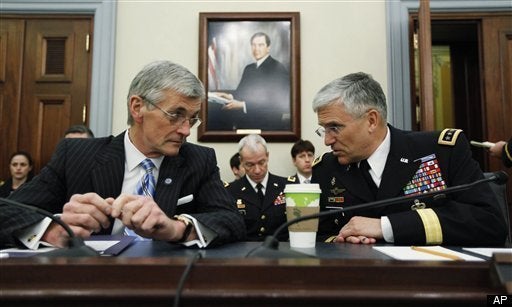 Press Secretary Gibbs told reporters Wednesday that the President does not intend to repeal Don't Ask Don't Tell this year.
Gibbs confirmed that the President is committed to a time line that gives the Pentagon until December 1 to study the issue.
A reporter pointed out that made passage of a repeal of Don't Ask Don't Tell impossible this year. Gibbs told reporters, "Well, again -- the House and the Senate are obviously a different branch of government. The President has a process and a proposal, I think, that he believes is the best way forward to seeing, again, the commitment that he's made for many years in trying to -- changing that law."
This news comes on the heals of several days of civil disobedience by the new LGBT civil rights organization, GetEqual. On Monday LGBT advocates from GetEqual interrupted the President's speech during a fundraiser for Sen. Barbra Boxer with requests to repeal Don't Ask Don't Tell.
The President reassured the advocates that he and Senator Boxer supported a repeal of Don't Ask Don't Tell, a policy that prevents Gay and Lesbian service members from serving their country honestly in the armed forces.
Yesterday, Lt. Dan Choi and five other service men and women, including transgender Officer Autumn Sandeen, hand-cuffed themselves to the White House fence as an act of civil disobedience against Don't Ask Don't Tell.
During Wednesday's press briefing, Secretary Gibbs denied claims that the White House was involved with the decision to relocate the press. Secretary Gibbs passed through the crowd of the demonstration on Tuesday prior to the press's removal, prompting rumors that the White House was somehow involved.
Today Gibbs told reporters, "Obviously the Park Police has -- rightly took responsibility for some overzealous actions; they corrected those -- albeit belatedly. The White House and the Secret Service did not have any role in that decision-making and I think the Park Police has taken -- rightly taken responsibility."

When reached on Tuesday afternoon, Lt. Felt with U.S. Park Police told Metro Weekly, "We had an impromptu demo . . . When we got up there, we secured the area." Asked why the south half of Lafayette Park was closed, Felt said, "You'd have to talk to the U.S. Secret Service Uniformed Division . . . I believe that was done prior to any of our arrival."

Malcolm Wiley, with the U.S. Secret Service Uniformed Division, reached later, disputed Felt's comments, "We're going to have to confer with them; I don't see how that's correct."

Explaining further, Wiley said, "We don't have the authority to do that." In addition to not having the authority to do so, he added, "I don't have any information that we did shut the park."

Later, Wiley added about the Park Police, "If they decided to shut it down and asked for our assistance, then certainly we would give them that. The Secret Service cannot give an order to shut down the park."

U.S. Park Police Communications Shift Supervisor Loveland disputed Wiley's comments, saying of the Secret Service, "They close it all the time; they're giving the run-around." Saying "they've got the authority in the city," Loveland added, "Believe me, they take full advantage of it."

GetEqual has promised continued action until Don't Ask Don't Tell is repealed. Lt. Dan Choi has been ordered to stay away from the White House by a Superior Court Magistrate. His defense attorney is challenging that order claiming it unconstitutionally restricts Choi's First Amendment rights.
Popular in the Community