The sad passing of George W. Bush's Scottish terrier Barney last week got us thinking about the many animals who have kept company with the country's chief executives.
Even more exotically, in 1826, John Quincy Adams received a pet alligator from that same Marquis de Lafayette. The alligator was reportedly kept in a bathtub.
Calvin and Grace Coolidge literally had a zoo at the White House. Most famous and beloved was the white collie, purchased from Thomas and Olive shover who owned "Shomont White Collies". They also entertained and cared for: Peter Pan, a Terrier, Paul Pry, an Airedale, that was originally named Laddie Buck. and Rob Roy, a white Collie, originally named Oshkosh. Also popular was Calamity Jane, a Shetland Sheepdog. Tiny Tim, a Chow, Blackberry, also a Chow, and Ruby Rough, a brown Collie. They also had Boston Beans, a bulldog, King Kole, a police dog, Bessie, a yellow collie, Palo Alto, a bird dog, and Nip and Tuck, canaries. Snowflake, was also a white canary and Old Bill was a thrush. Enoch, was a goose and they had a Mockingbird belonging to Mrs. Grace Coolidge. Finally there was Tiger, an alley cat, Blacky, another cat and Rebecca and Horace, raccoons. We must not forget Ebenezer, the donkey and Smokey, a bobcat. Given to them by dignitaries from other countries there was also: lion cubs, wallaby,a pigmy hippo, and a bear
Sadly, we couldn't find a single photo of Coolidge's pigmy hippo. But we got hold of lots of other presidential companions: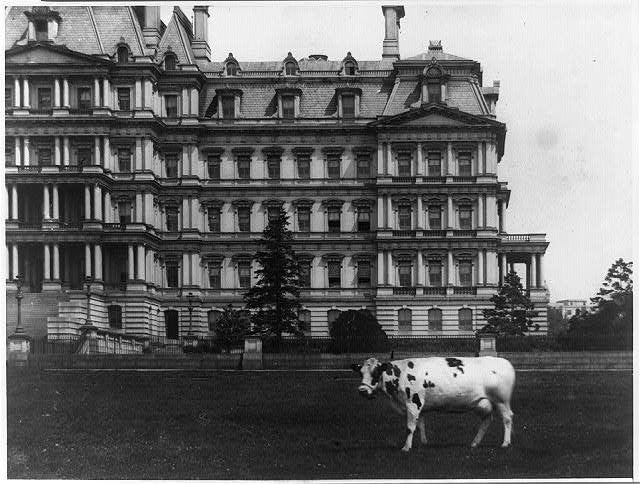 Presidential Pets
Want to know more about chief executive pets? The Washington Humane Society is holding a signing of "President Adams' Alligator" on February 10.
Popular in the Community