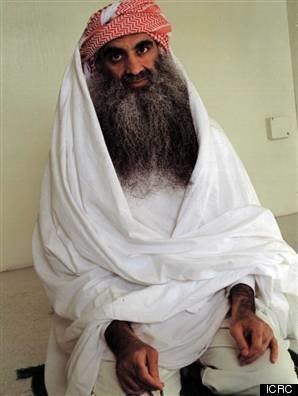 Administration officials are pushing back on a slew of news reports this morning -- among them "Bam Blinks" in the New York Post and "Big Apple Turnover" in the New York Daily News -- that the White House is moving towards abandoning plans to try the chief architects of the 9/11 attacks in downtown Manhattan.
An administration official, speaking on condition of anonymity, called the stories "overwritten," suggesting that reporters had gotten wind of contingency plans that the White House had naturally put in place.
"Conversations have occurred within the administration to discuss contingency options should the possibility of a trial in Lower Manhattan be foreclosed upon by Congress or locally," the administration official emailed.
A Justice Department official, meanwhile, confirmed that there had not been "any order from the White House" to look into an alternate venue. The official did note, however, that it was "true" that the department was "considering other sites" mainly because the one in New York City was "looking too expensive."
As it stands now, the administration does appear to be moving ahead with plans to try Khalid Sheik Muhammad and others in New York City. But there is clearly a sense among officials at the White House and the Justice Department that budget issues, if not national or local lawmakers, could force them to abandon the plans.
Likewise, on Thursday, Justice Department spokesman Dean Boyd, told the New York Times that there has been no decision to shift the trial location, adding that department officials are confident that the Southern District court can handle the case "while minimizing disruptions to the community to the greatest extent possible consistent with security needs."
But pressure on the Obama White House and the Justice Department to change the venue is mounting. Mayor Michael Bloomberg has retracted his earlier endorsement of the trials being held in New York citing the prohibitive security costs that would be passed on to the city. A spokesman for Sen. Chuck Schumer (D-N.Y.), a close White House ally, said the senator shared Bloomberg's concerns "about costs, logistics and security."
Should such concerns ultimately persuade authorities to change venue, there is a readily available, alternate location at which the trials could be held. The mayor of Newburgh, New York, a city 60 miles north of Manhattan that houses the Stewart Air National Guard Base, has asked to hold the trials in the city's new state courthouse.
"If they want to have it here, we've got the state-of-the-art courthouse," Mayor Nicholas Valentine -- a Republican -- told radio host Curtis Sliwa this morning, Poltico reports. "I'll offer it to them, but there's got to be money attached."
Popular in the Community