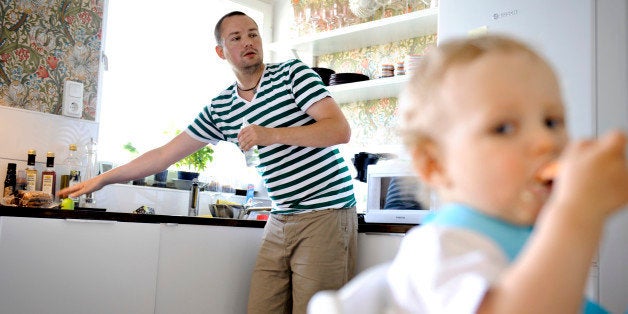 For much of our country's history, the picture of the traditional "American man" has been dominated by the machismo stereotypes of the Provider, Emotional Rock, Powerbroker, Cowboy, Jock, Good Ole Boy, Macho Man, Mad Man.
But these days, there's a whole new mix of images fighting for space: the Stay-at-Home Dad, the Caregiver Son, the Involved Dad, the Two Dads, the Single Dad, the Happily Married Dad, the Emotional Man, the Caring Man.
Changing family dynamics, a shifting economic landscape, the surge of women into the workforce and public life are all adding pieces to the kaleidoscopic picture of what it means to be a man in America today.
Begging the question: Just who is the 21st Century Man? Has he evolved and transformed in front of our eyes while we've been focused on the shifting roles of the American woman?
For men today, the "American Dream" is no longer primarily focused on having enough power in the boardroom to afford four bedrooms and a two-car garage for his family. The Shriver Report Snapshot found that today's man wants to be both a provider and a present partner, defining his "American Dream" through his success WITHIN his family via positive relationships with his spouse or partner and children OVER his professional and financial success outside of the home.
Not only is today's man more hands-on in his role within the family than in his father's generation -- and more willing to express himself, with only 22 percent of American men polled saying that showing emotion indicates a sign of weakness -- he's also very comfortable having a partner who works outside the home and even being out-earned by them.
While progressing in his acceptance of women in the workplace, today's man has some conflicting views on his relationship to women and his own masculinity. The Shriver Report Snapshot reveals an eye-opening disparity between the qualities contemporary men feel are attractive in a wife and/or partner and what they value for their daughters when they grow up. Interestingly, 66 percent describe wanting an independent daughter, yet only 34 percent mention independence in their partner -- and while they hope their girls will be "principled" and "strong," they'd rather their wives and girlfriends be "sweet" and "attractive."
The 21st Century Man wants to be present for his kids, but is still not ready to be the "Stay-at-Home Dad" we hear so much about in the media. He's not even sure he'd take 12 weeks of paid paternity leave -- even if it was offered by his employer.
In The Mask You Live In, a new documentary from director, writer and producer, Jennifer Siebel Newsom, and executive produced by Maria, young men talk openly about trying to find their way from boyhood to manhood in what they describe as a tough cultural and social environment. And they're right.
Today, one in three American kids live without their biological fathers. And young men that become fathers around the age of 25 experience a dramatic increase in symptoms of depression during the first five years of their children's lives. Men commit 79 percent of all suicides in the United States, and are more likely to engage in violence, sexual assault, binge drinking and drugs. They're also the predominant demographic in our jails. Today, women make up 57 percent of enrollees in post-secondary institutions, leaving men with just 43 percent of the higher education pie.
According to the poll, 36 percent of American men still report feeling uncomfortable around homosexual men. And 22 percent of men also admitted to having felt the urge to act violently when their manhood was challenged.
These statistics are important because they show that the picture of what it means to be a man is evolving and changing, particularly among younger men. As parents of both boys and girls, we're excited about the new picture this Snapshot has painted and eager to support the evolving 21st Century Man.
The more we all understand, accept and promote the virtues and challenges of the 21st Century Man, the faster we will shift towards a more gender-respectful society and narrow the broadened fault lines threatening our ability to understand and interact with one another in a caring, conscious and collaborative way.
Calling all HuffPost superfans!
Sign up for membership to become a founding member and help shape HuffPost's next chapter