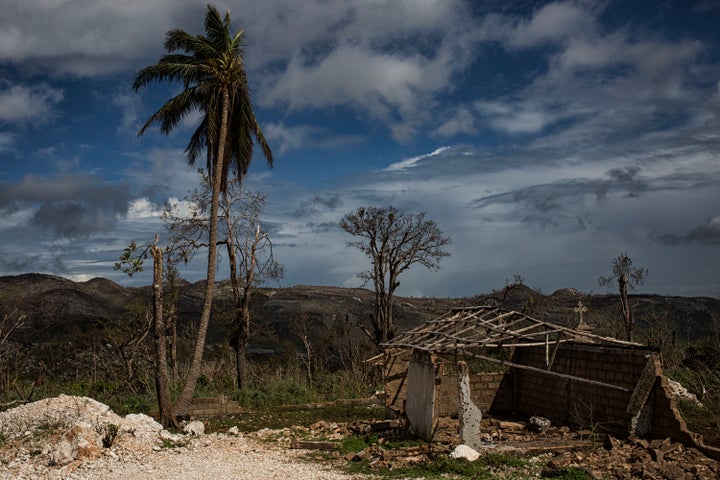 Fundamentally, you cannot have a disaster if there are no people involved. It is people who create disaster risk and it is people who suffer the consequences. And often, the people who suffer the consequences are not the same people who created the risk in the first place.
Climate change is a good example. The 13 small island developing states that were among the first to ratify the Paris Agreement last year are responsible for just 0.02% of the world's greenhouse gas emissions but are among those who will suffer the most because of the changes global warming is bringing to the world's weather.
Another example is seismic risk. Earthquakes and tsunamis kill more people than any other type of natural hazard. They do so partly because of a lack of adequate early warning systems and seismic alerts but a major root cause is either an absence of adequate building codes and land use regulation, or a lack of enforcement where they exist. It's the poor quality of the construction that often kills people.
The world has met to wrestle with the conundrum of why we voluntarily expose ourselves to growing levels of risk, every two years since 2005 when a world conference on disaster risk reduction came up with a blueprint for reducing disaster losses, the Hyogo Framework for Action 2005-2015.
That meeting in Kobe, Japan, was electrified by the fall-out from the Indian Ocean tsunami three weeks earlier, that swept away some 230,000 lives over the course of several hours as it inundated shorelines hundreds of miles from its epicentre.
Since then mortality rates have fallen for many natural hazards. There are stronger laws, national plans and institutions; improved response and preparedness. We have become better at managing disasters but disaster risk is growing exponentially driven by poverty, climate change, population growth in hazard exposed locations, the all-too-rapid pace of urbanisation and the loss of protective eco-systems.
My hope is that this conclave will provide a major boost to implementation of the global plan to reduce disaster losses, the Sendai Framework for Disaster Risk Reduction, adopted at a UN world conference in Sendai, Japan, two years ago.
On the opening day, the Leaders' Forum including the President of Mexico and other heads of State, will shine a powerful spotlight on the economic losses which disasters inflict when they destroy housing and important infrastructure and then require funding for recovery that could otherwise be spent on health, education and poverty eradication. Their recommendations and insights will be important.
A two-day Multi-Hazard Early Warning Conference will spark action on extending such systems to low and middle income countries where people like the hundreds who died in recent extreme weather events in Haiti, Colombia and Peru, need better access to climate information and weather forecasts.
This week we will seek action on having more national and local strategies in place over the next two years which combine action on both climate and more general disaster risk. This is a key issue for Small Island Developing States (SIDS), meeting separately over three days in Cancun to share practical solutions on coping with life on the front line of climate change.
The work of accountability will start in earnest with the launch of the monitoring process for implementation of the Sendai Framework that will measure progress in key areas such as reducing loss of life and the numbers of people affected by disasters.
Civil society will be present in great numbers, some 7,000 people registered to attend. They carry with them the hopes and aspirations of the people, communities and businesses they represent who want a safer world, one which puts prevention first.
Coherent action on climate and disaster risk is essential to the success of eradicating poverty and achieving the other Sustainable Development Goals.
No major agreements will be adopted in Cancun, they are already in place. Our ambition now is to move from commitment to action in a way that will be visible and tangible around the world.
Calling all HuffPost superfans!
Sign up for membership to become a founding member and help shape HuffPost's next chapter