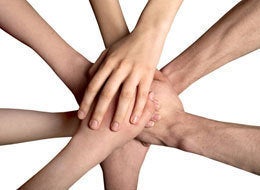 Doing good has never been hotter. Everybody's talking about their desire to make a difference, and volunteerism and civic participation are suddenly as high as they were in the 1960s. This fact is not lost on the two U.S. presidential candidates, who have made public service a centerpiece of their platforms.
If Alan Khazei is right, it's about to get even more exciting. We're about to see a renaissance of altruism across the United States and around the world.
Alan is the founder of Be The Change Inc., an organization whose mission is to help people come together around big ideas for change. I just got off the phone with Alan, a passionate guy who credits an insight from his former partner, Michael Brown of City Year, as the motivation behind this new organization. "Michael realized that there are all of these people with powerful visions -- like Wendy Kopp of Teach for America, which aims to create educational opportunity for every citizen in this country -- and because these people are focused on building their organization, they find it hard to participate in larger movements. So what I'm trying to do with Be The Change is to make it easier for social entrepreneurs like Wendy and citizen leaders to come together around some big ideas for change, to build coalitions, and energize citizen movements."
The name for his organization came from Gandhi's well-known phrase, "You must be the change you wish to see in the world." Alan talks about applying the three legs of Gandhi's theory on how to build a fair and just world -- the ballot, the spinning wheel, and the jail. "The ballot refers to political rights and activity -- our right to vote. The spinning wheel is about doing things to create a fair and just society -- caring for the elderly, teaching people to read. And jail refers to people coming together in large-scale citizen action."
So, what does this look like in practice?
ServiceNation is their bold first step. It's a national campaign of more than 100 organizations that collectively represent some 100 million Americans. A really interesting cross section of non-profits, such as Habitat for Humanity, United Way, AARP, NAACP, American Jewish Committee, America's Promise, YouthBuild, Points of Light and many others.
The campaign will be launched with a summit in New York City on September 11th (a deliberate and fitting choice for such a positive initiative). Hundreds of American leaders will gather to draft a blueprint of voluntary citizen service. Alan talks about the potential of such a plan. "We need to dramatically increase the opportunity for everyone - from kids in kindergarten to retired people -- to get involved. And to find a way for everyone who wants to to have an opportunity is his or her lifetime -- perhaps in our right of passage years -- to take time off from work or school to focus on solving problems, here in America and around the world." Imagine what it would be like if our individual and collective energy were called on to address some of the biggest challenges -- in education, the environment, poverty, disaster relief, and on and on?
And that's just the beginning. Two weeks after the summit, on September 27, ServiceNation will host a National Day of Action to engage tens of thousands of people like you and me in events across the country. To demonstrate the impact that service has -- and could have -- on our communities, and the power of citizens to create large-scale change. A Declaration of Service will be available on the National Day of Action -- and posted on the Internet -- in the hopes that hundreds of thousands of people will sign it. "That's inspired by the way the Peace Corps got started," Alan told me. "JFK threw out this idea late one night in the middle of his campaign, 'How many of you would be willing to go to Africa, to Asia, to Latin America?'. And within a week, he was presented with a petition from thousands of students who said, 'I'm willing to go!'."
New Radicals salute these citizen activists, and are moving across the landscape with them. The difference is that we don't want people to take time off work to do good -- we want to see service integrated into the workplace. For New Radicals, how we earn our living becomes the way we give back. In fact, Alan is a great example of a New Radical Entrepreneur -- he started an organization whose core mission is to make the world a better place (for more about the New Radicals, see archived articles).
Last week I wrote about the kinds of things emerging New Radicals need to add to their CVs in order to be ready to step into a life-changing and world-saving role. I mentioned that becoming a volunteer is a great way to gain experience in a new field, and to discover which issues and causes really capture your heart and mind. Which is why I was delighted to hear about ServiceNation this past week -- the National Day of Action seems like a great starting point for New Radicals-in-the-making.
I'd love to hear what you think of ServiceNation. Whether you might take part in the National Day of Action (and, if you're not American, whether something similar is happening where you live). Talk to me about the joys and frustrations of finding volunteer or service opportunities, or deciding where to focus your desire to do good.
And here's a special offer. I will send a free copy of my book -- WE ARE THE NEW RADICALS: A Manifesto for Reinventing Yourself and Saving the World (McGraw-Hill, New York) -- to the first person who shares a true story of someone using the question, "Where do you serve?" as a pick-up line. Because then we'll know for sure that this movement is red hot.