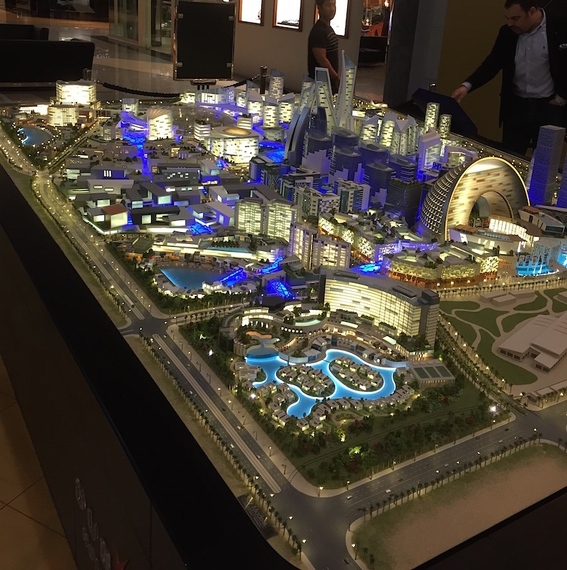 The photo above is not a model of the current city of Dubai. It is a model of the new city the ruling Al Maktoum family--with numerous investors--plans to build right next door, complete with the world's largest air-conditioned arcade and theme parks, all of it to be ready before the 2020 Expo here.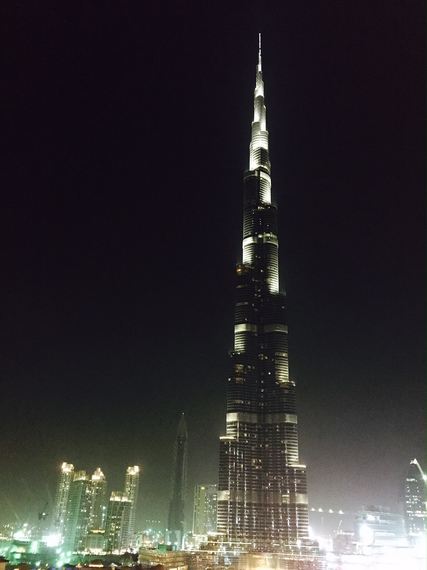 Gigantism has become the norm in this sprawling city, which ten years ago was barely an encroachment on the desert that surrounds it. Driven by international banking and commerce, and increasing tourism largely from Asia, Dubai brags about size, whether it's the gargantuan Dubai Mall (after London, having the largest collection of retail brands), or the world's tallest building, the Burj Khalifa , at 160 floors and 2,716 feet (NYC's Empire State Building is a mere 1,250 feet, Taipei's 101 Building a paltry 1,671).
The breathtaking observation floor, called The Top of the Burj Khalifa, is actually on the 124th floor. (A ticket is $34.) Of course, Emiratis (the name used for natives of Dubai) make curious boasts for the skyscraper, noting the total amount of concrete used equals the weight of 100,000 elephants, which Dubai has none of, and enough steel used for the frame to build five Airbus 380s, of which Emirates Airlines has 65.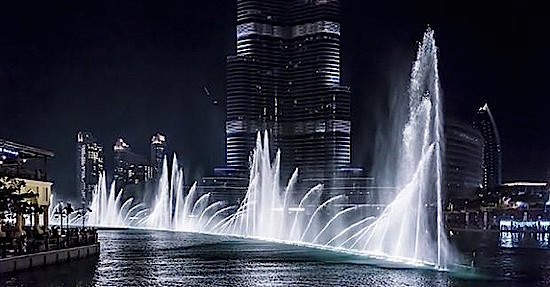 The Dubai Fountain--world's largest--shoots water up to 500 feet from Burj Dubai Lake. Dubai even proclaims its Burj al-Aran to be the world's only "seven-star hotel," though there is no such international ranking. Then there are the Palm Islands, the world's largest man-made islands, connected to the mainland by bridge and monorail.
All this boasting smacks of Las Vegas-style ballyhoo, but, unlike that other city in a desert, Dubai started from scratch and hired the world's top architects, engineers and designers to fabricate everything from the city's buildings to street plans, always with a focus on state-of-the-art energy savings.
As for hotels, nearly every international brand has a unit in Dubai, with dozens more coming on line before the 2020 Expo. When I visited I stayed at The Address, a very luxurious and very well-run hotel near the mall and Burj Khalifa, but it had a massive fire on New Year's Eve, so I cannot now recommend it.
Dubai is well aware that high culture is crucial for a city to earn an international reputation for modernity and as a tourist draw, but progress has been slow. The Dubai Museum offers a good look at the area's history, and music and cinema festivals are now held throughout the year. One of the most interesting developments I saw is Alserkal Avenue, a series of warehouses with more than 20 art galleries featuring largely contemporary artists from both in and outside the Emirates.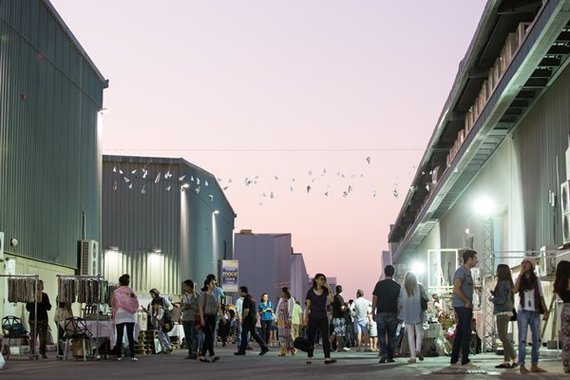 Dubai's thrusting itself into the 21st century with such a high gloss has, unfortunately, removed most of what once constituted a historic culture, with old neighborhoods razed to make way for the new. The little that remains is in the Bastakiya District, which, though not very extensive and largely a reconstruction, shows how the town looked in the 19th century, when it was a merchants' neighborhood, now lined with galleries and boutiques. Your first stop here should be at the beautiful Sheikh Mohammed Centre for Cultural Understanding--the view from the rooftop is requisite--then go on to the white gypsum mosque, then just stroll through the section along the Old City Wall, perhaps stopping at the Arabian Tea House for refreshment.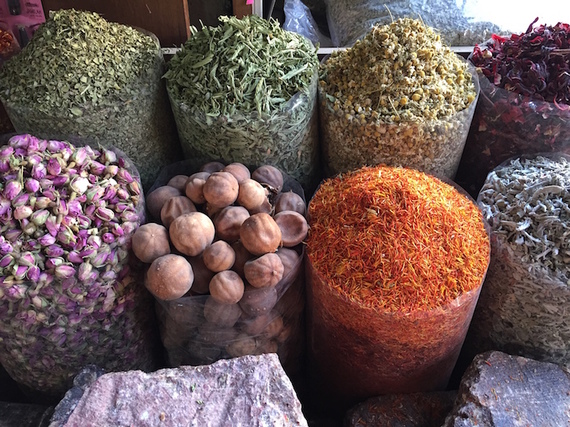 The saltwater Dubai Creek, along which the Al Maktoum dynasty was first established, divides the modern city from the older, and crossing the Creek by rickety water taxi brings you to the madly bustling souks, which are known by their specialties: the Gold Souk, Spice Souk (above), Perfume Souk, and the Old Souk, particularly well known for its textiles. Haggling--for some visitors a challenge, but for most people agony--is encouraged at the souks, but the seller will always win. Continue down the creek and you'll come to the peaceful Ras Al Khor Wildlife Sanctuary, a wetlands preserve for migratory birds.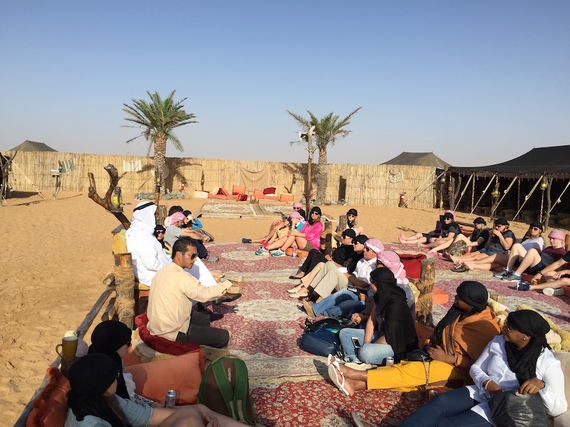 If you truly wish to see what the Emirates were like a century ago, you can take a wildlife drive into the desert (through Platinum Heritage Luxury Tours), and have breakfast at a Bedouin's home (above), sitting on carpets under a thatched roof and enjoying an array of mezzes while drinking tea or soda, as your white-robed host speaks (by translator) with a candid lack of nostalgia of how, in the new Dubai that grants him his own farm and all modern amenities life has become so much easier that he and his tribal members have no desire to return to a nomadic way of life. "I now have everything I need," my host said, "even people to take care of my farm and animals. There was no romance in being a nomad. It was a very difficult life."
Civilization--the very word derives from the Latin word for city--has throughout history been a double-edged sword that cuts away the old ways while bringing new vitality to a region. In Dubai time does fly, and time will tell, as, in Shelley's poem "Ozymandias": "Boundless and bare/The lone and level sands stretch far away."
● Best time to shop the malls is right when they open. Prices are often lower than at the duty-free shops at the Dubai Airport.
● Tipping is not expected in Dubai, but five dirhams ($1.35) for a bellboy is fair; in restaurants a service charge is added to the bill.
● Cheapest way to get around is to buy a Nol card at 14 dirhams ($3.80) for a day pass, for the metro, buses, water buses and parking.
● If you become ill while in Dubai, the city's medical facilities are considered to be of a very high standard. Services are not free to foreigners, so you may want to consider international health insurance.