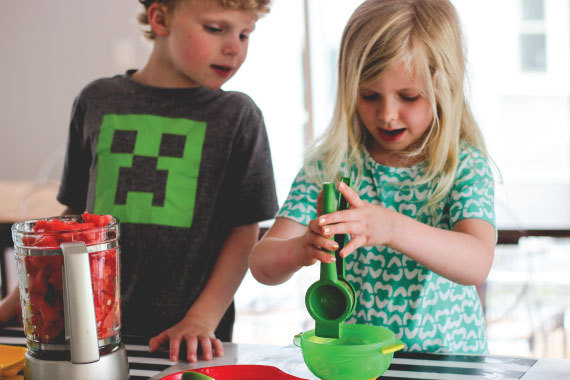 I spend a lot of time cooking for our family because I enjoy it. But, inevitably, whenever I post our monthly roundup of our dinnertime recipes (you can find the most recent one here), I get questions from many people about how I get our kids to eat healthy food or, really, eat anything at all in the first place. Having gone though numerous iterations of mealtime rules, I get it. And I get that there are multiple schools of thought about how to approach kids and eating, and that those change over time with kids' development and needs. Moreover, in general, I'm wary of dispensing parenting advice because I'm a firm believer that people need to do what works for them.
But since our kids turned pre-kindergarten aged, our rule has been: They will eat everything on their plate or they don't get up. I put a small amount of every meal component (usually a protein, a carbohydrate, and a vegetable) on their plates, and they have to eat everything. Plus drink their milk. Sweets are saved as weekend treats. And here's why.
1. It removes negotiating and bribery. Don't get me wrong, I spend a lot of time outside of meals negotiating with our children and enticing them to make good choices. But enforcing rules such as requiring them to take a certain number of bites or sampling everything before earning dessert completely dominated our meal times. It made eating together miserable for everyone. The kids spent whole meals focusing on what they didn't have to eat instead of enjoying family time together. And I was annoyed to the point that I'd eat standing at the counter instead of sitting down with them. Since instituting our new rule, meal time has gone much more smoothly -- they still have their fair share of whining, but it's decreased greatly.
2. It teaches them to be more appreciative. I spend a signifiant amount of time planning, shopping for, and cooking healthy meals for our family. And nothing irks me more than doing that and having the kids start whining before they even sit down at the table. It's rude and disrespectful to me and my efforts. It also fails to recognize the significant number of people in this world who are struggling just to get enough food to eat and the fact that food waste has disastrous environmental effects. The overall gist of all of that is to help the kids think outside of themselves and be appreciative for what they have. Involving our kids in shopping, meal prep, and cooking has also been a more concrete way to make that connection for them.
3. It ensures they have a healthy, well-balanced diet and develop good eating habits. Our daughter has a healthy "that's enough" sugar signal (I'm still working on developing that one myself). But, in general, kids left to their own devices will not make the healthiest food choices. That is until they cut down on sweets and processed food, can actually taste that healthy is good, and learn to make that good decision themselves. We're not totally there yet, but I hope that by cooking and plating a well-balanced meal, we're moving in the right direction.
As I mentioned at the start, I think everyone needs to find what works best for them. But give this one a try, you might be surprised!