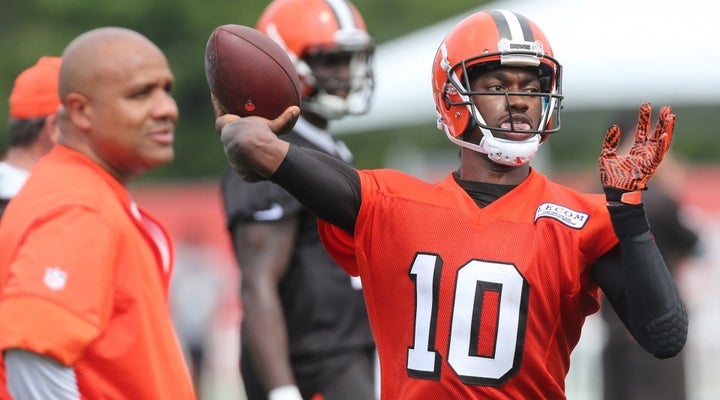 In 2016, the Cleveland Browns are the comeback kids. There are so many storylines from both a team level and individual player level that make this year really exciting. As much as we like to make jokes here at Daily Fantasy Guys, in all seriousness, this year the Browns could end up being must-see TV.
Starting with the city level, Cleveland finally broke its championship losing streak this year with the Cavs bringing home the NBA title. That lifts hopes across all sports teams and certainly puts a little more pressure on the Browns to follow up with a great season as well. The Browns haven't made the playoffs in 13 years, tied for the second longest drought with Oakland. (Buffalo is No. 1 at 16 years. At least they're No. 1 in something). A playoff run right after the Cavs NBA title would be an amazing sight to see!
On top of that, they dumped their troubled QB and brought in RGIII. RGIII wasn't guaranteed the starting job right away, but he did enough to earn it pretty quickly and through a couple preseason games he's looking pretty good. Plus he dumped his wife and got a hot new girlfriend, which from a human standpoint is pretty shitty, but from football player standpoint is a great sign. The guy is ready to fire on all cylinders! I always thought he got the raw end of the deal in Washington and never lived up to his full potential. A healthy and motivated RGIII has the potential to be a top QB in this league.
RGIII also has some interesting targets in Terrelle Pryor and of course, Josh Gordon. Pryor went from pretty much a non-factor, playing in three games last year and getting one reception, to moving up to a top WR and getting over 100 yards and one TD through two preseason games, including an electric 50 bomb from Griffin.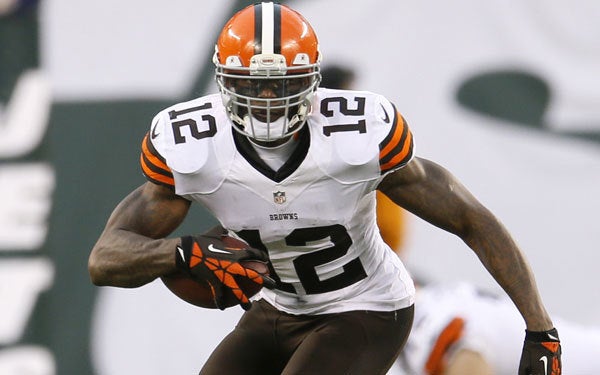 Gordon is maybe one of the most interesting storylines in all of the NFL. After not playing football for over a year, he's back in camp and apparently looking great! We know he has the ability to be an elite WR, but we won't be able to see him until Week 5. By that point, we should see how Griffin and Pryor and the rest of the Browns are performing through four regular season games. If they are off to a good start, I would expect Gordon to just add fuel to that fire that is the Cleveland Browns.
I can't remember a team that had so many different storylines with players trying to make a statement after years of subpar performances or, in the case of Gordon, no performance. On top of that, in Week 4, the Browns play the Redskins, letting RGIII show this old team what he's really capable of. And right after that game, they get Gordon back, just in time as the Patriots travel to Cleveland for a Week 5 matchup that could be the test the comeback kids need to prove to the rest of the league that they're the real deal.
Calling all HuffPost superfans!
Sign up for membership to become a founding member and help shape HuffPost's next chapter
BEFORE YOU GO