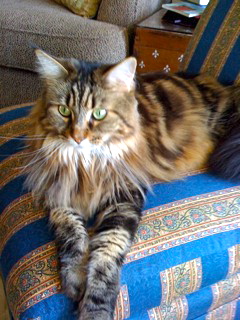 One of the byproducts of divorce is that you're often not with your children at holiday time. Some families manage to combine, but through the many years I was alone I was not included at the table of my ex and his wife, and my sons were usually there.
My oldest son and his family now visit my daughter-in-law's parents every Thanksgiving in San Francisco., and since my younger son visits us in January, he usually spends Thanksgiving with his father.
So since the mid 1980s I have rarely spent Thanksgiving with both my sons. And I have never spent the holiday with my granddaughters.
What to do? A tradition has been started that has substituted as best possible. My Maine Coon cat Sweetie, who loves people and is well-mannered, joins us at my Thanksgiving table.
She sits on an antique school bench. I pour gravy on her Iams. She looks at friends as they talk, eats daintily and is as good company as many of them.
She doesn't get up from the table to watch football.
She doesn't spill gravy on my tablecloth.
She doesn't eat all the cranberry sauce.
She doesn't say how Rush Limbaugh is brilliant and Sarah Palin is a wonder.
She doesn't talk about her most recent operation.
Sweetie may not be human, but she is a well-behaved family member who enjoys sitting at our table
Is it that really so odd?