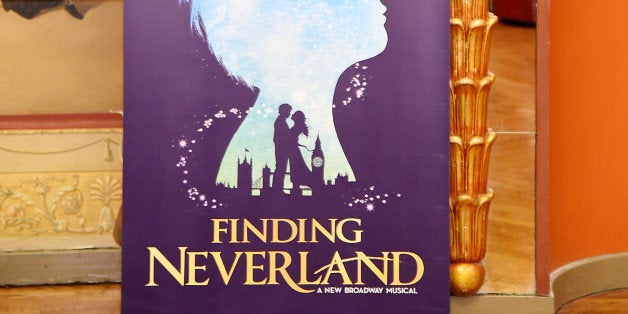 How do we explain Peter Pan's enduring hold on our imagination? Why do we get hooked (and I use the term with all due deliberation) when we are children and continue to remain under the spell as adults? J.M. Barrie, more than any other author of children's books, attempted to level distinctions between adult and child, as well as to dismantle the opposition between creator and consumer. He aimed to produce a story that would be sophisticated and playful, adult-friendly as well as child-friendly. At long last, here was a cultural story that would bridge the still vast literary divide between adults and children. Peter Pan could be a shared experience, drawing two audiences together that had long been segregated into separate domains.
Peter Pan continues to bring young and old together, as they flock to New York City's Lunt Fontanne Theater. There, the boy who would not grow up returns to us in the new musical Finding Neverland. As audience members, we explore everything from the origins of the boy who would not grow up (Barrie's brother David died in a tragic ice-skating accident and was doomed to remain forever young) to the complications of creating a work not just for children but also with children (Barrie famously disavowed the role of author, first calling himself "Anon." then attributing the writing of the play at various times to children and to a nursemaid).
Finding Neverland, like Peter Pan before it, unsettles us even as it provides the comforts of immersive entertainments. The production reminds us exactly why Neverland remains relevant today and why we still need Peter Pan to help us navigate the real world. Our anxiety level is rarely higher than when Peter asks us to express our faith in fairies by clapping. Should we clap? Can we be assured that others will join in? Make-believe suddenly blends into the making of beliefs.
Barrie understood that we never leave childhood entirely behind us. "It isn't a play just for children. It's a play for everyone. Everyone who has a child inside of them, screaming to get out!" an exasperated Barrie shouts in Finding Neverland. Lurking beneath the attractions of Finding Neverland as musical are alluring questions that challenge us to think more and think harder about what is at stake in our understanding of children and their relationship to grown-ups, those former children who are now "grown up and done for."
Based on the 2004 film, Finding Neverland as a musical historicizes the invention of Peter Pan, showing how the work about him emerged from play-carefree collaborations between writer and boys, along with the searing drama of adult soul-searching. Finding Neverland, like Barrie's Peter Pan, also offers up the consolations of imagination. If there is anything to be learned from Neverland, it has to do with the healing power of imagination and fantasy. Finding Neverland works its magic through the sorcery of words and the enchantments of song and spectacle. Peter Pan is nearly always played by a woman, and it is no surprise that a woman directs this production (notably the only female director of a musical this season on Broadway). Diane Paulus reinvents the story of Peter Pan, embracing and intensifying its impulse to create what J.M. Barrie called "ecstasies innumerable."
J.M. Barrie would be delighted that this new musical is capturing what he always hoped for with his creation of Peter Pan - igniting the imaginations of children and adults alike on their collective journey to Neverland.
Calling all HuffPost superfans!
Sign up for membership to become a founding member and help shape HuffPost's next chapter