After what transpired during the fifth season finale of 'Suits' with [Spoiler], Mike Ross going to jail for being a fake lawyer, audiences may be heading into a different territory with the series' storytelling. It seems like 'Suits' may change the format of the show since the firm is pretty much broken, which can be a good thing and why the show is still at the top of it's game.
When we enter the new season, there won't be a time jump but instead, it will start from where we left off with Mike heading into jail. This leaves Specter Pearson Litt law firm in shackles, and the team must now pick up the pieces without Mike around. On June 23rd, Sarah Rafferty visited New York at the Henry R. Luce Auditorium for the 'Suits' premiere event hosted by EW with cast members Patrick J. Adams and Rick Hoffman. The event gave the press and fans a preview of the season premiere along with a Q&A talking about the show along with a reception to interact with fans.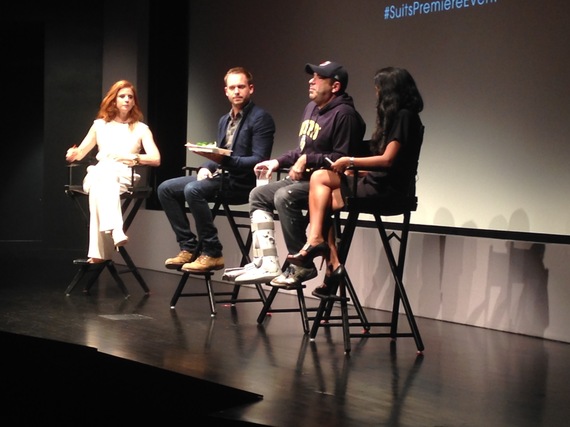 Sarah Rafferty also came by at AOL Build to tease what's coming for Donna and the rest of the cast when the series returns for season six. Speaking about the start of the premiere, she said, "We come back three minutes later, we just pick up right there. So Mike is walking into his prison cell, and there we are at Pearson Specter Litt and it's basically falling apart, it's a ghost town. We have to figure out how to get Mike out of prison and if there's a firm to save."
With Mike in prison, this changes the dynamic for the team as the firm must work together to find a way out of this mess without their smart associate. However, Mike will be busy making new friends while he's in jail and they aren't all good. With every season, there's also a great list of guest stars that enter the story and make things interesting for the cast. Rafferty touched on Mike's journey in prison saying, "He meets some people in there so I think that's particularly exciting for our show, we have these amazing guest stars coming on this season and they populate this new world that we're in part of the time which is the prison."
The new season will also be the return to the dynamic between Harvey and Donna that made fans love the show in the first place. During last season, it seemed that Donna and Harvey's relationship changed after Donna admitted her love for Harvey. Now with Mike in jail and the firm in trouble, they must move past that in order to save Mike and their firm. Rafferty briefly mentioned their special relationship and how it changes in season six. Speaking on Harvey, she said, "He feels tremendously guilty about what went down and he's not always so good at navigating the waters of his emotional life. So Donna is there to shepherd him through that and put him on track because she realizes that we need Harvey Specter to figure this out."
As Donna returns to work for Harvey, her friendship with Louis will also remain intact. It was worrisome when she left Harvey for Louis, but now it seems that everything is going back to normal in regards to the relationship between all three of them. Speaking about Louis, Rafferty says, "Donna's not working for Louis and I think that's a much healthier dynamic for Donna and Louis. Then they can be back to being kind of best friends and he can get back to sort of treating her really well and they can get back to having a lot of fun which I'm excited about in season six."
Social media tends to play a huge part on the show's success, so it will be no surprise when this trend continues to play out in the new season. Rafferty seems to think so also when she spoke about how interactive the fans have been on Twitter and their huge influence on the show. "It's so gratifying for all of us to have viewers who are so engaged, we are so fortunate to have that", Rafferty said.
REAL LIFE. REAL NEWS. REAL VOICES.
Help us tell more of the stories that matter from voices that too often remain unheard.