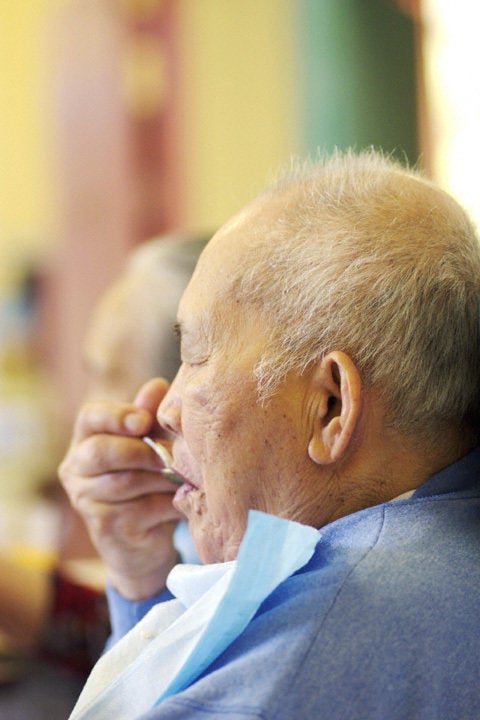 Today is World Alzheimer's Day, an important day all across the globe, as this epidemic continues to steal minds, take lives, and gain momentum. And it is also an important day for me personally, as a child of Alzheimer's.
In the next month, we will release the second Shriver Report, this one A Woman's Nation Takes on Alzheimer's. This groundbreaking report will detail how women are at the epicenter of Alzheimer's disease and what that means for the nation. Alzheimer's disproportionately affects women, who are not only nearly two-thirds of those who suffer from Alzheimer's. Women are also sixty percent of the caregivers for those who have the disease.
It is fitting that on World Alzheimer's Day, world leaders are gathering in New York for the United Nations' General Assembly and the Clinton Global Initiative. Both of these gatherings will discuss women around the world who are struggling to survive and take care of their families. They will examine critical issues from poverty and maternal health to micro-lending and education. This comes on the heels of the historic appointment of former Chilean president Michelle Bachelet to lead a new UN agency that will promote equality for women.
This commitment to improving the lives of women is essential. But as world leaders focus on women, I encourage our political, business, and faith-based leaders here in the U.S. to make the same commitment to focus on the issues facing women here at home.
The American woman should be at the top of the national agenda. She deserves that. She needs that. Even more important, American families - - men, women, and children - - need that.
As we reported last year in The Shriver Report: A Woman's Nation Changes Everything, women are now nearly half the U.S. workforce, and mothers are primary breadwinners or co-breadwinners in two-thirds of American families. Today, women are the engine driving the American economy, a transformation that has only gained momentum in the current Great Recession, when two out of every three jobs lost have been lost by men.
But women aren't just supporting their families. The reality is that in 2010, they are working while continuing to raise children and care for our elderly. As we report in The Shriver Report: A Woman's Nation Takes on Alzheimer's, most caregivers in this country are working women who must take time away from their jobs to provide compassionate care.
Women all across America are nurturing the next generation while simultaneously caring for the last generation. And the cost is tremendous -- financially, emotionally, physically, and spiritually.
On top of all of this, the new poverty figures should give us all pause: One in every seven Americans now lives below on the poverty line. As the daughter of Sargent Shriver, who led the War on Poverty, I can say it's clear that we need a renewed commitment to the American family and the American woman.
Our business and government policies are still based on the idea that men are the primary breadwinners while women are at home, taking care of children and the elderly full time. That time has passed. American laws and institutions have to evolve and catch up with this economic reality. Our families need predictable and flexible working hours, redesigned family and medical leave, elder care, and social security benefits that account for time spent out of the workforce while caregiving.
As we said in The Shriver Report, the United States is the only industrialized nation that does not require paid family leave. It offers no federal subsidy to employers who provide family and medical leave. There is very limited federal investment in programs to help working families deal with elder care. And in-home care programs, supported with federal and state Medicaid dollars, have taken massive hits with state deficits on the rise, such as those in California, where my husband serves as governor.
That is all the more reason to push for change in the workplace and to help employers recognize that flex time is smart business. Studies show that flexibility and time off for caregiving produces loyal, productive employees who boost the bottom line.
Next month at The Women's Conference in California, we will take the dialogue further and inspire women to be what I call Architects of Change. We will give the 30,000 participating women messages on empowerment through programs addressing everything from domestic violence to fulfilling dreams. And we will focus attention on the those with Alzheimer's and the caregivers who love and sacrifice for them.
The nation's 78 million Baby Boomers are at the forefront of a the coming Alzheimer's tsunami. They are entering their mid-60s, and many will be getting Alzheimer's, which now affects 1 in every 8 people over 65.
We need more action. We need the voices of the 156 million women in America to be heard on this issue. Women now make 80 percent of consumer decisions in this country, earn the majority of college degrees, and overwhelmingly outnumber men in voting for our political leaders.
Together, we women are unstoppable and our message is undeniable: Let's focus on their power and potential, because when you support American women, you support American men, American families, American businesses and America's future.
We are the hope to defeat this mind-blowing disease.