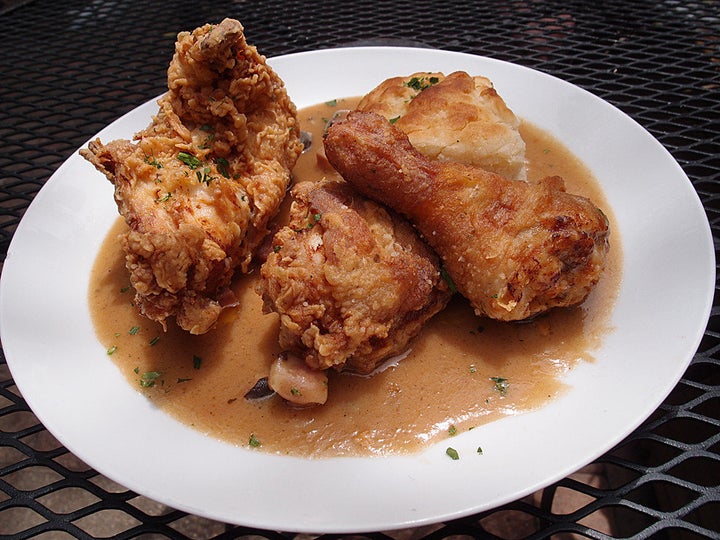 For a variety of reasons, America has gone soul-food crazy. The biggest driver, most agree, has been the economic downturn. High-end restaurants were forced to scale back and, in some cases, reinvent themselves as casual-dining establishments. The category of haute cuisine itself was expanded to include items like grass-fed foie gras beef burgers and fancy fried chicken. But the economy isn't the only reason Americans have fallen so hard for all things country-fried. We've had the South on the brain these last few years, especially since Hurricane Katrina. Even though the U.S. has suffered other catastrophes since then, economic and political strife among them, the wounds inflicted on our southern states have had the most personal and lasting effects. Southern comfort food has been a way to feel connected to the South. You know, without actually going there.
Never mind that, in the places where the trend has most taken off -- New York, L.A. -- soul food gets confused with barbecue, staples from Texas to Louisiana all get lumped in together. In Manhattan, you have your pan-Southern emporia, like the Justin Timberlake-backed Southern Hospitality and the recently opened Neely's Barbecue Parlor, that serve everything from po'boys to Memphis barbecue to fried catfish. JT, being from Memphis, might know better, but dumb Yanks can't tell the difference between these gastro-genres anyway. Then, you have your hipster hangouts, like Seersucker in Brooklyn and Peels in Manhattan, that have embraced foods like grits and pimento cheese, however ironically.
And yet, all evidence points to the soul-food bubble bursting. At the National Restaurant Association's annual show in Chicago in May of this year, industry forecasters were saying that the comfort-food trend had jumped the shark. (At least American comfort food had. Look out for zingy, spicy Malaysian street food and Latin American home cooking on the horizon.) The shitshow that was Soul Daddy seemed to confirm it. The winner of the Food Network's "America's Next Great Restaurant" should have been a recipe for instant success: the mini-chain had millions in financial backing from the show's sponsors and the credible face of the company was that of a struggling Detroit family man who had supported himself during the recession by serving chicken and waffles out of his home. But the menu got tweaked and tampered with so much that Soul Daddy ended up as a vehicle for "healthy" soul food. An oxymoron, at the very least, for what is the soul in Southern food if not the butter and lard it's cooked in? Its three locations -- in New York, Los Angeles and at the Mall of America in Minnesota -- all closed within weeks of opening.
It's like every food trend, I guess. One restaurant's success causes others to emulate it, each one adding its own twist until the cuisine is no longer recognizable from its original incarnation. Soul food nouveau. Eventually, the trend goes mainstream and either dies out or gets absorbed into the greater food lexicon. For about a year, every new American bistro in New York had shrimp and grits on the menu. That dish may well go the way of vertical plating -- become passé -- but fried chicken will probably continue to be reinterpreted again and again. And by increasingly upscale restaurants, to boot. At the much-hyped SoHo restaurant, The Dutch, it comes with honey butter biscuits for $19. (Other entrees on the menu include decidedly un-Southern Smoked Ricotta Ravioli and Sea Scallops with spring peas, bacon and pickled ramps.) Celebrity chef Marcus Samuelsson charges $21 for his fried bird, served with white mace gravy and hot sauce, at Red Rooster Harlem. This is a dish that involves finger licking and lip smacking. It's meant to recall home cooking. How can ordering it for a family of four set you back a hundred bucks? Such is the fashion in food these days. Home cooks invest in top-of-the-line kitchen equipment, while restaurant chefs flog their mamas' (or someone else's mama's) recipes.
Soul food, co-opted by high-end chefs and reinvented with top ingredients and precise preparation, can be delicious. But changing it -- elevating it -- has consequences. Namely, it risks losing that very thing that defines it: its soul. As for the bubble bursting, it's inevitable. And when it does, may it rain biscuits and gravy on us all.
Calling all HuffPost superfans!
Sign up for membership to become a founding member and help shape HuffPost's next chapter