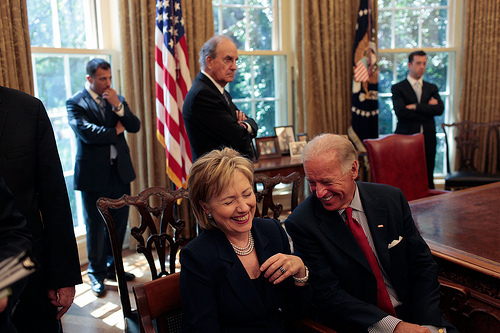 The subtitle to this post might be It Takes A Heavyweight.
Skeptical of the multi-tiered diplomatic strategy of the Obama administration from the start, color me unsurprised at what hasn't manifested. This reality was driven home after Obama's Afghan speech last week, which actually led to more confusion on policy even after all the prep work done, including involvement by Sen. Kerry So the president was forced to send his strongest national security emissaries, Gates and Clinton, out on the Sunday shows to clarify what Obama meant, because his speech caused anxiety in Afghanistan and Pakistan. Sec. Clinton sent envoys out to pave the way, which seemed ill advised and lacking the sense of urgency where the Middle East and Central Asia are concerned, especially as Clinton was recently doing the heavy lifting herself. It remains to be seen what will play out in Iran. But envoys and diplomacy layering is the Obama strategy, so we all had to just watch this play out. It has and it simply hasn't worked very well.
The problem may not be any lack of resolve, talent or hard work on the part of either man but the envoy system itself, which Obama embraced early in his administration before it had been particularly well thought out, according to some experts.
I'd say it stronger, that there can be no doubt that Mitchell and Holbrooke have talent, resolve and the purpose of hard work, but that the diplomatic inheritance left to Obama from Bush-Cheney required Herculean heft from the start, which can only be orchestrated through a Secretary of State that has the diplomatic chops to cut through the layers of ill will left over from eight years of John Boltonism.
Why Pres. Obama, along with Sec. Clinton, couldn't figure this out from the jump is puzzling. It can't be they were distancing themselves from potential failure, as that's the foundation on which they began, so it's more likely they bet that small steps would lead to larger gains or that they had the time to bet on the incremental notion of diplomacy. It seems obvious that Pres. Obama misread the mood of our allies, with both he and Clinton underestimating that it would take all of their might to make gains. Though I'd add another element, which Aaron David Miller lays out for Rozen:
Aaron David Miller, a veteran former State Department Middle East peace negotiator, described the envoy system as "fundamentally flawed because it departs from the one system that has proven in the past to have worked.

"Whether it was Nixon-Kissinger or Bush 41 and James Baker -- the strong foreign policy president ... empowers the strong secretary of state," said Miller, now with the Woodrow Wilson Center for International Scholars.
Dare I say it? Sec. Clinton has used her power at State too humbly. Ever the team player, as she proved during her Senate time, Clinton didn't swagger on to the world stage, she shuttled, but only after the envoys had been there and done that. There have been a blizzard of reports about Clinton's power, but the one aspect that hasn't been covered nearly enough is that the teamwork system currently in place underutilized Sect. Clinton's star power, which is equal at State to Pres. Obama's presidential world pizazz that was at it's peak months ago. We actually might have benefited from a little more Clinton bravura.
Also within Rozen's piece is the ever present diplomatic elephant in the room: Richard Holbrooke, with Rozen reporting the latest development in this never ending soap opera:
...sources close to the White House reportedly blamed Holbrooke for a piece by Council on Foreign Relations President Emeritus Les Gelb that decried the "amateur hour" at the White House and called on Obama to shake up his foreign policy team. Gelb says Holbrooke, who did not respond to a request for comment, was not a source for the story and seemed to find the charge baffling.
No one can be sure about any of this, obviously, but it does reveal that there are, as usual, knives out for Holbrooke that force him to go on the defensive. I can point to my own personal conversation with Mr. Holbrooke in late October as proof. This will remain a relevant thread even as he becomes engaged in the latest Afghanistan strategy implementation, in which he'll likely play a key part.
The only thing I can say about Mitchell and the Middle East is that the man is a tireless patriot of unending magnanimity that isn't going to be rewarded on this one. As things stand with the Israeli press, who, after taking Obama's Cairo speech personally, have done a fine job in pummeling the president into single digit territory, even an envoy as gifted as Mitchell won't do. For that matter, even though Sec. Clinton's power among Israelis is strong, she's not the one facing doubt. It's likely only Pres. Obama can make the Israelis move to meet the Palestinians, but in order to do that he'd have to put himself on the line and make a voyage inside Israel that includes offering a strategy that engages Syria much more seriously coming at a time when the Palestinians are in disarray. It remains to be seen what Obama is willing to risk to get peace done and whether Netanyahu's latest charade move will seduce anyone into believing he's serious this time. He isn't, as settlers protest anew today. MJ Rosenberg analyzes:
I love this Netanyahu statement published on the Israeli Ministry of Foreign Affairs website. ... Here is the money quote: "This [freeze] order is one-time only and it limits the duration of the suspension. There are nine months and three weeks left. Once the suspension has expired, we will continue to build. I want to make it clear." In other words, I had to promise a freeze to President Obama but, don't worry, I'm not serious." ...
REAL LIFE. REAL NEWS. REAL VOICES.
Help us tell more of the stories that matter from voices that too often remain unheard.