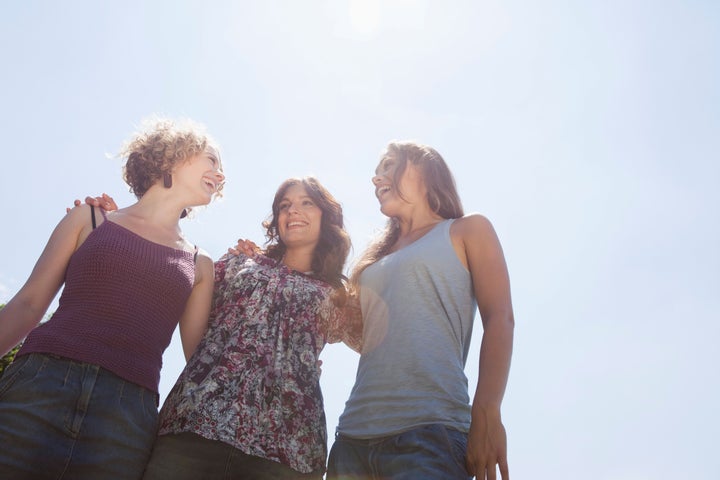 Girlfriends are essential. They love you not for who you were, or who you could become, but for who you are right now. This past spring, I was diagnosed with a benign, massive, bone-dissolving Giant Cell Tumor. The year 2011 could have sucked. It didn't because I have girlfriends.

There's a post-collegiate period when a girl wonders if she'll ever make friends like the ones she had on campus. After graduation, I kept busy with work and falling in love, but I missed my old tribe. My therapist gave me a homework assignment: Be open to making new girlfriends. Real ones, like in college, but here where you live. I explained to her that it isn't that easy. You don't want to jump into a friendship with just any girl you meet.

Maybe it was luck or a nod from the universe, but soon after, I was invited to an all-girls dinner. I dreaded being a new girl, but I had a great time despite myself. These women shared my interests. Their energy was contagious. And they made me laugh. We didn't know it then, but over the next several years, we'd run all the girlfriend bases:

FIRST BASE: You're willing to drive your girlfriends to the airport during rush hour traffic. (As long as they provide coffee and apologize profusely.)

SECOND BASE: You skip out on your family Thanksgiving to do a Friendsgiving instead.
THIRD BASE: They give you a more singular, thoughtful birthday present than the one your boyfriend gives you. (But they give it to you in private so as to spare his feelings.)

HOME: They hug you when you ugly cry. Whether you are grappling with a break up, a death, or a hard stage in life, they are there for you. They don't shy away when you hit bottom. For me, this happened last spring.
It's February 2011. My knee hurts sometimes. I'm a runner; I probably have a tight IT band -- nothing a physical therapist can't help. I go to the doctor's office for a referral. Before I even meet the physician, I'm led down the hall for x-rays. I worry about the unnecessary radiation.

I'm text-venting to a friend when the orthopedist comes in. He's charming. He used to be a soccer player in Sweden. He examines my leg. I was right; I need to stretch more. But there's something else. He asks me not to freak out. We need to discuss my X-ray. I have a tumor in my distal femur and I need to get an MRI ASAP. I'm sorry. I have a T-what?!
AN EMAIL FROM A GIRLFRIEND:
... Can I come with you to the MRI on Tuesday? Very happy to drive you and hang out with you in that freaky machine. P.S. I'll try to stop being a paranoid gross face.

The MRI report comes back: Worrisome. My whole life people have told me not to worry so much. Family. Teachers. Boys who wanted to kiss me. And now, I have a tumor and the radiologist has chosen to describe it as "worrisome." I'm advised to meet with an oncologist immediately. In the meantime, my girlfriends offer a soothing blend of distraction and concern.

A GIRLFRIEND TEXT:
Do you want to TALK now? Or we can just sit and watch 80s movies and drink? Please lean on me.

A few years ago, one of my best friends had surgery to partially remove a benign tumor that continues to grow inside her spinal cord. A long scar blazes down her spine as a testament to her strength. With friends like these I have no choice but to forge ahead.
I fly to Houston next, my hometown, to meet with orthopedic oncologists. I'm lucky to meet with Dr. Rex Marco, who suspects I have a Giant Cell Tumor (GCT). These extremely rare tumors destroy joints, have a high recurrence rate, and while benign, have potential for metastasizing. He says I'm one in a million. I thought that was supposed to be a good thing.
I wake up from the biopsy surgery in a haze of anesthesia. My leg is the size of an elephant trunk. I'm hurting, but I can't help laughing when I read this on my cell phone:
Welcome out of the slice and dice dept! I hope they didn't take too many naked pics of you while you were under. Love! Love!

In my second surgery, they scoop out the tumor, kill all surrounding cells and fill the gaping hole left in my bone with cement.

AN EMAIL FROM ANOTHER GIRLFRIEND:
You can count on all of us for whatever you need at every stage. (Rides? Ice cream? Kale? Kale ice cream? Alone time? Fighting tigers for your amusement?)

Anybody who's been on the cutting board knows there's a whole new set of challenges once you are released from the hospital. For me, this includes daily blood-thinning injections in the abdomen, modified showers, fevers, losing touch with the outside world, too much Bravo TV and a whole lot of pain. I'm not a happy camper.

Even though my girlfriends are a thousand miles away, they make me feel better. They go care-package-crazy and send magazines, candles, travel size perfume, fuzzy socks, paperbacks, dry shampoo, a cotton robe, a servant's bell, pajamas, a sweater with pockets, poetry, flowers, season one of "Downton Abbey." These little delights make me feel loved and remembered.

A GIRLFRIEND TEXT:
I can't wait to have you back in L.A. and watch you not let me help you up those G.D. stairs on crutches. Call me whenever.

After a month of squatting in my mother's first floor Houston bedroom, my husband and I escape back to our home in Los Angeles. I can't walk or drive until mid-summer. My girlfriends keep me company. We watch movies. They chaperone me to the bar and shelter me from guys who point at my crutches and flirtatiously joke, "Ski accident?" They listen to me moan about physical therapy that hurts so much I cry. They beg to bedazzle my cane. Like proud parents, they videotape my first steps.

My doctors saved my leg, but my girlfriends preserved my spirit. I'm so thankful they were on this journey with me. Girlfriends have your back when you're unsteady on your feet. They celebrate your little victories and walk with you through the darkness. Cherish the women in your life. They make it so much better.
For more by Ellie Knaus, click here.
For more personal stories, click here.
For more about friendship, click here.