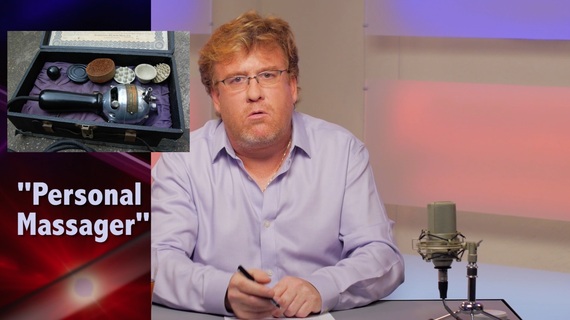 As Solicitor General from the state of Texas in 2007, Ted Cruz supported legislation that banned the sale of sex toys, vibrators and plastic vaginas. Why? Because sex toys represent two things Ted Cruz is against: 1. Sex. And 2. Fun.
In papers submitted to the US Court of Appeals, Cruz argued there was no right
"to stimulate one's genitals for non-medical purposes unrelated to procreation or outside of an interpersonal relationship."
Cruz is hardly the first or the last creepy man who has attempted to control women's sexuality and sexual behavior. Join me, if you will, on a trip to yesteryear. Where men were men. Where women were meant to be in the kitchen. And sheep had to always be looking over their shoulder.
In the late 1800s, the field of medicine lacked today's sophistication. And diseases known today as bi-polar, depression and anxiety, among others, which we now know are caused by increases or decreases or absence of a multitude of hormones and proteins and are treated with powerful drugs and intense therapy -- used to be just called "hysteria."
And "hysteria," whose symptoms ranged from irritability and bloated stomach... all the way to really irritable and really bloated stomach -- affected in nearly all instances... just women. Why not men, you ask? Oh, you'll see in just a second.
You see, the treatment prescribed to women diagnosed with "hysteria" was stimulation of the clitoris until orgasm. No. Not self stimulation. Rather, it was stimulation performed by the doctor. By hand. His hand. And when manual stimulation is the cure... you can bet that it was also the doctor's diagnosis. A lot. A real lot. Like, a lotta lot.
You can imagine women walking into the doctor's office and the doctor saying: OK, lift up your skirt. And the woman saying: "But Doctor, Is that how you treat my stab wound to the neck."
Now, here's the rub. There was a problem with all that rubbing and stimulating. No, not for the women -- many reported feeling better after they orgasmed. At least the ones whose doctors didn't make a slurping sound while they massaged the woman. The problem was that with all the rubbing and massaging they did, Doctor's hands became cramped, swollen and sore.
Seeing an opportunity, one of America's great companies got busy buzzing. And who made the first electric vibrator? How many home appliances were electrified BEFORE the vibrator? And why were vibrators so hard to find in the US between 1920 something and the early 1960s? Watch the video below for those answers... and lots more vibrator history.
Jon Hotchkiss is a 14 time Emmy nominee. He hosts the 100% independently produced new series, Be Less Stupid, which you can subscribe to free by liking the Facebook page.
Calling all HuffPost superfans!
Sign up for membership to become a founding member and help shape HuffPost's next chapter