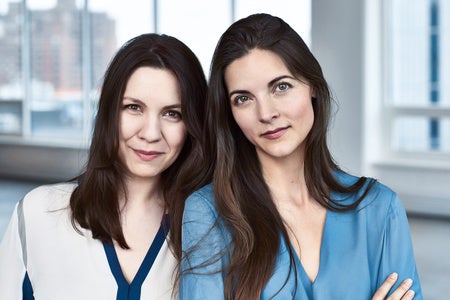 ALEXANDRA CAVOULACOS is the Founder & COO of TheMuse.com, where she leads the Product and Operations teams, creating and launching new features weekly. Alex has spoken on WNYC and at SxSW and was named one of INC's 15 Women to Watch in Tech and Forbes 30 under 30. Prior to founding The Muse, Alex was a management consultant at McKinsey & Company's New York office. She graduated from Yale University and is an alumna of Y Combinator in Silicon Valley.
KATHRYN MINSHEW is the CEO & Founder of TheMuse.com, a career platform and community helping 50+ million Millennials find inspiring careers at innovative companies. Kathryn has spoken at MIT and Harvard, has appeared on The TODAY Show and CNN, and contributes on career and entrepreneurship to the Wall Street Journal and the Harvard Business Review. She was previously named to INC's 35 Under 35 and Forbes' 30 Under 30 for two years in a row.
How has your life experience made you the leader you are today?
Alex: I grew up with a variety of different cultural influences: I was raised in Paris by a Greek father and a Belgian/Hungarian mother, and my classmates were from all over the world. The most important lesson I grew up with in this environment was the importance of being authentic to who you are while also appreciating the diverse backgrounds and paths of those around you. That's really made me, as a leader today, focus on building a work culture where inclusion is the norm and where people feel comfortable bring their whole selves to work.
Kathryn: I've been lucky to know and work with some great people in my life, from my father, who was also an entrepreneur, to one of my bosses at the Clinton Health Access Initiative, to some of the incredible entrepreneurs I got to know in the early days of The Muse. Through watching, debating and discussing with all of these people, I've learned the importance of flexibility/adaptability and self-awareness. Currently, one way that manifests itself is in making sure that, as The Muse scales, I'm constantly revisiting which parts of my job I love and still feel successful at, and which parts it may be time to either invest more in developing or pass on to someone else. Becoming the best leader and best version of yourself is a constantly moving target - it keeps things interesting, because you can never stop growing and learning!
How has your previous employment experience aided your tenure at The Muse?
Kathryn: Before I started The Muse, previous jobs included working at the U.S. embassy in Cyprus, management consulting at McKinsey, and working on vaccines in Rwanda with the Clinton Health Access Initiative. They were all great jobs, but they weren't the perfect fit—it wasn't until I became an entrepreneur that I discovered my "right" career path. Those early experiences, and the frustration I felt when I was searching for jobs, is what fuels me every day at The Muse. I want to give everyone the tools and resources they need to build a fulfilling career.
Alex: Similarly, one of the most interesting things to me during my time at McKinsey was how different Kathryn and my experiences were there. I loved the job and could have stayed there for a long time; Kathryn knew within a few months that it wasn't the right environment for her. It really hit us how important it is to learn about a company's culture and the people who thrive there before joining. This philosophy is what helps us create better company profiles, plan new features for the site, and create the best user experience we can.
What have the highlights and challenges been during your tenure at The Muse?
Kathryn: One of the biggest challenges in the early days was convincing VCs and angel investors to back us. When I went out to raise our first round, I received 148 no's, which, as you can imagine, was beyond disheartening. I went home every day for a few weeks and cried from all of the rejections, and then got up the next morning and did it all over again. But it also made me stronger—it made my skin thicker, my pitch stronger, and my resolve even more determined. A couple years in, when we raised our Series A, we had so many interested investors we had to turn some down. Knowing that we had not only overcome the initial hurdles but succeeded beyond anyone's expectations was one of the best feelings I've ever had.
What advice can you offer to women who want a career in your industry?
Kathryn: Get ready to be challenged well beyond your comfort zone. I've learned things and grown in ways I never could have planned for or imagined. Starting The Muse has been the most awesome and meaningful experience of my life, but it's also been the most challenging. It forces you to be constantly growing and evolving - sometimes in easier ways, and sometimes via painful lessons learned. There's not a moment you can sit back and think, "Alright! I'm done for a while."
What is the most important lesson you've learned in your career to date?
Alex: Early on, I realized that in order for the company to grow successfully, I needed to learn every part of the business, not just the parts that came naturally to me. For example, I learned to code so that I could have more thoughtful conversations with our head of engineering and understand the implications of technical decisions along the way. For a long time, I served as our head of product, and that skill set helped tremendously.
Now, Kathryn and I both work with a career coach to make sure we're still growing and stretching ourselves. You can't ever stop learning.
How do you maintain a work/life balance?
Kathryn: I'm actually a big fan of work-life integration, rather than balance. For example, I don't mind working until late hours of the night, as long as I'm doing so at home, sitting in my favorite chair and listening to music. I also tend to take a break between leaving the office and re-settling in for work to have dinner or catch up with some friends, when I can. Also, many of my friends (and my husband!) are entrepreneurs themselves, so a lot of my relationships are both personal and professional. I can't say that I ever have true "weekends" where I don't do or think about work at all, but right now, I wouldn't have it any other way.
Alex: I'm a big fan of thinking about your time the same way you do your money. Years ago, I created an Excel spreadsheet to budget my time and understand where my days were really going, which was really helpful in deciding how I wanted to spend my time moving forward. Since then, I've done things like implement a no-tech-after-11pm rule, which makes sure I spend time on a meaningful activity rather than something mindless, like scrolling through Facebook.
What do you think is the biggest issue for women in the workplace?
Alex: The leaders in both corporate America and our government are predominantly white men, so the decisions being made at the top aren't always made in the best interests of women. And in many cases, in particularly male-dominated industries, it's going to take a long time to reach gender parity. Research shows that the best decisions are made by diverse groups rather than homogenous ones, and at The Muse, we're always actively thinking about how to make sure we have a variety of voices in the room.
Kathryn: In terms of the startup world, research shows that female-founded companies are fundamentally judged differently than companies led by men, especially when those men look like a stereotypical Mark Zuckerberg-type founder. This can take a lot of forms, from lower investor expectations, to unconscious bias, to the fact that women are often judged solely based on performance while men are judged based on potential. It's often not intentional, but still results in behaviors and decisions that hold women back.
How has mentorship made a difference in your professional and personal life?
Alex: Kathryn and I both had wonderful mentors who helped us grow at McKinsey, and we've had incredible people who've helped us along the way as we've built The Muse. At every stage of the company, there's been so much to learn, and we've gleaned so much wisdom from those who've been there before.
One of the most important lessons I've learned from a mentor was the importance of authenticity in finding and refining my style as a leader. I've worked with and for a lot of great leaders and managers, but I couldn't pull off all of their styles (and earlier in my career, I tried!). Over time, I learned how to emulate and adapt the parts of people's style that worked for me, and build upon my strengths and personality. When you're leading from a place of truth, there's an honesty and vulnerability that makes you stronger.
Which other female leaders do you admire and why?
Kathryn: I've always admired Sheryl Sandberg, but she's blown me away with how honest and vulnerable she's been more recently about dealing with grief and coming to terms with "Plan B." I think that sort of authenticity takes courage. Another female leader I really admire is Nilofer Merchant, a brilliant business thinker, speaker, and executive who's as incredible in person as she is on stage.
What do you want The Muse to accomplish in the next year?
A huge focus for this year is growth, both in terms of our user base and bringing on more partner companies. We're also going to be releasing new features that will make the experience on TheMuse.com even better for both of those groups of people. And, of course, we want to share our book, The New Rules of Work, with as many people as possible.
REAL LIFE. REAL NEWS. REAL VOICES.
Help us tell more of the stories that matter from voices that too often remain unheard.
This post was published on the now-closed HuffPost Contributor platform. Contributors control their own work and posted freely to our site. If you need to flag this entry as abusive,
send us an email
.