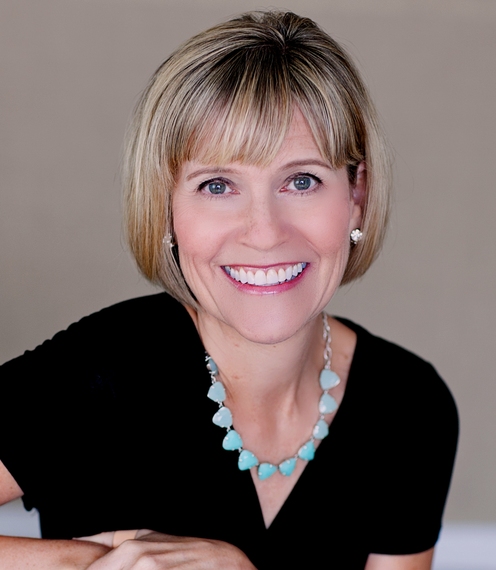 A life-long resident of the Philadelphia area, with a Communications degree from Villanova University, Rocco's career has included stints in public relations, sales, marketing, and advertising. Each one of these experiences was a lesson that would eventually lead to the position she holds today, and the show she decided to create.
When life handed her an opportunity for a career transition at the age of 48, she eschewed lament and went straight into formulating plan B: creating Women to Watch, a radio show spotlighting mid-to high profile women in a variety of professions. Her deeper goal was to use these stories as a way to educate and inspire women in order to strengthen their self-esteem and assist those still trying to find their own way. Rocco is providing a non-threatening platform for women to learn confidence.
Rocco is an on-going weekly Contributor to Bizwomen.com, an online platform for executive women and a division of The Business Journals, as well as the Founder of Women to Watch™ Mentor Program at Drexel University.
How has your life experience made you the leader you are today?
All of us have multiple life experiences that shape who we are, and what we become. I am convinced that the majority of us have a single adversity or life circumstance that significantly impacts on the choices we make, and how we live our lives.
For me, the circumstance that shaped much of who I am came from growing up in an Irish Catholic family with a father who battled the disease of alcoholism. It was not so much the fact that my father was an alcoholic, but more "the secret" that played a significant role in my self-esteem. This circumstance motivated me, to overcome the insecurities and anxieties that are often attributed to children of alcoholics. In doing so, I developed resilience, compassion for others and a belief in myself that is important for any leader. Empathy is the key to great leadership.
How has your previous employment experience aided your founding of Women to Watch?
There's a phrase that says, "Failure is not a bad thing. It is simply eliminating what is not working." I love that phrase because it reminds us that it is ok to try new things. I explored many opportunities and worked in multiple industries before realizing that my true passion was people and their stories. All of my previous roles led me one step closer to the launch of Women to Watch™.
What have the highlights and challenges been during your tenure at Women to Watch?
Wow, this is a loaded question! There have been many challenges and several milestones that I'm proud of over the past three years that Women to Watch™ has been on the air...I'll try to condense them for you. The greatest challenge in the beginning was producing the show, booking the guests, building the website, creating a logo and brand, finding advertisers and sponsors, developing a social media presence and researching daily to secure new guests all by myself- all with no experience at all in radio broadcasting! What kept me going was knowing that when I walked into that studio, and sat down with my guests, that is where I was most comfortable. All the other stuff was business, and I would figure it out...and I have. Today I have three Core Sponsors, a lineup of high caliber and successful women scheduled through February 2016, and a small team behind me who have the expertise that I lack. I've also created a unique Mentorship program in partnership with Drexel University that I'm very proud of. Giving young women the privilege of connecting one-on-one with a successful woman in her field is a great way to offer students insight and guidance for post graduation.
What advice can you offer to women who want a career in your industry?
I think the most important attribute one must have to do what I do, is a relentless and innate curiosity in people. It's also important to have empathy for others in order to connect. When people trust you, they open up, and that is when the magic happens!

What is the most important lesson you've learned in your career to date?
The most important lesson for me has been coming to the realization that everyone else was in fact, not smarter than me☺. It took me a long time to get to that place, but once I did, it allowed me to have a much stronger conviction in my choices and my beliefs. I've always believed too that the greatest lessons are learned when people open up about who they are. I learn something every single week from my guests. That is why I created the tag line, "The real story behind her title." The lessons remembered often come from hearing another person talk about the tough stuff, and how they keep going in spite of it. Another lesson I learned is the importance of EQ in business. While many leaders have achieved success, they will never reach their full potential if they do not learn how to connect with others, and encourage them to succeed as well.
How do you maintain a work/life balance?
There's a lot of talk today about work/life balance. It's ok and healthy to try to find balance, but in the end, some days we do it well, and other days we're way off kilter! What helps me on a daily basis is the innate sense that in the end, the only thing that truly matters is family and kindness toward others. One of my favorite sayings is that "everyone you meet is fighting a battle you know nothing about." In choosing kindness over competition, I often feel a sense of balance. An important thing to remember is that work and family actually enrich each other.
What do you think is the biggest issue for women in the workplace?
This is a complicated and much talked about topic among both men and women today. I believe that the biggest issue is not un-equal pay, unconscious bias, lack of opportunity or support from men. I do believe however that there are historical cultural conditions since the beginning of time that play a huge role in why it's difficult for women to manage a career and family. What I also believe strongly is that no one person can make anything happen for another. It has to come from oneself, and a desire to be or do whatever they chose. So again, it comes back to belief in your own gifts and abilities, and the courage to use them.
How has mentorship made a difference in your professional and personal life?
I have what I will call my "wolf-pack" of women who have believed in me from the very beginning, and supported and encouraged me all along the way. If not for them, I just may have given up. One day, I will name each and every one of them and what they taught me. I consider them all mentors. A great mentor will do two things...teach what has worked and what has not in their field and career, but more importantly, be a constant positive voice of encouragement.
Which other female leaders do you admire and why?
I always say that my favorite women are the ones who are not only smart and successful, but who lack ego and have a sense of humor. The women who work hard and have a genuine desire to help others along the way are my favorite women. I admire them because they have a true sense that we are all here together to try and make our way. No one person is any more important than another. What makes it fun is that we are all working hard, and each contributing something different because of our unique gifts. It's an incredibly exciting time for women! One woman who I had the pleasure of interviewing that I believe is a great example of this is Sallie Krawcheck, Owner and Chair of the Ellevate Network. She is authentic, generous and open with her time and advice for others.
What do you want Women to Watch to accomplish in the next year?
My goal is to become the premier global platform for successful women to tell their story. I know it's lofty...but my sights are set on it. For next year, a couple of new Sponsors would be fabulous! Another goal is for our podcast to be available on iTunes, and we are currently waiting for approval. I want to continue to expand my mentor program so that more female students will have the privilege and opportunity to connect one-on-one with a successful woman in her chosen field. And finally, in the long term, my hope is to make a difference in the views that women have of themselves, so that they come to know their own purpose. I believe that the world today is in desperate need of female leadership, in tandem with men, so that we are using our full potential to make the world a better place.
Popular in the Community