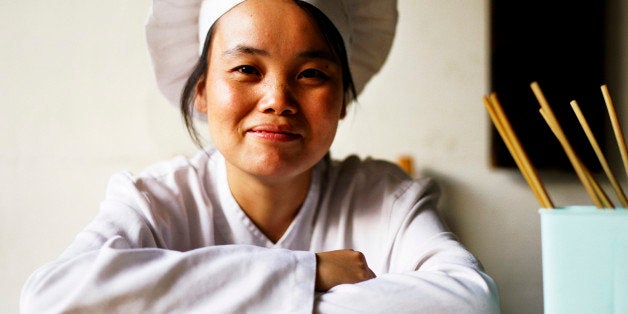 Today, in every aspect of society -- from government, to business, to the arts, and beyond -- we find innumerable examples of women leadership and benefit from the many significant contributions they have made.

While it might not be the first place one would think to look, there is one popular institution present in virtually every community where the success story of women could not be any more compelling: America's restaurants.

As the nation's second-largest private sector employer, restaurants have driven our nation's economic recovery from the Great Recession -- and that growth has been led by women. During the last decade, the number of women-owned restaurants increased by 40%, compared to 12% growth in all restaurant business over that same time span. Put another way: restaurants owned by women grew at a rate three-times faster than the industry as a whole. Today, half of all U.S. restaurants are either owned or co-owned by women.

Restaurants truly are an industry with no glass ceiling: we have more women owners and managers than any other industry in our nation. And the opportunities women have found in restaurants extend far beyond ownership. Sixty-one percent of adult women have worked in a restaurant at some point in their life, and 37 percent got their first job in one. From students to retirees and servers to owners, millions of women are finding their pathways to success in restaurants.

That's the story of Mirta Guitierrez, an immigrant from Argentina who left her home country to escape poverty and pursue the American Dream. She found a job as a dishwasher, and through a combination of hard work and determination, climbed the ladder of opportunity. Today she is the Executive Chef at a popular restaurant in Washington, D.C. "Through the restaurant industry in the United States, I found an open door and a pathway to success that was completely closed to me in my home country," Mirta has said.

Her inspiring story is not unique. Across the industry, we find success stories that reflect the spirit of hospitality. Kat Cole, Group President of FOCUS Brands which includes a host of popular restaurant brands such as Cinnabon and Auntie Anne's, got her first job in the industry as a hostess at a chain restaurant while in high school. Julia Stewart, Chairman and CEO of DineEquity, Inc., which includes brands like IHOP and Applebee's, began her career in the company as a server.

Our industry recently celebrated the accomplishments of women like Mirta, Kat and Julia at the Women's Foodservice Forum annual leadership conference in Dallas, which brought together hundreds of restaurant leaders from across the country. I was deeply honored to receive the "Trailblazer Award" there - an award that recognizes individuals dedicated to improving the foodservice industry through their support of gender diversity, creating new pathways for women in their company and the industry at large.

The fact is we are an industry of trailblazers -- of inspiring women who have found their first or second chance at the American Dream and have capitalized on the resources to become a manager or owner.

I am proud that, as an industry, we foster opportunity for all who join us. And, that as a result we have more women in management and ownership positions than virtually any other industry. Their successes are indicative of an industry with no limits and one that is worthy of our recognition every day.
Related