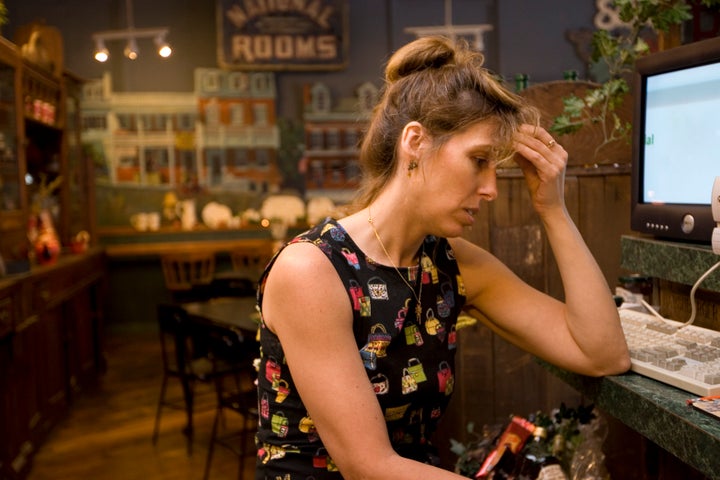 Even in the aftermath of a "mancession," it's the women who say they are struggling most mightily.
Women report experiencing nearly twice as much "high or overwhelming" financial stress as men, according to a new survey by Financial Finesse Inc. Indeed, 28 percent of women reported experiencing "high or overwhelming financial stress" during the first quarter of 2011, while only 17 percent of men reported having that same level of stress.
Women also are three times as likely to experience "overwhelming" financial stress -- the highest level listed -- at a rate of 9 percent. And of all employees surveyed, 65 percent reported experiencing some financial stress, the study added.
Women were most likely to feel a higher level of stress because of their larger sense of obligation to raising their children and safeguarding their home, said Gregory Ward, head research analyst at Financial Finesse Inc., according to Bloomberg News.
That additional obligation has adverse health effects. Financial stress causes an estimated 60 percent of illnesses, directly or indirectly, and the American Psychological Association has identified it as the leading cause of unhealthy behaviors such as overeating, smoking, and alcohol and drug addiction, according to the report.
The situation for women could get worse before it gets better. Deficit reductions that are currently being considered by Congress would hurt women's Social Security benefits even more than men's Social Security benefits, since women live longer and rely more on Social Security, according to a new report by the National Women's Law Center.
Since older women already are more economically vulnerable than men, the report says, deficit cuts would leave elderly women unable to meet many basic needs.
The dim economic situation seems to have even changed the way women think about marriage. Three out of four women would not marry a jobless man, and 65 percent said they would feel uncomfortable marrying someone else if they themselves were unemployed, according to a recent ForbesWoman survey.
The burden of running a single-family household alone only adds to the pressure. In the last decade, the poverty rate for children in single-mother households in the United States was 49 percent. That's 1.88 times more than the average poverty rate for children in 15 other high-income countries, according to Legal Momentum, a legal defense and education fund.
That doesn't mean the plight of single mothers has been met with overwhelming sympathy. Nearly seven in ten say single mothers are "bad for society."
Calling all HuffPost superfans!
Sign up for membership to become a founding member and help shape HuffPost's next chapter