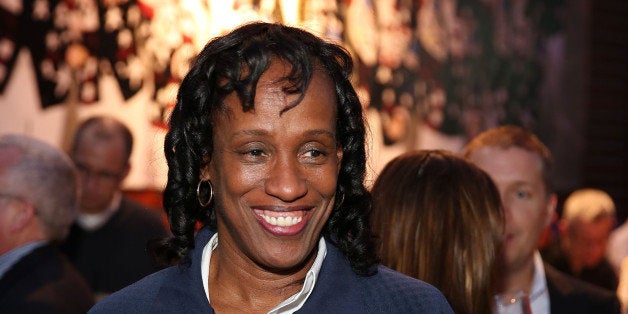 As I listened to Kathrine Switzer describe her preparation for and her participation in the 1967 Boston Marathon, I knew that I was listening to an amazing history. Women have had to prove over and over again that they are physically capable of participating in athletics. In this blog, we will learn about women whose accomplishments in running have paved the way for women around the world to enjoy and benefit from athletic endeavors. Match the woman with her achievement: (answers at the end):
____ 1. Capitalizing on her Boston Marathon number -- 261 -- she has established a clothing line, 261 Fearless.
____ 2. Overcoming polio as a child, the twentieth of 22 children won bronze at the 1956 Olympics and gold at the 1960 Olympics.
____ 3. Named the greatest female athlete of the 20th century, she competed in the long jump and the heptathlon, which includes seven track and field events.
____ 4. She won the gold medal for the women's marathon at the 1984 Olympics; the year in which the marathon for women was introduced.
A. Wilma Rudolph
B. Kathrine Switzer
C. Joan Benoit Samuelson
D. Jackie Joyner-Kersee
The twentieth of 22 children, Wilma Rudolph was a sickly child who contracted polio. Through the devoted attention of her mother and family, Rudolph was able to walk with a metal leg brace and by age 12, she no longer needed crutches, the brace or corrective shoes. Educated at home until it was time for her to enter high school, Rudolph joined the basketball team and discovered that she was an athlete. She eagerly accepted the offer of attending the Tennessee State University summer sports camp and at age 16, she won her first Olympic bronze medal as a member of the 4 x 100 relay team at the 1956 Olympics. She won three Olympic gold medals, the first American woman to do so, at the 1960 Olympics. These were the first Olympics to be televised and her accomplishments and her ability to overcome adversity made her a significant role model. Rudolph has been inducted into the National Women's Hall of Fame.
In 1967 when K.V. Switzer signed up to run the Boston Marathon, women had never competed in that marathon before and it was believed that women were not capable of doing so. But, Kathrine Switzer proved them wrong. Wearing number 261, she survived the efforts of a league official to physically remove her from the race and completed the marathon; the first woman to do so. Since 1967, Switzer has worked to effect change for women including providing opportunities for women to run in countries around the world. Through her efforts, the women's marathon became an Olympic event. Inducted into the National Women's Hall of Fame, Switzer ran a marathon at age 64, and today is a speaker and writer. Her line of clothing is labeled 261 Fearless and she says the bib number "261" has come to symbolize being fearless in the face of challenges.
Joan Benoit Samuelson benefited significantly from the efforts of Kathrine Switzer. The women's marathon was introduced as an event at the 1984 Summer Olympics in Los Angeles and she won the gold medal. Samuelson began running in high school (after breaking her leg skiing) and was named an All-American in cross-country and track during her college career. In 1979, and again in 1983, she won the Boston Marathon. Today, she is a speaker and author and advocates for fitness.
Declared by Sports Illustrated as the "Greatest Female Athlete of the Twentieth Century" Jackie Joyner-Kersee followed in the footsteps of role model Wilma Rudolph. Joyner-Kersee won six Olympic medals in four separate Olympic games, including three gold medals. Much like Rudolph, she overcame asthma as she pursued her athletic accomplishments in the long jump and heptathlon. Joyner-Kersee still holds the heptathlon record today -- a record she set at the 1988 Olympic Games in Seoul, Korea. As a philanthropist and advocate for social and racial equality, she established the Jackie Joyner-Kersee Foundation, which provides youths and families ways in which to improve the quality of their lives.
Learn about more she-roes and celebrate amazing women. These exceptional athletes are among the more than 850 women profiled in the book Her Story: A Timeline of the Women Who Changed America. We celebrate their outstanding accomplishments and are proud to stand on their shoulders.
(answers: 1-B, 2-A, 3-D, 4-C)
Popular in the Community