Perhaps not since the days of European imperialism has the world's focus been directed so keenly on Africa. Uprisings are sweeping across the continent's northern coast, already having toppled autocrats in Tunisia and Egypt. The leaders in Libya, Algeria and Morocco now find themselves uncomfortably in the crosshairs.
As the unrest continues to unfold, the prominent role that women have taken on is noteworthy. Within societies where women have traditionally assumed a more subordinated place -- and my six years living in Egypt can attest to that -- women across the Mediterranean coast have begun asserting themselves as never before, not only as organizing forces behind the scenes, but noticeably out front as well. It's little wonder there is a scent of jasmine wafting through the air of these revolutions.
Less conspicuous but equally as notable is the role that women have ascended to in another part of the continent. Two thousand miles to the south in Liberia, women are taking the lead in sewing together a social fabric left in tatters by years of back-to-back civil wars.
Under the leadership of Ellen Johnson Sirleaf, the first female ever elected president of an African nation, the country is slowly recovering from near complete devastation. (The United Nations' Human Development Index, a comparative measure of life expectancy, literacy, living conditions and the like, ranks Liberia at 162, just seven from the bottom among the world's countries.) And yet, in the streets of Monrovia from where I just returned, there are palpable signs of hope.

There are other signs -- literally -- that are conspicuously punctuating the landscape: signs advertising new companies open for business; signs encouraging citizens to pay their taxes (citing examples of how their tax dollars are being put to good use); and signs reminding men in particular of the country's new social order. ("Real men don't rape," said one.)

After 13 years of complete lawlessness, one of the most daunting challenges to reformers in Liberia is restoring a moral sense of right and wrong, establishing codes of behavior and respect for authority, and one another. Throughout the country, women have taken it upon themselves to help instill this new sensibility.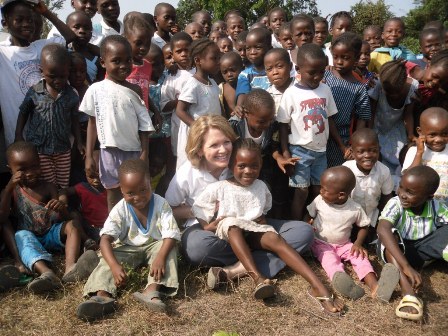 Anne with children in Liberia who benefit from ChildFund programs

With local partners, ChildFund is working to help. We established a juvenile rehabilitation center where boys in particular can learn how to be reintegrated into a civil society. We are building new schools and working with community groups to raise money for uniforms and books. We are establishing critical early childhood education programs as well as nutrition programs to address the pervasive problem of malnourished babies.Also, perhaps most importantly, we are helping put in place programs that help protect children from the violence that has gripped their country for as long as many of them have lived.

On the front lines of all of these efforts are the women of Liberia. President Sirleaf has established a child protection unit within the ministry of defense and formed a ministry of gender. The government is also working to pass the first Children's Law as well as statutes guaranteeing greater rights for children, including the right to know the identity of their fathers.

There are risks to the progress being made in Liberia. First are the threatened cuts by the U.S. Congress to our commitment to foreign aid. While Liberia may someday be on the road to self-sufficiency, it is still far from it. Aid from foreign governments and international development agencies is critical to the country's survival, helping to ensure it will not slide back into lawlessness and violence.

The second escalating risk is Liberia's growing refugee issue. The political situation in next-door Ivory Coast, which served as a haven for many Liberians during its own civil wars, has sent tens of thousands of refugees seeking sanctuary. Liberia has a legal and moral obligation to help, but as many as 70,000 refugees have fled across the border, threatening to overwhelm Liberia's own capacity to care for itself.

International development organizations are on the ground, working to help. We have helped set up shelter and feeding stations as well as "safe places" where children can spend their days taking part in informal education and other activities and feeling safe that they will not be abducted or harmed by others. Part and parcel with the refugee situation, we are providing training for police, military and school authorities on dealing with gender-based violence. With the hostilities in Ivory Coast escalating, the demands on the refugee camps could reach catastrophic proportions, a situation that the government of Liberia--and its NGO partners--are ill-prepared to deal with.

While the world's attention is focused on the tensions in northern Africa, let us not overlook the growing needs in Liberia. Powerful as they might be, the women there cannot do it all themselves.