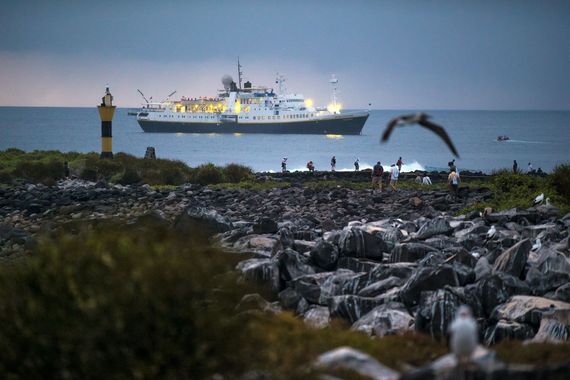 Since the first marine site was inscribed on the UNESCO World Heritage List in 1982, 49 sites in 37 countries stretching from the tropics to the poles have received this prestigious designation as an irreplaceable wonder of the world's oceans. Yet these unique places are facing unprecedented challenges and change. Right now, more than 15 World Heritage marine sites are suffering from serious coral bleaching and a third of all World Heritage marine sites are still unsustainably or illegally fished. From August 27-31, the guardians of the 49 World Heritage marine sites gathered from around the world in the Galápagos Islands aboard the National Geographic Endeavor for UNESCO's Third World Heritage Marine Managers Conference, looking to share resources and find smart solutions.
Announced from this collaboration, the site managers from the Galápagos Islands, Coiba National Park, Cocos Island, Malpelo Fauna and Flora, Revillagigedo Archipelago, and Islands and Protected Areas of the Gulf of California signed an historic agreement, the "Carta de Punta Suarez" to signify their commitment to working together to reduce illegal and unregulated fisheries in their sites, and interchange experiences to improve management practices. Carlos Godínez Reyes, Director of Cabo Pulmo National Park, referenced the cultural as well as environmental significance of this agreement, "This is the first agreement between World Heritage marine protected areas in this vast biological corridor between Gulf of California and Galápagos Islands in the Eastern Tropical Pacific that share not just megafauna like sharks and marine mammals, or similar ecosystems like coral reefs or insular and pristine territories, but a similar idiosyncrasy, language, and cultural diversity."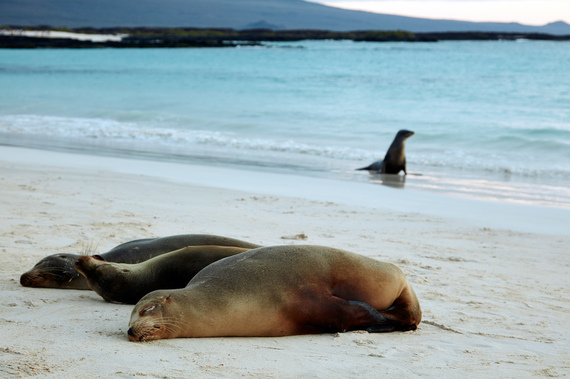 In the past year, the nations that host the world's two largest coral reefs have developed visionary plans to secure their future. Belize Barrier Reef now has a blueprint to get off the World Heritage in Danger list, a list that indicates that the characteristics that make the site globally significant are at risk of being lost. Australia's Great Barrier Reef has announced a 35-year plan to protect its cherished waters. Following the announcement earlier this year that 33% of Galápagos Marine Park has been set aside as a no-take zone, managers from the Great Barrier Reef (which closed a similar percentage of its waters to fishing in 2004) and Galápagos National Park pledged at the Conference a closer collaboration to scale up compliance and monitoring in their respective no-take zones. Enric Sala, National Geographic Explorer-in-Residence, referenced the importance of no-take zones at the Conference, "World Heritage Sites should be fully protected and act as our baselines, time machines that let us see what the ocean of the past was like, and how the ocean of the future could be."
In Alaska, Glacier Bay National Park has made huge strides to increase the sustainability of cruise ships that bring 95% of all visitors to the park. The program allows ship companies to propose more environmentally friendly operations in exchange for the opportunity to tour Glacier Bay. The result: a reduction in air pollution, the risk of oil spills, and the chance of lethal collisions with humpback whales, plus millions of dollars each year to fund interpretive and educational programs, monitoring, and research. Now, Glacier Bay is working with the West Norwegian Fjords to explore expansion of this model and possibly common standards for ship visits that could apply to other World Heritage sites visited by the same cruise lines. "After years of development, trial and error, managers at Glacier Bay are utilizing a concessions system that uses the forces of the market to increase sustainability while maintaining high levels of visitation by cruise ships," explains Scott Gende, Senior Science Advisor with Glacier Bay. "We've demonstrated that this system has dramatically reduced air and water pollution, while bringing financial resources to the site for long-term monitoring and research. As long as companies can equate sustainable practices with a market advantage, both the sites and the companies win."
The World Heritage marine network has a unique opportunity to spearhead change on a global scale. Collectively, these managers have hundreds of thousands of hours of practice in guarding the world's flagship protected areas, and site manager conferences help facilitate the exchange of best practices across this global community. "The World Heritage platform is a unique opportunity to explore solutions to some of the world's most pressing conservation challenges including climate adaptation strategies and market-based approaches to strengthen sustainable fisheries," says UNESCO's World Heritage Marine Programme Coordinator Fanny Douvere. "It is my hope that our successes and lessons learned can be a positive driver for change and secure a better future of our oceans."
World Heritage marine sites are among the most studied ocean areas on the planet, recognized by the international community for their outstanding beauty, exceptional biodiversity, or unique ecological, biological, and geological processes. Today, World Heritage marine sites comprise approximately 10% by surface area of all the world's marine protected areas, and include icons such as the Belize Barrier Reef, Tubbataha Reefs Natural Park, Phoenix Islands Protected Area, and Everglades National Park. The honored list includes the breeding grounds of the world's last healthy population of grey whales, the highest density of ancestral polar-bear dens, and home of the world's most ancient fish and the marine iguana.
Nations work for years in a rigorous process to obtain World Heritage recognition, and once received, all leaders of all nations are bound by the responsibility to protect it. The roots of this global cooperation date back to 1956, when the Abu Simbel temples were in danger of being forever lost beneath the Nile, and Egypt and Sudan appealed to UNESCO for help. More than 50 nations came together to fund the careful relocation of the 5000-year-old temples to higher ground. This historic campaign set the stage for the 1972 World Heritage Convention ratified by nearly every nation on Earth, signifying their commitment to conserve, not just their own treasures, but the common heritage of humankind.
World Heritage marine sites can also power socio-economic development for local communities. One example is South Africa's iSimangaliso Wetland Park. It is home to the world's oldest fish, the Coelacanth, and the world's biggest animal, the blue whale. But the area is also home to 640,000 people, and the World Heritage site serves both its human and animal residents, balancing responsible economic development with effective conservation. Today, after 17 years of World Heritage designation, iSimangaliso supports 8,000 jobs, and hosts an environmental education program that reaches 150 schools and more than 2,400 future leaders every year.
Sven Lindblad, CEO of Lindblad Expeditions who provided leadership support to the conference, highlighted the importance of the World Heritage collection of environmental treasures. "The power of the World Heritage brand helps to increase interest in those sites, which often helps sites secure sustainable and long-term funding. From a tourism perspective, the designation adds value and all of us who incorporate World Heritage sites into itineraries should invest in their conservation, since they are the assets which we are trading upon."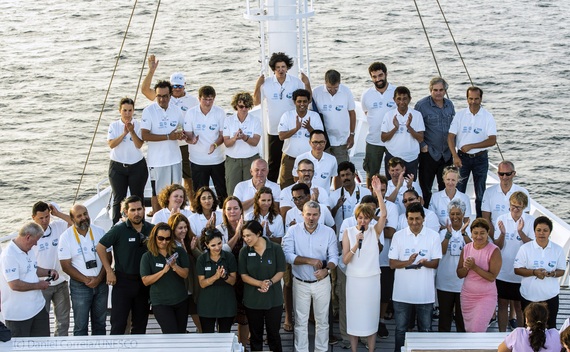 "In the end we will conserve only what we love, we will love only what we understand, and we will understand only what we are taught." Baba Dioum
Kristin Hettermann was on board the National Geographic Endeavor in the Galápagos Islands for the Third World Heritage Marine Managers Conference, held August 27-31, 2016. In partnership with the Galápagos National Park and the Galápagos Government Council, leadership support was provided by Lindblad Expeditions-National Geographic. Additional support was provided by the Leona and Harry Helmsley Charitable Trust, the French Marine Protected Area Agency, the Swiss manufacture Jaeger-LeCoultre, the government of Flanders, the Netherlands and Australia, the Great Barrier Reef Foundation, WWF, Conservation International and the Galápagos Conservancy.
Popular in the Community