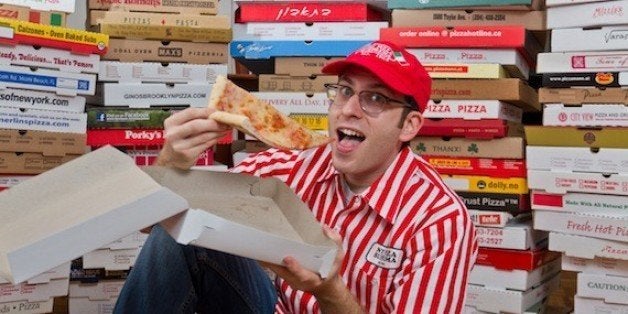 Just when you think you've seen it all, Guinness World Records Day comes along and puts you back in your place. Leave it to a New Yorker to land a major pizza win: the largest collection of pizza boxes.
Scott Wiener of Brooklyn has amassed 595 pizza boxes from 45 countries. Just think of all the pizza he's gotten to eat! Inspired by a beautiful box he found in Israel, Wiener started seriously collecting in 2008. He prizes his boxes from other countries, and one in particular is his favorite: a box from the Netherlands that "looks almost-but-not-really like Bart and Homer Simpson," Wiener said in a press release. (Check out an image of it here.) "I remember shrieking when I saw it," Wiener said. "It's amazing."
Wiener isn't just sitting around admiring his collection either. He recently published a book on pizza box art: "Viva La Pizza!," and is going on a book tour this month. He owns and runs Scott's Pizza Tours in New York City, and he's actually already won a pizza-themed Guinness World Record for the world's largest pizza box. The pizza inside -- the world's largest deliverable pizza -- fed up to 70 people and apparently tasted better than you might think.
The one, burning question for any New Yorker is: where and how does Wiener store all those pizza boxes? NYC apartments are notorious for their lack of square footage, and Wiener admits that space is one reason he may slow down his collecting one day. His storage technique for now is flatting out the boxes, stacking them on top of one another, and keeping them in a closet. Every once in a while, however, he takes them out to bask in his pizza box glory.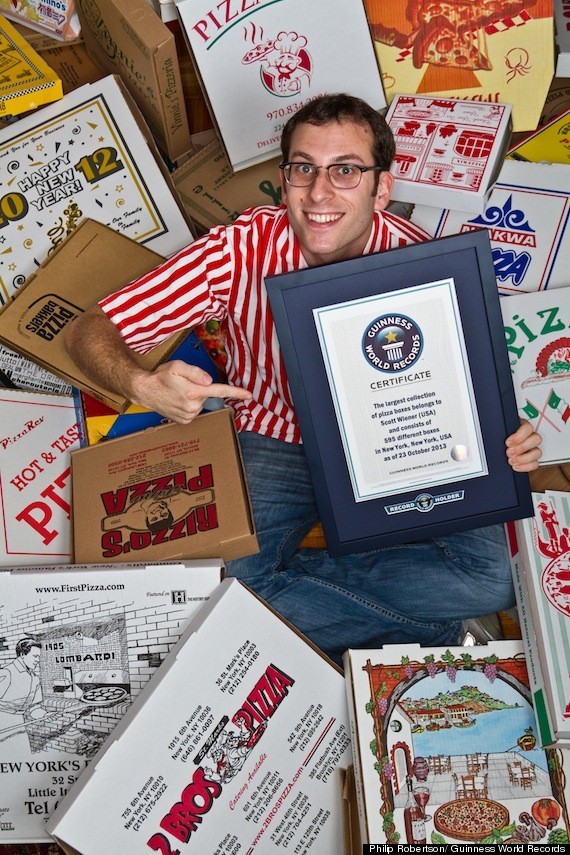 Related
Before You Go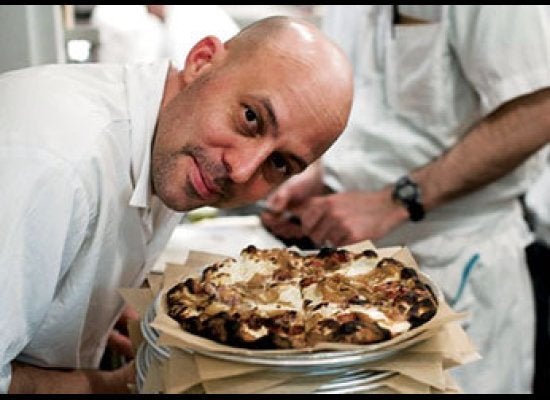 Best Pizza Restaurants
Popular in the Community