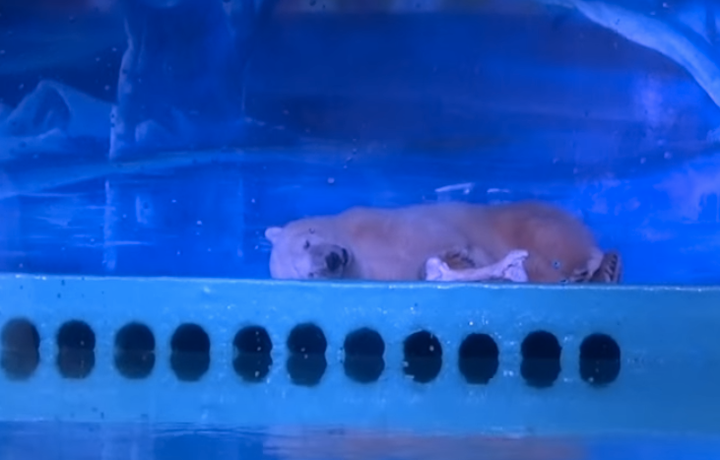 Footage and photos captured inside Grandview Aquarium, located inside a mall in Guangzhou, China, reveals a sad tableau. Animals, including bears, wolves, beluga whales and walruses, were seen trapped in barren, dimly-lit enclosures as people clamored to take their picture, sometimes banging loudly on the glass to attract the animals' attention.
"One bear paced back and forth in a small enclosure, displaying behavior that experts say reflects stress and possible psychological problems. Wolves lay listlessly in a small room while walrus calves and belugas swam back and forth in confined spaces," described The Washington Post earlier this year.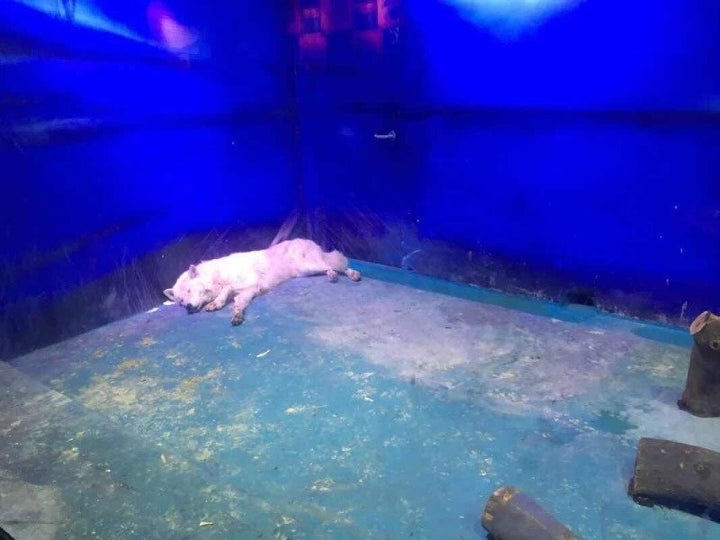 One video released by Animals Asia, a Hong Kong-based animal charity, showed a bear at the zoo, believed to be polar-brown bear hybrid, lying limply on the ground of an enclosure.
The bear "suffers for selfies," the animal welfare group wrote.
"Trapped in the middle of a shopping center in China ― his white fur contrasting against the unnaturally blue display he is an unwilling part of ― this sad polar bear has no escape," wrote the group. "Nowhere to hide from people taking photos ― banging on the windows and shouting. Nothing natural, no attempt to create an environment that would meet the needs of any living bear ― never mind this vast magnificent animal.
Grandview Aquarium, also known as Grandview Mall Ocean World, first caught the world's attention earlier this year when Animals Asia launched a petition calling for the zoo's closure. The petition has been signed by more than 270,000 people.
"Taking animals from their natural environments can never be defended, but when they're rehomed in conditions like we're seeing at the Grandview Aquarium, it's the worst possible situation," said the group. "We all need to continue to publicly object to such facilities."
The onslaught of public criticism reportedly had an impact on the zoo, according to an update last week by Animals Asia. However, the facility remains open.
"Animal lovers may be boycotting the facility, but those less well aware of the issues are not. Commercially, any impact is not hurting," wrote Dave Neale, the charity's animal welfare director.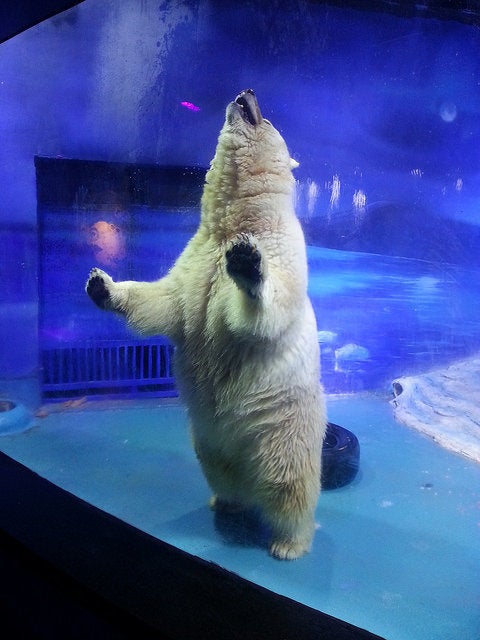 Still, Neale stressed that public pressure was helping to move the needle on the issue. Management at the facility had been "genuinely shocked by the international outrage," he said, and invited the group to advise them on how to better care for the animals.
"It is difficult for me to work with people that have chosen to house animals such as this bear in such poor conditions, but they were very open," Neale wrote, adding that the zoo had already implemented some of his group's recommendations, including providing piles of snow for its two polar bear hybrids.
Neale said he doesn't believe the zoo will shutter its doors anytime soon, but hopes that continued pressure will lead to "significant changes."
"Make no mistake. Keeping animals in this way is not acceptable. We'll keep helping, we'll keep pushing for change," he said. "If our experience has taught us anything ― first you open doors, then you open cages."
Earlier this year, a manager at Grandview Aquarium was quoted in local media as saying the facility provided adequate living space for the animals, and that its aim was to "popularize science and nurture marine life."
The aquarium did not respond to The Huffington Post's requests for comment.
Clarification: An earlier version of this article said Grandview Aquarium is managed by Haichang Holdings, China's largest operator of marine parks. Haichang plays a third party consultancy role at the aquarium and does not manage the facility.
Calling all HuffPost superfans!
Sign up for membership to become a founding member and help shape HuffPost's next chapter
BEFORE YOU GO