"Your pussy is my soulmate." One of many text messages that I crocheted into panels that covered my entire apartment. One of the many times a romance has inspired my work.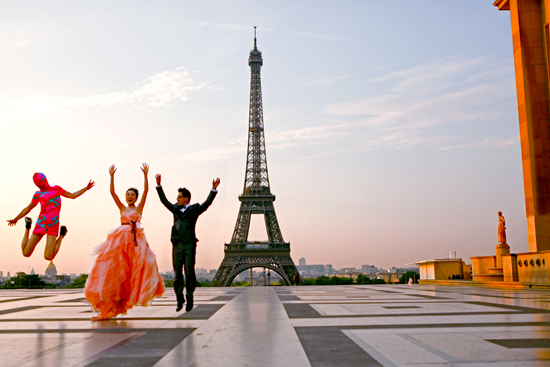 "Untitled," 2013

It was around 2006 when we were really starting to see the effects of the evolution of communication. Short messages, blips on your phone that you never see again, that you hardly even process. Write. Send. Read. Delete. Language was degraded and misunderstandings became rampant.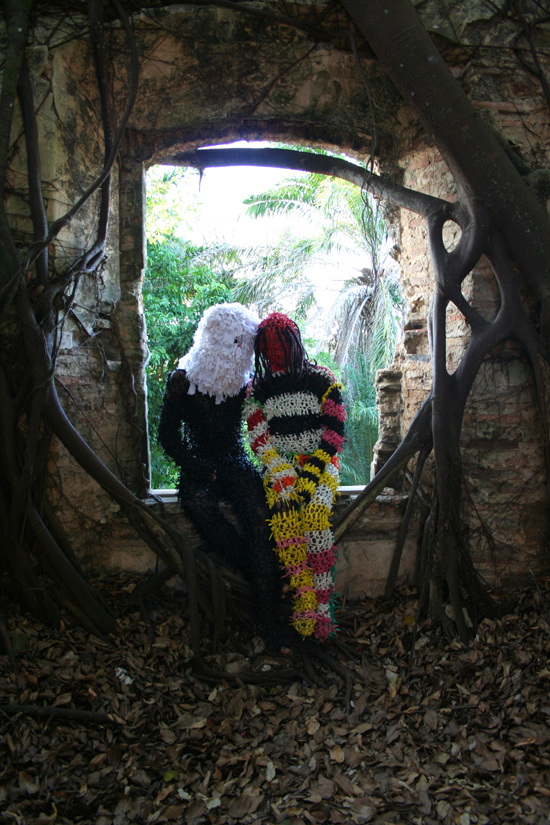 "Lovers," 2009

These messages are as private as they are ephemeral, and I wanted to make them permanent, public statements. I transform this cheap, easy form of expression into art for all to experience. A lover sent me a text pronouncing his love for my vagina, not knowing that it would make it into a room that thousands of people would eventually see. His message also made it onto the invite for the show, which I sent to the Catholic school where I taught. They terminated my career as an art teacher two weeks after the show opened, and I have happily dedicated every moment of my life to art ever since.

And I do mean every moment. You see, I hate wastefulness, be it time or commodities. This goes back to when I was growing up in communist Poland. We had very little, so I would save everything that entered my house and turn it into something else. Every morning the milkman would bring bottles. I'd save the colored tin tops, then make Christmas decorations out of a year's worth of savings. I learned as a kid that if you don't have something, find a way to make it.

It was another Christmas, decades later, in 2003, when my love for hooking finally got entangled with my love life. After a traditional Polish Christmas supper consisting of pierogies, which I slaved over for two days, I went to see a girl I was dating. She was busy working, or perhaps just playing one of those silly mind games women play. I looked around in her loft and found a stepladder I wanted to transform into a new art piece. I later learned it belonged to her ex-husband. It ended up being the first sculpture of mine ever acquired by a collector in my first Chelsea show. It was the first time my work was reviewed in the New York Times and exhibited in the Oliver Kamm/ 5BE Gallery in 2004. I didn't realize at that moment what I had started on that cold New York night.

From then on my art and my life became more stitched together by the day. One of the best parts about living in this city is that you can find anything on the street. Not just potential lovers, but furniture as well. I was poor and I had to fill my tiny basement apartment using only items I found on the street. I used a camouflage technicolor crochet pattern to transform each ragged piece, worn away by the memories of previous owners.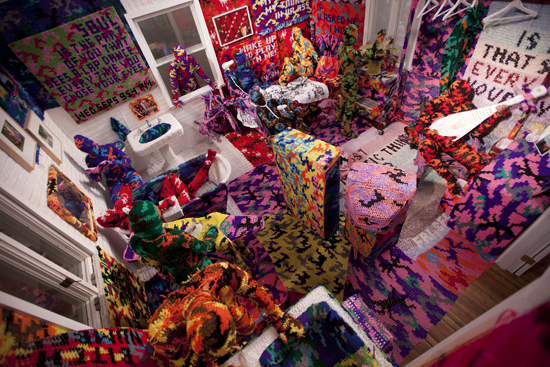 "Knitting is for Pus****," 2010

When my crocheted living space was first disassembled and exhibited in Christopher Henry Gallery, I moved there for six months to live, love and create. Someone said that each art piece is the artist's self-portrait. I was actually publicly living in it. The colors brought joy. Sometimes the messages, sadness. "Is that the romance I am searching for?" I kept asking myself falling asleep at dawn under my boyfriend's crocheted STD test that I employed as a blanket.

In 2012, the Smithsonian took my home under their wing, moving the entire apartment, panel by panel, to their American Art Museum. It has never been just a crocheted room. It is my comment on life, communication, modern relationships, private versus public.
Everything that enters or leaves me will sooner or later become a crocheted work or inspire one. Everyone who enters my life inevitably becomes part of my art.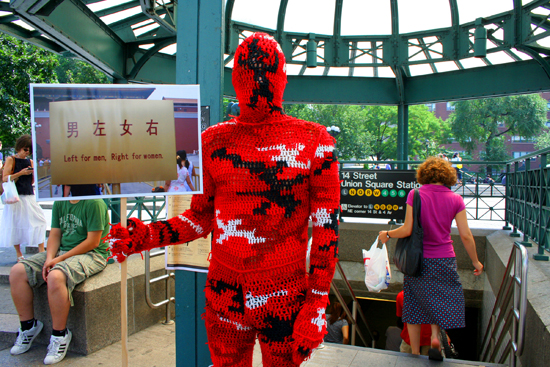 "Thank You for Your Visit, Have a Good Day," 2009

The art is in the response. Not just from those watching, but from those inside the art, when you step inside my crocheted suits. The suits change you. Your vision is limited. You're more exposed, yet you're anonymous. The liberation is intoxicating. You're a free person, but you're confined to my artwork. It changes people. And it affects my relationships. The suits reveal a person's character rather than changing it. A one-time performance is unique, bonding and brings a true joy. Minute-by-minute, it can make a person open up completely. Eventually, some of them, when they feel comfortable in their new skin, become mischievous or flirtatious. Some even quit. This ephemeral experience is always immortalized by the camera and by my hook and yarn.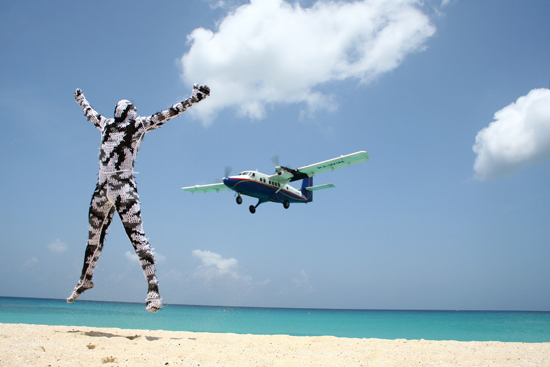 "Catch Me if You Can," 2011

One man told me he was taking me on a vacation, but only if I left my art in my studio. I do anything at least once in my life. So, I tried. I could not handle a day without creating. I felt wasteful. We promptly broke up.
You may try to take Olek away from her art studio, but you cannot take art away from Olek.

-- OLEK
NOTE: I am currently working on my new solo exhibition: "Santa Ágatha, la torera" in DeLimbo Gallery, Sevilla, Spain. It is truly a cathartic experience. Stay tuned for updates.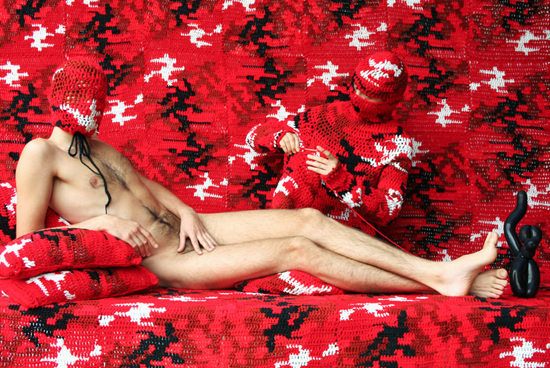 "Olimpius Nr1," 2005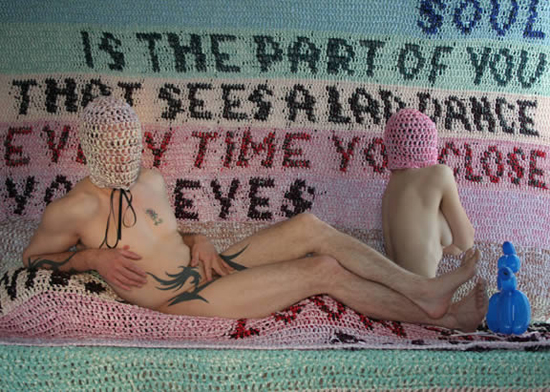 "Olimpius Nr2," 2007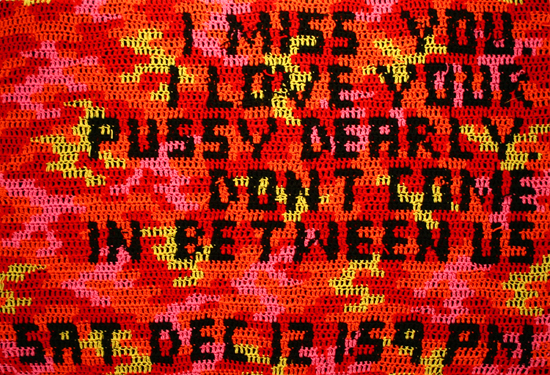 "I Miss You," 2010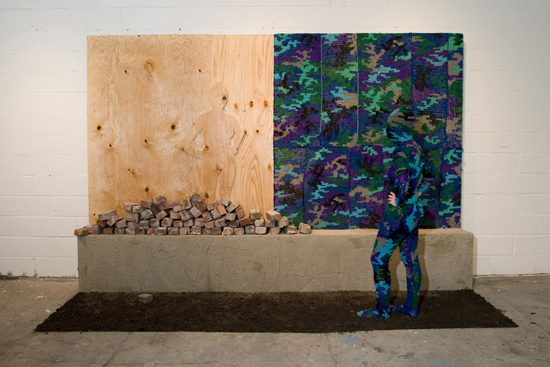 "Taste for Invisible," 2006
REAL LIFE. REAL NEWS. REAL VOICES.
Help us tell more of the stories that matter from voices that too often remain unheard.