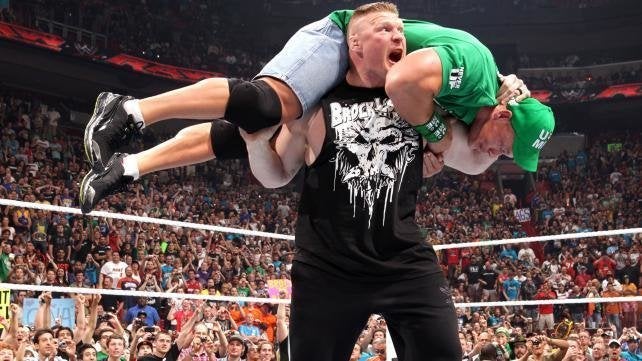 Quick Results
Santino Marella defeated Dolph Ziggler and Jack Swagger in a triple-threat match
Lord Tensai defeated Alex Riley when the ref stopped the match
Mark Henry defeated C.M. Punk by count-out
Kofi Kingston defeated Cody Rhodes
The Miz defeated Zack Ryder

The Good, The Bad & The Ugly: WWE Monday night Raw, April 2, 2012
State of the WWE Universe Address
The entire locker room is gathered for the new permanent Raw and SmackDown General Manager, "Mr. Excitement" John "Johnny Ace" Laurinaitis with, number one croney, "Mr. Jennifer Hudson" David Otunga. Johnny's first order of business is to force Santino to defend his United States Championship against Dolph Ziggler and Jack Swagger in a triple-threat match.
WWE World Champion C.M. Punk interrupts the speech to remind Johnny Ace, that even though he's now in charge, he's "still a toolbox." (Allowing Punk to further solidifiy his coolness with teenage boys everywhere.) Ace decides to book Punk in a title defense tonight against Mark Henry. Ace closes his speech by informing the Universe that we are entering a new era for WWE -- the era of People Power!
In the Arena: The Rock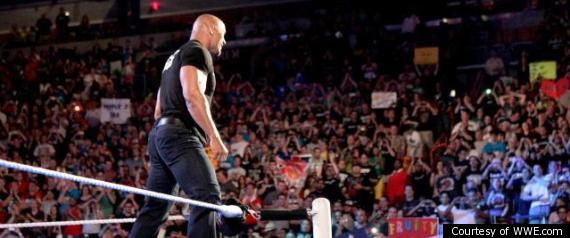 The Miami crowd is thunderous for the victorious mega-star. The Rock says nothing for the first several minutes of his appearance, instead soaking up the crowd's chants of "Boots to A**es" and "You Still Got It." Eventually he lets the WWE Universe know that finally, the Rock is back home. Surprisingly, he thanks John Cena for their WrestleMania main event. He feels it was an honor to compete with Cena in the biggest match of all time and they made history together -- for the fans. And more importantly, he needs to thank the millions (and millions) of... the people.
Rock then jokes about getting cut from the Canadian Football League at the beginning of his career, and the journey it's lead him to at this moment. He assures the fans that this isn't the end. In fact, he guaran-damn-tees that it's just the beginning. The crowd begins chanting "Yes!" (as in Daniel Bryan, more on that later) then "Thank You Rocky."
Rock wraps up his speech with a bombshell: after the match last night, he went salsa dancing (that's not the bombshell) when he had a vision. He will be WWE Champion again. The crowd flips out.
Verdict: Good. The Rock was on fire tonight with an energy not seen since his golden years of the late '90s and early 2000s. His assurance that he will win the world title again creates a wealth of possible scenarios in the next year. Punk vs. Rock? Sheamus vs. Rock? A Cena vs. Rock rematch?
After Rock's speech, we get the first of many hilarious breaking news updates on Cena's condition after losing. His post-WM defeat body language is the best Bradying I've seen since the meme originated.
* Look... I used to live in Boston; I was there for the Red Sox breaking the curse, so I know how joyous it can be for Massachusetts to celebrate a sports victory. But you guys need to lighten up when one of your hometown boys loses. You get so bleak, it's practically Bergman-esque.
Match #1: United States Title Match - Santino Marella (Champion) vs. Dolph Ziggler vs. "The All-American-American" Jack Swagger - Triple Threat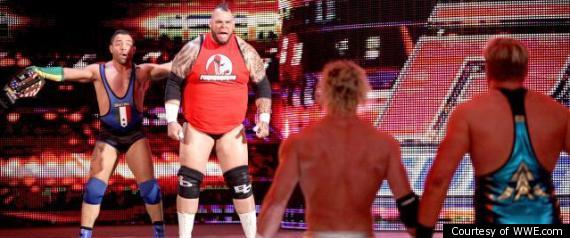 Vickie Guerrero comes out to kill Miami's buzz and introduce her two clients. The three superstars have a lengthy (for TV) match. Ziggler & Swagger take turns beating up the champ and showing off, but the two start fighting over who gets to actually pin him. Santino takes advantage of their bickering and hits the Cobra on Swagger.
After their humiliating defeat, the bad guys chase Santino up the ramp. The champ is cornered and ready to receive a severe beating but he gets rescued at the last second by "The Funkasaurus" Brodus Clay, playing the Adam Baldwin to his Chris Makepeace. Ziggler is feeling froggy and jumps at Clay, but he's taken out by a wicked headbutt. Swagger smartly backs off. With a massive "Funkasaurus" chant breaking out, Santino and Brodus dance, dance, dance!
Verdict: Good. A perfectly acceptable match is energized by the post-fight shenanigans. Clay's first display of heroic aggression was a hoot and the crowd was on fire for it.
Match #2: The Debut of Lord Tensai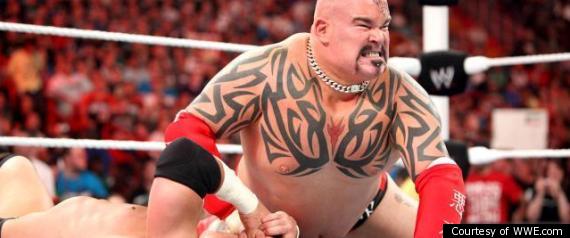 Tensai, is acknowledged as the former A-Train a.k.a. the former Prince Albert. He mired in semi-WWE success but traveled to Japan to master the ways of brutality. Here's a super-short history lesson on Japanese wrestling: It's more sport than soap opera; it's very influenced by MMA; it's where guys learn to safely hit each other for real. Tensai decked out in body tattoos, piercings and Japanese text written on his face, is aided by demented assistant Sakamoto.
Poor Alex Riley is tonight's sacrificial lamb. Commentators emphasize Tenzai's weight of 360 pounds, while he pummels A-Ri. Eventually, the ref rings the bell when Alex Riley can no longer continue.
After the match, Tensai sprays mysterious Asian mist on his hand and attacks Riley again, applying a cranial claw.
Verdict: Good. That was the perfect way to debut a big bad monster wrestler. His samurai-esque clothing and violent offense made an immediate impact.
Match #3: WWE World Title Match - C.M. Punk (Champion) vs. "The World's Strongest Man" Mark Henry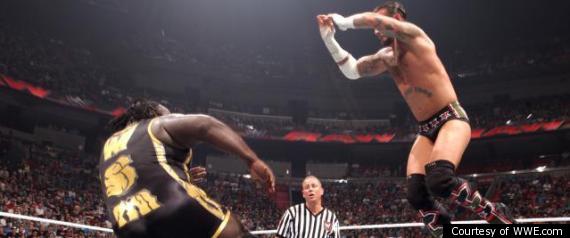 The Miami crowd continues to be the best crowd of the year by chanting "It's Clobberin' Time" in deafening unison with Punk. Not one to be outdone, Mark Henry utters some amazing trash talk in this contest ("I own you"; "You get up when I tell you to get up.")
During this bout, it's apparent that the show is being hijacked by Daniel Bryan's "Yes!" chants; the crowd is using them to motivate Punk anytime he goes on the offense. The champ puts up a fight, but he keeps getting overpowered by Henry. The finish comes when Punk tries for a comeback, but Henry throws him out of the ring. Punk tries to climb back in, but he just doesn't have the strength to answer the ref's ten-count.
Winner By Countout: Mark Henry
Big Mizark is upset that he didn't capture the title -- belts don't change hands on count-outs or disqualifications -- so he exits the ring, picks up Punk and drops him with a World's Strongest Slam on the arena floor. The ref shoos Henry away (way to be effective ref), and Johnny Ace comes out to announce that for the foreseeable future, this will be Punk's schedule. He will be competing in more title defenses on a regular basis, and those defenses will be against tougher opponents. Ace ominously promises that storm clouds are overhead for Punk, and they don't just signify thunderstorms... but natural disasters.
And it doesn't end there! Chris Jericho starts ranting from the crowd -- with his own microphone -- incredulous that this fallen, weakened Punk somehow beat him at WM. Jericho then pulls out a bottle of whiskey; he vowed that the straight-edge Punk would go down the road of alcohol abuse after Jericho was done with him. And with that, he pours whiskey all over Punk's face. Then he warns Punk to be careful or all this alcohol will go "straight to his head" -- then he smashes the bottle over Punk's head. (... oh I get it!)
Verdict: Good. Incredible stuff. What a great season premiere cliff-hanger for the champ; his two former rivals (Ace and Jericho) are back and even more motivated to take him down. And now he's earned the wrath of a re-energized Henry.
Interview in the Ring with New World Heavyweight Champion Sheamus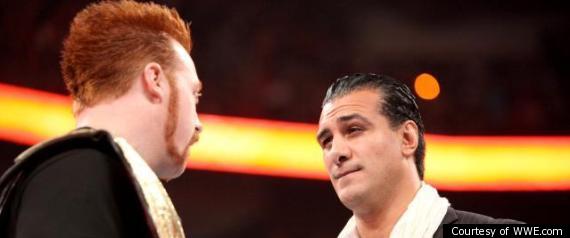 * Here's where the show gets super-interesting. Michael Cole announced Sheamus would give his first interview earlier in the night, but instead they aired the Tensai and Punk matches. Every time they cut to a photo of Sheamus at WM 28, he was greeted with boos. With the abundance of "Yes!" chants all night, it's clear that despite being the bad guy, this Miami crowd favors Daniel Bryan. It's not out of the question to believe producers were scrambling to rewrite this show on the fly to handle the damage control from Sunday's Bryan-Sheamus disaster.
When he enters the arena, "The Great White" is greeted with boos. Before he can say anything, he's interrupted by a returning Alberto Del Rio and the world's greatest, longest ring introduction by Ricardo Rodriguez. The crowd is so anti-Sheamus, they start chanting "Si!" in support of the Mexican Del Rio.
Del Rio announces that Johnny Ace has given him a shot at Sheamus' title, this Friday on SmackDown. The interview continues to be interrupted by "Daniel Bryan" and "We Want Bryan" chants. When Sheamus speaks they switch from "Yes-Yes-Yes" to "No-No-No." Del Rio's mic cuts out; he turns his back on Sheamus to get a new one, and when he returns to face him, he walks into a Brogue Kick.
Backstage: Daniel Bryan Watches Intently
Josh Matthews asks the former champ for comments, but Bryan stares in silence, then walks off.
Verdict: Good. This is what's amazing about live TV. The decision to have an 18-second title match clearly upset the WrestleMania crowd; they came out in full-force tonight to voice their displeasure and turn Daniel Bryan into a folk hero. He is the wrestler that the people paid to see and WWE didn't give the fans what they paid for. Luckily for TV producers, SmackDown is pre-taped, so directors will be able to edit out negative heckles for Sheamus and muffle the "Yes!" chants. The challenge will be next week's Raw or any future Pay-Per-Views; can these crowds get loud enough to demand a more-dominate Daniel Bryan who takes center stage?

Match #4: Cody Rhodes vs. Kofi Kingston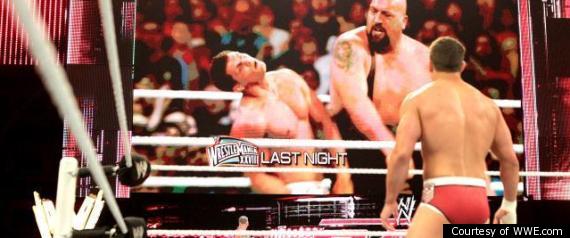 Within a minute of the match, the newly-crowned Intercontinental champion Big Show interrupts. He wants to debut his own video presentation entitled "Cody Rhodes' Most Embarrassing WrestleMania Moments," which replays Cody getting knocked out the night before. Rhodes is fuming and walks into a Trouble in Paradise Kick.
Verdict: Good. On one condition: that's it. The jerk got his comeuppance. He tried to humiliate a giant and he paid for it. If Show proceeds to come out and taunt Cody again on SmackDown, it's redundant and it makes Show look like a bully.
In the Locker Room with Mark Henry
He's fuming about his inability to capture gold tonight, when he is visited by Abraham Washington, a freelance manager making his Raw debut. He hands Henry his business card and offers his managerial services.
In the Arena: Eve Addresses the Crowd
Despite the audience's catcalls, she confidently informs them that her WrestleMania moment was manipulating Zack Ryder. Setting him up to fail was her plan all along and she can get any man to do whatever she wants. In fact, the only man she can't manipulate is Johnny Ace because of his intelligence, confidence and leadership. Michael Cole hilariously compares her "feminist" strategy to Jane Eyre.
Match #5: The Miz vs. "Long Island Iced Z" Zack Ryder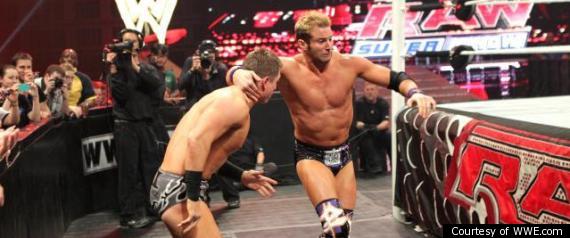 Zack, still burned by Eve's betrayal, charges at Miz like a bull in a china shop. He puts up a heroic underdog effort, but Miz outwrestles him and plants him with the Skull-Crushing Finale.
Verdict: Good. Unlike Cena, Ryder is the perfect underdog character, and totally relatable to wrestling fans; we know a thing or two about striking out with confident women. Now that the deck is stacked against him with a vindictive ex and a jerk boss, he should have a make-or-break spring season ahead of him.
Smackdown Preview
Sheamus has his first defense against Alberto Del Rio.
And a WrestleMania Rematch: Randy Orton vs. Kane. Yawn.
Main Event: John Cena Addresses the Crowd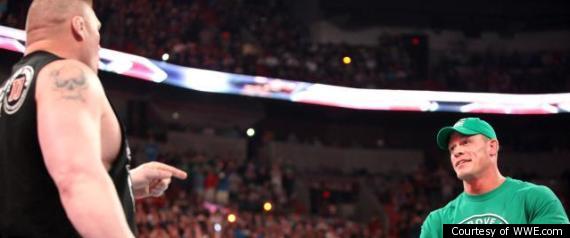 The "underdog" modestly walks out and receives a tidal wave of boos. He solemnly accepts defeat, quotes Muhammad Ali and tries to act humble, but the crowd still gives him hell chanting "You're a Loser."
He tells the crowd that he won't lash out at them and blame them for his his loss; instead he will own up and admit defeat. This somehow earns even more hatred from the crowd; the WWE Universe is tired of John "Ned Flanders" Cena and they want to see him snap. He then acknowledges rapper MGK, sitting in the crowd, and gives him props for his performance at WM. This results in even more boos and now I'm wondering if this is how Cena actually lashes out -- by trolling the WWE Universe with false sincerity.
Finally, Cena reveals he's not going to call out the Rock for a rematch. The crowd responds by chanting "We Want Lesnar" (more on that in a minute). Instead he asks Rock to come out and shake his hand, calling a truce to this war of twitter follower attrition.

He takes a moment to embrace the massive "Yes!" chants and gives a shout-out to Daniel Bryan. Then he returns his attention to the Rock, asking him to come out. However, he's answered by... Brock Lesnar, the former WWE Champion, fresh off a headlining-career in the UFC. The crowd explodes in primal fury; this is the loudest they've been all night and every man in the arena over the age of eighteen is screaming like a Beatles fangirl.
Brock takes a moment to soak it in, then walks into the ring. The two men go to shake hands, but then Brock grabs Cena and hoists him over his shoulders. He drops the advocate of "Hustle-Loyalty-Respect" with the F5. And we're out.
Verdict: Good. I have no idea where this is leading, and that's a good thing. Lesnar was poised to inherit the Hulk Hogan/Steve Austin figurehead position of pro wrestling. Instead he chose to walk away from the "fake" sport and go into the very real world of mixed martial arts (ignoring a brief detour into the NFL). His pro wrestling theatrics earned the ire of hardcore UFC fans, but he made serious money in short-time with his naturally-monstrous athletic build. He's a real-life Beserker, and now he's returned to a WWE landscape that has been taken over by the very saccharine John Cena; his new cred as a legit cage fighter should spice things up immensely. The moment he laid out Cena was like a scene from "Planet of the Apes"; the crowd screeched like a gang of primates recognizing Caesar as their alpha leader after he killed his first human.

Show Verdict: Perfect Show. This was easily the best Raw of 2012 (so far), and might be the best post-WrestleMania Raw... ever. New characters, shocking returns, dramatic plot twists -- it had everything. And now it's got the Rock and Brock Lesnar back in the fold on a regular basis. We can't wait to see what happens next.
The Real Main Eventer: The Miami Crowd. (Runner Up: Daniel Bryan). Every other crowd this year has to live up to Miami's enthusiasm, or else they're going to look like the most joyless, bored squares. They made everything -- Rock's decision to go for the title, Brock's return to wrestling, Cena's stubborn wholesomeness -- ten times better. But the man they made most important, didn't even have a speaking part on the show. Whether they still cheer for him next week or not, I hope Daniel Bryan's "Yes!" becomes wrestling's newest meme.
The Real Curtain Jerker: Sheamus. The poor guy. It's not his fault. The crowd took out all their frustration regarding Bryan's poor WM showing on the new champ. He's not the sole reason they're dissatisfied, but like Cena he represents everything they think is wrong in wrestling.
Next Week: Who knows! Only way to find out is by watching.
Calling all HuffPost superfans!
Sign up for membership to become a founding member and help shape HuffPost's next chapter