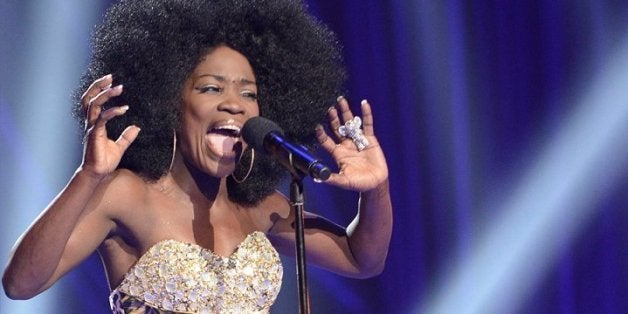 Audiences instantly fell in love with Lillie McCloud, a catsuit-wearing 54-year-old with a stunningly charismatic voice. She delivered a stunning cover of CeCe Winans' "Alabaster Box" during The X Factor's auditions. The spunky grandmother isn't exactly new to the music scene. But after being boxed in as a dance artist decades ago, Lillie admits to retiring her dream in favor of starting a family. "I went up the charts a little in dance music. The labels would never hear me about being a pop or crossover artist." But while raising her kids, a thought stayed with her: "One day, someone's gonna hear me."
Now, McCloud can show audiences the true voice. Her struggles inspired the selection of "Alabaster Box," a song known well by gospel audiences. "I can relate to it spiritually. I've gone through a lot, and I've survived a lot growing up in New York," Lillie explained before adding with a quiet dignity, "I'm a survivor of physical abuse." Despite devastating personal struggles and professional setbacks, this diva just bounces back with even more strength: "Bring it on, I'm ready for the battle!"
Audiences are lucky they got to hear McCloud sing "Alabaster Box" as she almost had to pull out of the competition due to illness. "I was sick. I had borderline pneumonia. I nearly canceled three days before going."
But Lillie powered through to the mainstage audition:
About an hour before I thought I'd go to the bathroom and give it a go, get the phlegm out of my throat. I sang it out and it was great. Then I came back to my boyfriend and daughter with a look on my face.
She told them that after practicing, she feared her weakened voice wouldn't make it through another round of the song.
"I started praying. And about 10 minutes before showtime, this confidence came over me that I've never had in my life," she recalled. The rest is X Factor history. "I believe that you speak things in the universe. If you speak negatively, you get that. If you speak positively, you get that."
The catsuit-wearing singer has been compared to Whitney Houston, a connection she appreciates. "Her music is all positive energy. If you really listen to the words, it's about uniting, love and passion. Even Michael Jackson had some of the same lyrical content."
While her re-introduction to the national stage was through gospel music, McCloud's ambitions lean toward the mainstream. Her message may be spiritual, but she's the first to reject the label of "traditional gospel." Lillie enjoys blurring genre lines,"What I'm trying to achieve is a cross between Mary Mary and Bruno Mars." The versatile singer is aware that some people may find the blend jarring, "I will be doing different types of music, so I know I'm going to get some controversy out there!"
Her X Factor mentor is new judge Kelly Rowland, often considered the successor to disco icon Donna Summer. McCloud gushed over the Destiny's Child alum, "What a diva! She's amazing!" While some contestants prove resistant to mentors, Lillie expresses nothing but grateful humility: "I'm a baby diva and she's the queen diva. I'm going to learn everything I can from this woman."
Despite her powerful delivery, McCloud struggles with nerves. "I have to go to the bathroom about 10 times before I hit the stage. Every time!" Although she mentioned the only time she felt totally at peace was the calm right before performing "Alabaster Box." But she expresses extreme confidence in the X Factor behind-the-scenes coaching, "These guys are professional on the highest level."
McCloud's already begun her homework, learning new techniques,
We work with a vocal coach who taught me how to learn a song in a very short period of time, because usually it takes me a really long time to learn a song.
She was also asked to provide a song list, "I've actually sent them 60 songs."
Audiences will finally see Lillie McCloud perform live on The X Factor in two weeks. With a strong family and budding career as her own artist, she's having the time of her life: "I'm dancing in my shoes. I just can't wait to do this!"
Popular in the Community