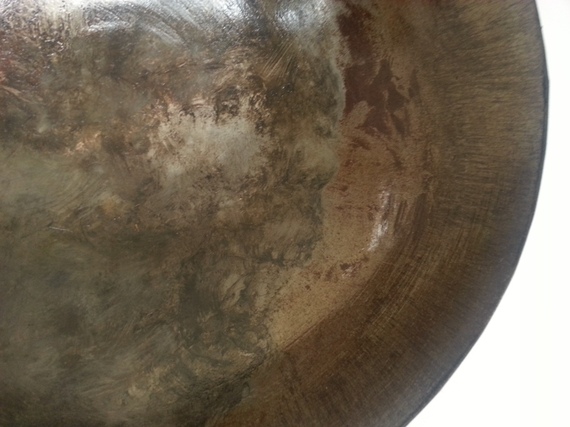 Xingi Hu, from The Remains series (detail), 2010. Hu is a thoughtful, highly-skilled artist in China involved in what might be a new type of cultural revolution. (Photo: Julie Chae)
If you are interested in what's on the minds of the "On/Off" generation of young people in China, check out the paintings and multi-media installations in "Xingyi Hu: Unidentified" (April 23 - May 10, 2015, at Huanting Chen Gallery in One Art Space). Born in 1981, Shanghai-based Hu is among those who grew up in post-reform China with internet access to the world. What about government censorship, you say? It is commonly popular for people to use VPNs to traverse the world of the internet beyond the Chinese government's firewall. Philip Tinari, Director of the Ullens Center for Contemporary Art in Beijing, coined the term "On/Off" to refer to this generation of young people who live with access to both realities. For many, this meant exposure to ideas challenging traditional Chinese beliefs, such as self-sacrifice for the nation. Contrast this value to our emphasis on an individual's right to "life, liberty and the pursuit of happiness." China's opening to the West created for its people both a dawning recognition of individual rights while creating an economic boom with vast changes to the way people live. In abstract paintings and painterly sculptural installations hinting at influences of Anselm Kiefer and Francis Bacon, Hu's art reflects his struggle with these fundamental issues concerning the individual's role in contemporary Chinese society.
It is not necessary to know about this struggle to appreciate Hu's fine paintings and sculptures. Like Zhang Yimou's movies and productions [Hero (2002), Not One Less (1999), 2008 Beijing Olympics Opening Ceremony, etc.], which many enjoy without any thought to their Chinese socio-political implications, Hu's art provides a level of accessibility for viewers familiar with Western art of the last century. The works in this show exhibit both painterly abstract compositions apparently in the Modernist tradition and contemporary multi-media installations incorporating nontraditional materials including site-specific soils and domestic kitchenware. The somber yet beautiful paintings fuse layers of gesso, acrylic, and soil from Shanghai construction sites, which Hu has applied with brushes, as well as flows of dripped and poured water which Hu manipulated by holding and shifting the canvas at different angles. Hu's painting process also includes using a brush or paper napkins to further manipulate or even remove what is on the canvas. Ghostly face-like shapes appear and disappear during the lengthy, multi-layered process and these paintings likewise require time to fully see the images.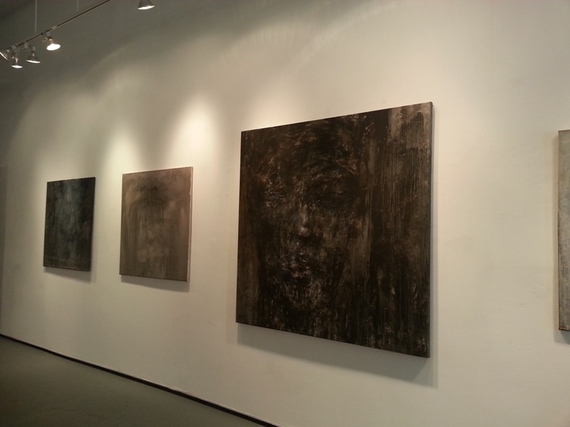 Installation view of "Xingi Hu: Unidentified" at Huanting Chen Gallery in One Art Space, 2015 (Photo: Julie Chae)
These paintings have the uncanny feel of individualized, but anonymous "portraits" hanging throughout the exhibition space. Some of the face-like shapes in the paintings evoke the anguished souls from Francis Bacon, whose art Hu admires. Others are masks of false happiness. They emerge from smoky, murky environments made from layers of acrylic pigment and dirt, a technique similar to Kiefer's paintings with built-up paint, dirt and debris. While the use of these layers in both artists' works refer to obscured truths involving national history and myths, Kiefer's art involves the notion of excavating in to the past. Hu on the other hand uses soil gathered from current countless construction sites in/around his hometown Shanghai to comment on the mired circumstances behind his country's rapid economic development. Do people get lost in all the economic activity? What happened to the people who lived in the old buildings that were destroyed so modern structures could replace them?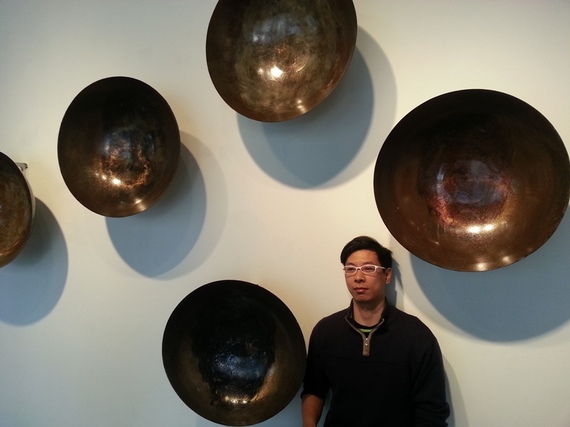 Artist Xingyi Hu with The Remains installation at Huanting Chen Gallery in One Art Space, 2015 (Photo: Julie Chae)
Equally interesting in "Unidentified" are the installations of what look like abstract, circular concave iron sculptures, which are actually made of woks. Hu was seeking new materials to embody and symbolize Chinese culture for his art when he decided to try using his grandmother's wok, the traditional pot for cooking Chinese food. In this series called The Remains, Hu layers oil paint, woodcut print ink, and oil drips/pours, and then leaves these woks to rust in a humid environment to check every three months. When Hu determines the work is complete, he paints the entire wok inside and out with sealant to stop the rusting process. In the painterly surfaces that result are the same ghostly faces that appear and recede in Hu's paintings. These faces or partial faces emerge from or sink into the wok's turbid layers, implying that both the Chinese tradition of individual sacrifice and the current economic boom are swallowing up individual souls instead of providing sustenance and security.
"Xingyi Hu: Unidentified" is on view until May 10, 2015 at Huanting Chen Gallery in One Art Space, 23 Warren St., New York, NY 10007. For more information, see: http://huantingchen.com.
See more images in the slideshow below.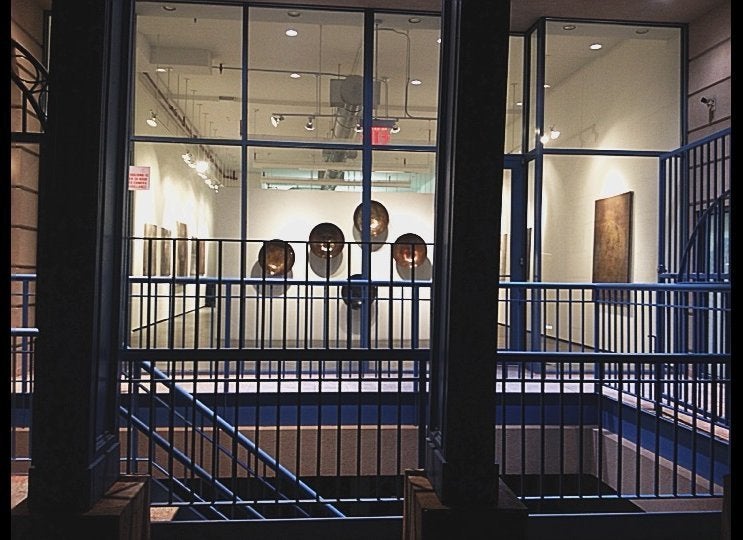 Xingyi Hu: Unidentified
Related
Popular in the Community