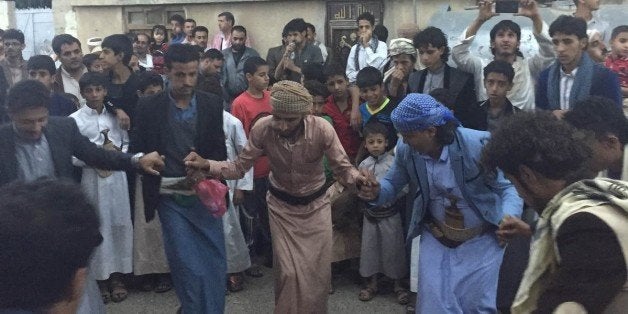 SANA'A, Yemen -- War has brought heartache to many Yemeni families since its outbreak last March. The death toll continues to rise -- the latest figures from the UN show more than 1,500 civilians have been killed in the conflict -- and many more have been wounded.
During the first few months of war, many Yemenis postponed their weddings, out of respect for the grief that had inundated entire villages and cities in Yemen. But with no signs of the conflict letting up, people have decided to continue with their lives as best they can.
Yemenis are known for organizing extravagant weddings. Marked by festive dancing and large banquets, these events usually become a chance to show off in front of extended family members and guests.
The conflict has not stopped Yemenis from organizing wedding parties altogether, but the ceremonies are now forced to take on a new look. Some families have decided to downsize their celebrations, and security concerns have even led some couples to rethink holding night weddings altogether.
Abdallah Alhammadi, a young man from Taiz, had planned a "wedding to be remembered." He invited friends and family from different cities and villages, but his plans completely fell through. He ended up with a silent wedding, with no trace of the bustle he had hoped for.
"The war has taken us back to the days of ignorance. We signed the marriage contract, and after a small celebration with our immediate families, I took my wife straight home. I had no choice," said Alhammadi. "Most of my friends and family have been displaced to other cities and villages. The rest can't wander the perilous streets without being exposed to shelling and sniping operations. So we decided it would be best to have a silent wedding," he said.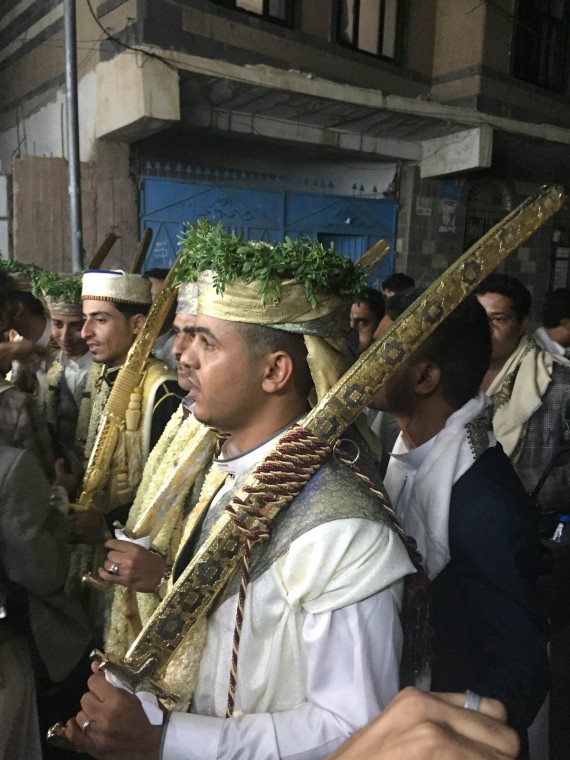 A wedding proceeds in broad daylight.
The Ban On Night Weddings
The war has suppressed night weddings -- which are traditional in the country -- in the majority of Yemen's conflict-ridden provinces. Sana'a residents have significantly scaled down nighttime ceremonies, settling instead for celebrating during the day.
Ashraf Ahmed, a Yemeni newlywed, said he postponed his wedding more than once, hoping for the war to die down. "But it raged on," he said. "Eventually we decided to go through with it, even if it meant sacrificing some of the wedding rituals and the late-night celebrations." A gathering for a wedding in a neighborhood of Sana'a.
"Wedding festivities held in the women's halls used to last until midnight, or at least until 11 p.m. But due to security concerns, they now start at 3 p.m. and last until 6 or 7 p.m. at the latest," said Ahmed.
Another ritual, the newlywed motorcade, has also disappeared from wedding ceremonies. Motorcades used to festively roam the streets at night before arriving at the hotel or the groom's residence, but they've disappeared, along with the fireworks and celebratory car horns.
Celebratory Music Blasted on Mobile Phones and Laptops
The continued lack of electricity in Sana'a and most other Yemeni cities has contributed to the disappearance of another key celebratory form: wedding songs. Such music would blast through the homes of the bride and groom throughout the entire week leading up to the wedding.
"It's not a celebration if music can't be heard throughout the neighborhood," says Mohammad Odaini. "It's what differentiates a wedding from a funeral."
"I for one would not accept to have a wedding with no music. But on his wedding day, my friend decided to celebrate by playing music on his mobile phone and laptop," Odaini continued.
In general, music played in Yemeni wedding varies from folkloric music to Egyptian or other Arabic songs. Different songs are played at different times of the day; more upbeat music is usually played later on in the wedding, to pull guests onto the dance floor.
Couples in Yemen usually plan their honeymoon destination before they pick a color for their bedroom walls, but war has forced them to spend their honeymoons at home.
Yemeni coastal cities, such as Aden, Hodeidah and Socotra Islands are usually the best options for newlyweds on a budget. But the two provinces -- Aden and Hodeidah -- have faced severe clashes and instability, and flights to the Socotra Islands have been suspended. Under the circumstances, newlyweds have been deprived of having the honeymoons of their dreams.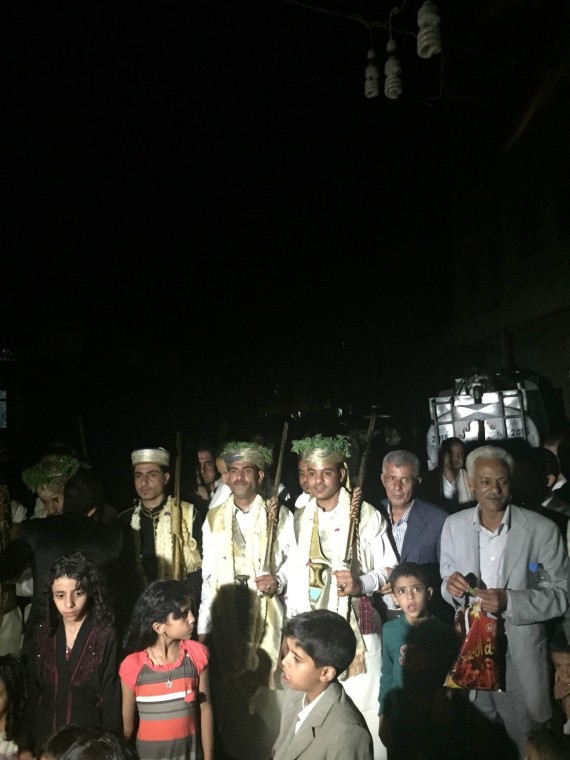 Light for the groom despite a power outage.
"My brother (and his wife) had planned to travel to another Arab country or at least to a coastal Yemeni city for their honeymoon," says Assad Alsharjabi. "But the suspension of flights from the Sana'a airport, and all the instability, forced him to stay at home, and to try to imagine it were a resort of some sort."
Weddings In Displaced Persons Camps
In addition to the drastic changes to wedding rituals in rural and urban Yemen, one wedding took place in a displaced persons camp last week.
A man and woman from Taiz got married at one of the displaced persons camps in Ibb, located in central Yemen. People were surprised the wedding was held in one of Ibb's schools, which had been converted into a camp for those who have fled from Aden and Taiz. According to guests at the ceremony, merchants from Taiz insisted on financing the wedding, and supporting the groom.
Residents have said that while the unique wedding did not manage to lift the veil of sadness from the camp, it did send a strong message, particularly to people calling for dividing the northern and southern parts of Yemen. In the camp, it has been called "the uniting wedding."
All images by Zakaria Al Kamali.
This post first appeared on HuffPost Arabi and was translated into English.
Calling all HuffPost superfans!
Sign up for membership to become a founding member and help shape HuffPost's next chapter