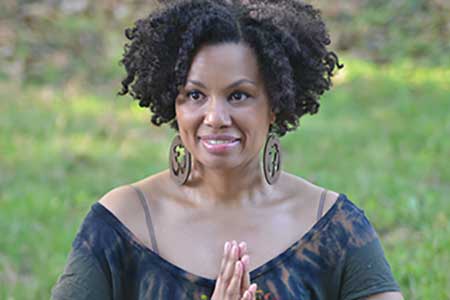 This is an interview with Pamela Stokes Eggleston, a registered 200-hour Pranakriya yoga instructor. She is the founder and CEO of Yoga2Sleep, LLC, an organization that supports the tired, restless, and sleep-deprived through a deep passion for yoga. She is also a Mindful Yoga Therapy for Veterans faculty member; and an ambassador for The Give Back Yoga Foundation. Follow her on Facebook at Yoga2Sleep and on Twitter at @pamsegg and @yoga2sleep.
Rob: What originally motivated you to do this work, and what continues to motivate you?

I started my yoga journey over a decade ago because I wanted a natural way to alleviate stress, strengthen my mind and body, and expand and fortify my spirit. The notion of teaching yoga occurred organically as I strengthened my personal practice and wanted to share more of
myself and my passion for yoga with the people and communities around me.
How, if at all, has that motivation changed over time?
This journey has evolved into so much more. As I struggled with knee issues and sleep deprivation from living with a wounded warrior dealing with PTSD and TBI, I began to look at yoga as more than my spiritual practice and a vehicle for my students. I wanted to use yoga to affect change in the populations I've worked with throughout my professional career: veteran and military families, those incarcerated for abusing drugs, and people living with mental illness.
Is there a standout moment from your work with veterans and military families?
It was the realization that I was part of a military family. My father is an Air Force veteran and my grandfather served in the Army, but it wasn't until my husband was injured in Iraq and began recuperating at Walter Reed Army Medical Center that I understood the significance of this realization, and how it would change my life. I began to work with military families and the organizations supporting them. Additionally, I knew when I completed Mindful Yoga Therapy (MYT) for Veterans training that I wanted to work with this specific population, using my love of yoga. I've had veterans and service members attend my classes, but I hadn't been teaching only veterans. Accordingly, I have been able to take my MYT training and use it with military and veteran spouses and families. I strive to do more with this population in the near future.
What did you know about the population you are working with before you began teaching?
As the spouse of an OIF wounded veteran dealing with PTS and TBI, I know what it's like to live with these challenges, day in and day out. And as his caregiver, I know that many caregivers of veterans and military service members neglect their own care. When a military caregiver or veteran comes into one of my classes, I immediately connect with them on a deeper supportive level. I've been there and I get it.
What were some of the assumptions you had about this population and how have those assumptions changed?
I figured that some military members would not want to hear all of the "light in me sees the divine light in you" narrative that I've used in my studio classes. But many are spiritual seekers and have asked me what that means to me, what namaste stands for, what jai bhagwan means and so forth. So I think it is a good idea never to assume anything, even if you are a part of that population.
What are two distinct ways that your teaching style differs from the way you might teach in a studio, and what are the reasons for these differences?
With my private clients who are spouses/caregivers of veterans, I'm more on the level of, "take care of yourself this way because you need to be strong for your veteran, so be selfish (or self-full as I like to call it) -- put yourself first." I can bring this message in a studio, too, if one of my students expresses an interest in this narrative. It might be that the stressor is not so much being a caregiver or spouse/parent/sibling of a veteran, but that we should all pause to take great care of ourselves, so we can show up fully and completely for those we love and cherish. Veterans and military families have experienced inordinate stressors throughout this past decade. I know through personal experience that their needs are special and different and that my compassion and understanding needs to be as well.
The second way is that I bring my sense of humor and laid-back disposition to my teaching style, and infuse a "we are all in this together" mantra to my classes. I also ask my students to challenge themselves on and off the mat.
What has been the greatest challenge in your teaching experience and what tools have you developed for addressing that challenge?
To constantly return to the tenets of my yoga training to remind myself that every one and every body is different. To that end, all I can do is show up for each and every one of my students and clients 100 percent.
What advice would you give to anyone who is going to teach the veterans (and military families) you work with?
Not to make any assumptions. Thoroughly educate yourself about this diverse population. Don't think that we are all so resilient that we don't need a hand, or that we are so weak and broken that we need a handout. Get trained in teaching yoga to these specific populations with programs like Mindful Yoga Therapy for Veterans. Use your compassion and humility to assist veterans and military families in a tangible, viable way. And then be authentic in your approach.
What are some of your ideas about or hopes for the future of "service yoga" in America in the next decade?
My hope is that service yoga becomes widespread, and that it is taken to heart. I truly believe that yoga can transform our communities, but that those who practice and teach yoga have to hit the streets to make sure this happens. I like the notion of helping underserved populations - those in prisons and jails, folks dealing with substance abuse and mental health issues, and veterans, service members and their families - by showing them that there's a way to import peace and serenity into their lives, no matter how stressful or hopeless or hard life may become.
How has this work changed your definition of service? Your definition of yoga? Your practice?
In the beginning, I just wanted to teach yoga in a studio. But during YTT, I realized that one of the reasons I was there in the first place was because of the transformative role that yoga had played in my life up to that point, and especially during the rough times when my husband was at Walter Reed Army Medical Center. It was certainly this awareness that forced me to look at my teaching career differently, and thus my volunteerism and professional efforts, in a more creative way. My definition of yoga has always had service at its core, but now I believe that as I teach yoga I am serving the communities that I teach in and the populations I teach. My personal yoga practice is definitely stronger. Now when I step onto the mat, I think about the myriad reasons why I have arrived at this place in my yoga journey. It is this continued motivation that inspires me to develop and expand the work that I'm doing.
What other organizations do you admire?
Are you a yoga instructor giving back to underserved populations? E-mail Executive Director Rob Schware if you're interested in being interviewed for this series. Thanks for all that you do in the name of service!
Related
Popular in the Community