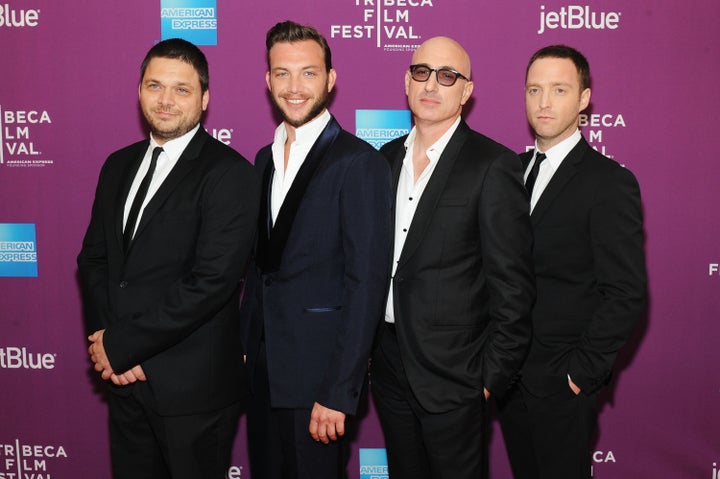 Never mind if you can't get to Cannes. Right here in New York you can catch the surpassingly lovely Yossi by Eytan Fox, opener of the world narrative section at the Tribeca Film Festival. In a sequel of sorts to his 2003 Yossi and Jagger, Fox follows a dead man walking who returns, spiritually and physically, to the living. Living gay in Israel is Fox's prime subject; he filters this tale of rebirth through the emotional journey of a closeted doctor working in Tel Aviv. In Fox's films, especially when touching on the army, Israel comes across as a tough, aggressive, uber masculine culture. What makes Fox so compelling is his ability is to probe the problematic position of gay people in Israeli society, while also mining the subject for delicious comic treatment.
As Yossi, Ohad Knoller returns to the role that won him TFF's Best Actor award in Fox's 2003 tale of two soldiers in love. The film starts slow, proceeding, 'til the exuberant second act, with a deliberate tension-generating pace. Now, like most caffeinated New Yorkers, slow makes me nervous, but there are different kinds of slow: the one that sets you thinking about what to defrost for dinner; and another -- like in Fox's film -- that massages and grips you tight as it builds to dramatic completion.
Perennially sad and a workaholic, Yossi lives and sleeps at the hospital. Not even his close associate (Lior Ashkenazi in a cameo) suspects he's gay, and in one abrasive scene he drags him along, on a rare night out, to a raunchy session with two women in a bar. His nurse, also unaware, hits on him during his regular morning wake-up in the office. During his scant private time Yossi strikes out with an online date, a narcissistic club owner who's amazed the unworldly Yossi has never heard of his club. Like a novelist, Fox consistently uses such telling details to nail -- and in this case deflate -- a character. The date then accuses Yossi of posting an old, more youthful photo and says, "How about going down on me and we'll call it a night?"
Yossi's grim world is wrenched from its groove by the arrival at the hospital of a middle-aged woman patient -- who, it turns out, is the mother of his lover who died in Lebanon. When Yossi is asked if he'd like to see the son's room we're momentarily in the world of Brokeback Mountain. The emotionally charged encounter with the parents is the kick in the ass Yossi needs to leave Tel Aviv on a journey to Sinai. On the desolate roads of southern Israel a chance encounter with a group of roistering soldiers opens new perspectives. In one scene, Fox brilliantly captures a life-altering moment though a meeting of eyes in a rear view mirror. The soldiers' animal spirits and youth form a poignant and amusing contrast with Yossi, who likes Gustav Mahler and sits in a deck chair reading Death in Venice, Thomas Mann's likely autobiographical tale of homoerotic obsession. Whether the ending of Yossi is fable or truth is for the viewer to decide.
Finally, a shout out for Israeli films and actors, as yet still under-appreciated in this country. Consider some of the remarkable films that have lately come from Israel, from Walk on Water (also Eytan Fox), to Waltz With Bashir, to The Band's Visit, to Lebanon (a masterful work that sank like a stone here because key critics received it luke-warmly). Now Harvey Keitel, whom I met at the Vanity Fair party, reports he's just finished wrapping a new movie by Ari Folman (of Waltz) that intriguingly mixes animation and live actors.
Permit me, too, a fan-lady's praise of Israeli actors. In Yossi Knoller gives a remarkable nuanced turn, never over-playing, never setting a foot wrong. A performance of this integrity stays with you long after the credits roll. Another thing about Israeli actors? They're ridiculously hot.
You can catch 'Yossi' at TFF April 21, 23 and 24.
Calling all HuffPost superfans!
Sign up for membership to become a founding member and help shape HuffPost's next chapter