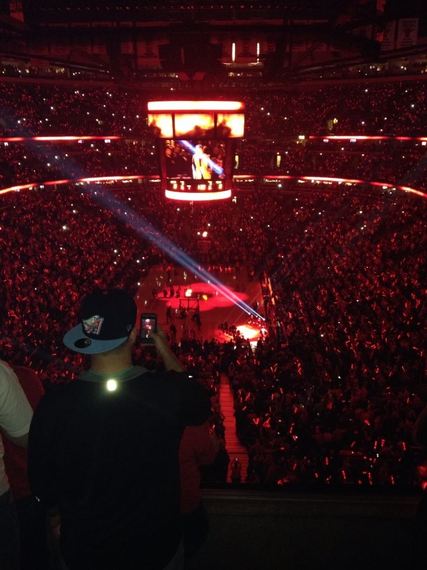 You're sure, getting pushed from behind by annoyed fans juggling beer and greasy cardboard boxes, that this is why kids devote their lives to basketball.
You remember when you were 11 and wouldn't leave your backyard until darkness turned the hoop into a shadow. Back then shooting form didn't matter, like it did when you were 12 and would often miss the rim during games. In your backyard, you could shoot however you wanted and if it went in you would run around and thank your imaginary teammates for helping you win the imaginary championship.
The imaginary crowd always roared when you scored with zeroes on the clock, even if it took ten tries and the clock could magically reset each time.
You had to quiet them down, though, because you had neighbors and were a little embarrassed.
You feel 11 again when you realize you and your friend are the only people that don't have red glow sticks to slap together when they announce the starting line-up. You look down at your beer and want to pout, but don't because this night isn't about you.
This night is about 20,000 screaming fans and their long-absent hero, who's about to come running through the tunnel.
You thought about Jarrin and Ben two days earlier, when the Bulls played the Heat on national television.
You saw the Bulls lose and Derrick Rose struggle. All after seeing the Heat raise a second consecutive banner and lovingly kiss their gaudy championship rings, winner's gold instead of the typical red filling-in the numbers on their backs. You wanted badly for Derrick to score 100 points at halftime. A feeling not much different from how you want Ben and Jarrin to follow Derrick's footsteps and become stars.
You wondered about the difference between faith and naiveté, expectation and pressure, cheering and unprofessionalism.
Late in the fourth quarter, you feel it fading away again, this hope for Derrick to dominate and prove skeptics wrong.
He's shooting poorly, with only 16-points, and has more turnovers than assists.
Up by two, 1:31 left in the fourth, Rose hits that explosive crossover and heads to the paint before getting stripped by Iman Shumpert. Iman grew up in the shadows of the city, in suburban Oak Park. He's a little older than you. You remember having arguments with an ex-girlfriend (also from Oak Park) about whether the suburb was "practically" part of the city, being so close and all.
You said "no" emphatically during those arguments, and you say "absolutely no" now, with Iman dribbling up the court and drawing a foul from Derrick. Bulls are in the bonus and Iman hits both free throws to tie the game at 80.
You feel like a true Chicagoan would have at least missed one.
Then there was Tyson Chandler getting fouled by Jimmy Butler with ten seconds left. You remember when the Bulls drafted Tyson out of high school with the second-overall pick in 2001. When you were 13 with a terrible jump shot, you wanted to rebound and play defense because that's what Tyson did. You also remember the three other high schoolers taken in the top-10 that year: Kwame Brown (Wizards, 1st), Eddy Curry (Bulls, again; 4th), DeSagana Diop (Cavaliers, 8th).
Out of those four players, Tyson is the only one still starting for an NBA team. Curry is playing in China and his Chicago mansion foreclosed last year. The Cavaliers waived Diop before the season started. And Kwame has never averaged more than 11 points, or eight rebounds, during his journeyman career.
You think, as Tyson steps to the line and the crowd boos a person they once cheered, how those players would have turned out if they were groomed in the tough, but nurturing and protective, environments at Simeon Career Academy and Morgan Park High School.
You think...but stop, because Tyson just missed a free throw and the crowd is cheering again.
He makes the second shot, Knicks up by one.
You knew what was going to happen at the end, just like you knew Derrick was going to put up 100-plus against the Heat.
Just like you know Jarrin and Ben are going to have great careers in high school and beyond.
Again, you think about faith, cheering, pressure, naiveté, expectation and unprofessionalism. About how it all makes you love writing about basketball.
You knew what was going to happen, but when Derrick put in that floater over Tyson with 5.7 left and the vibrating sea of red erupted, you tried to act surprised. You jumped up and down, hi-fived your friend, and grinned, walking back to the car, as your Facebook feed erupted in disbelief.
Calling all HuffPost superfans!
Sign up for membership to become a founding member and help shape HuffPost's next chapter