Late last year a friend of mine who's been playing in rock bands since he was a kid (and now has kids of his own), made a startling confession. He said, "I think some of the Jonas Brothers songs actually rock."
I found this disclosure mildly depressing. If my hip, talented friend, with his heretofore well-seasoned taste, could give props to a sanitized, manufactured Disney product like the Jonas Brothers, could the apocalypse be far behind?
But then I went to cover the Inauguration for the Boston Globe and found myself at the Kid's Inaugural Ball watching, yes, the Jonas Brothers. And you know what? They rocked.
No, this is not an endorsement. I didn't become a fan, I just became struck by how seemingly easily a sound I generally like could be totally hijacked, defanged and made tween-friendly. Some Mickey Mouse-eared Svengali out there has his game on.
In a cultural climate where anything approaching cool is immediately copied, co-opted and commercialized, where can one find what's authentic, vital, and real?
In my latest Illustrated Review for the Barnes & Noble Review, I compare Robert Boswell's excellent new short story collection, The Heyday of the Insensitive Bastards, to indie rock.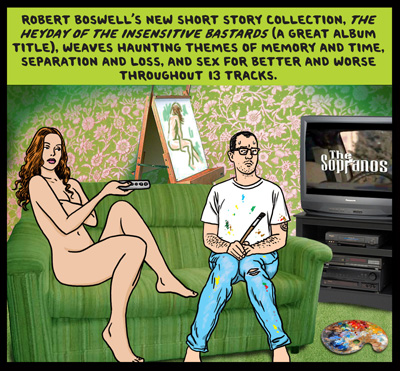 Writer David Carr knows a thing or two about the DIY ethos. In his recent memoir, The Night of the Gun, Carr approached the subject of his own journey from crack addict to New York Times columnist as an investigative reporter. He objectively interviewed former friends and adversaries as though he didn't know his own unseemly past because, due to memory impairment, he often didn't.
At a party to celebrate the paperback release of the book, Carr was asked by the New York Post if he was afraid of his own kids now stumbling upon gritty details of his previous life.
"If you want to hide something from a 20-year-old, put it in a book," Carr replied. He said this jokingly, but his statement makes a point, kids: no one expects you to read -- and that's exactly why you should do it.
Richard Nash ran Soft Skull Press, the literary version of a punk rock label, from 2001-2009. At Book Expo America a few weeks back, Nash spoke on a panel sponsored by the New Yorker touted as, "Publishing's most innovate thinkers talking about what inspires them."
As you may have heard, this year's BEA was chock full of teeth-gnashing over the impending Death of Books. It was like the music industry 20 years ago fretting over the demise of vinyl. But Nash wasn't having any of it.
Nash doesn't compare his departure from Soft Skull as abandoning a sinking ship. Conversely, he says, his move "is actually about my passionate belief in the future of publishing."
He described his vision for "the future of community built around long-form edited narrative texts."
Books, as he sees them, provide the unique opportunity of hearing another's voice in your head for an extended period. When people read the same book, and share that intimate experience, it makes for a great communal happening.
Move over, rock concerts.
One last point: as we are bombarded with texts, twitters, and emails, it is perhaps the most rebellious thing we can do to consciously tune all that out and instead focus on a book.
Like the kid who hears the Beatles for the first time and decides to start a band, it might just inspire you to write your own.
Calling all HuffPost superfans!
Sign up for membership to become a founding member and help shape HuffPost's next chapter