WASHINGTON — Had it not been for a beauty pageant in Russia, an Azerbaijani pop star and a tabloid journalist turned music publicist, Donald Trump Jr. likely wouldn't have ended up in a room with a Kremlin-linked lawyer who he'd expected to fork over damaging information about his father's presidential opponent.
Months before the 2013 Miss Universe pageant in Moscow, then-reality TV star and pageant owner Donald Trump took to Twitter to pose a question to his online fans: "Do you think Putin will be going to The Miss Universe Pageant in November in Moscow - if so, will he become my new best friend?
As The New York Times reported Monday, Russian President Vladimir Putin wasn't in attendance, but the competition "put the Trump family in touch with other people with connections to the Kremlin."
Aras Agalarov, a billionaire Azerbaijani-Russian businessman with ties to Putin, had negotiated to have the Miss Universe pageant at his new concert venue, Crocus City Hall, outside Moscow. At the time, he and Trump were also discussing collaborating on a real estate project in Moscow. Two days after the pageant, Trump tweeted at Agalarov, saying he "had a great weekend" with him and his family and that "TRUMP TOWER-MOSCOW is next."
Later that same month, Agalarov's son, pop star Emin Agalarov, released a new music video featuring Trump and several Miss Universe contestants. At the end of the video, Emin is "brought back to reality by the always tough-talking words of Donald Trump," as described in a YouTube video.
Trump Jr. initially claimed the meeting with Veselnitskaya was to discuss an adoption program for Russian children, as The New York Times reported. The Times subsequently wrote that Trump Jr. had been promised some dirt on Democratic presidential candidate Hillary Clinton.
Trump Jr. has changed his story, issuing a statement Sunday saying he was made to believe the individual "might have information helpful to the campaign."
"Her statements were vague, ambiguous and made no sense," he added. "No details or supporting information was provided or even offered. It quickly became clear that she had no meaningful information."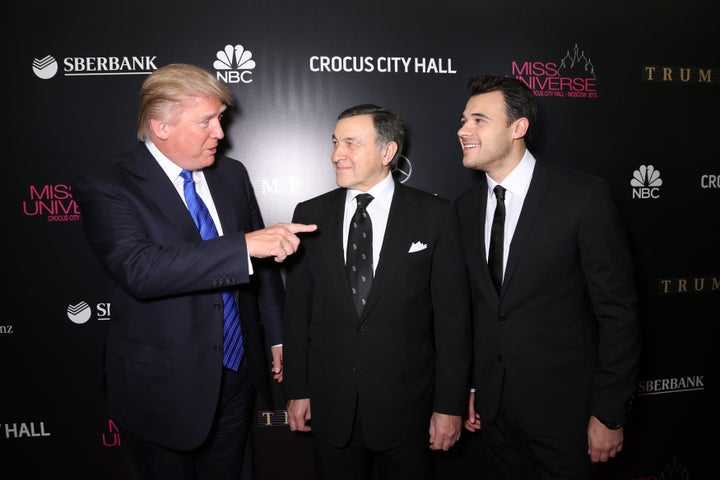 Joining Trump Jr. at the meeting were Trump's then-campaign chairman, Paul Manafort, and his son-in-law, Jared Kushner, now a senior White House adviser.
While several of Trump's allies defended the meeting as normal campaign activity, veterans of several Republican presidential campaigns have said they wouldn't have agreed to such a meeting with a foreign agent.