MONTREAL — Justin Trudeau made history Monday when Canadians handed his Liberals a majority government.
Trudeau, son of Pierre Elliott Trudeau, became the first child of a prime minister to follow in his parent's footsteps. He also became the first leader to guide a party from third place to power in one election.
The Liberals won an astonishing 184 seats — up from 36 when Parliament was dissolved for the election campaign — with 39.5 per cent of the vote.
The Tories will be the official Opposition after receiving 31.9 per cent of popular support and winning 99 seats. The Bloc Québécois won 10 seats, and the Greens were able to get only leader Elizabeth May elected.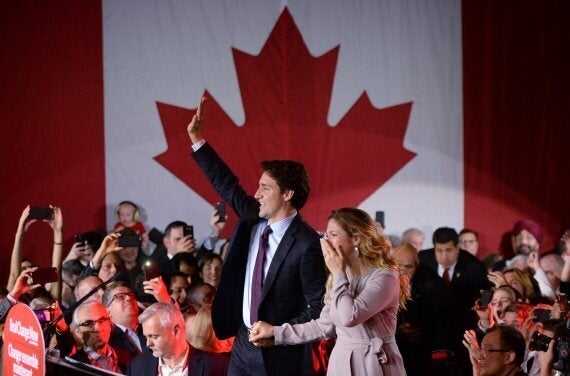 Justin Trudeau waves to the crowd in Montreal on election night, with his wife Sophie Gregoire-Trudeau. (Photo: Canadian Press)
The mood at the Liberal party headquarters in Montreal was jubilant when Trudeau approached the stage for his victory speech around midnight. Two hours earlier, fewer than 100 people in a ballroom at the Fairmont Queen Elizabeth hotel watched the television networks announce Trudeau would be the country's next prime minister. Polls in certain parts of the country were still open.
"Canadians have spoken. You want a government with a vision and an agenda for this country that is positive and ambitious and hopeful," Trudeau told the crowd. "I promise you tonight that I will lead that government."
Liberals had won using an old-fashioned strategy of travelling the country, talking to Canadians, and delivering a platform that addressed their needs, he said.
"We won this election because we listened."
"You are the inspiration for our efforts. You are the reason why we worked so hard to be here tonight, and you will be at the heart of this new government."
Several issues dominated the 78-day campaign — the longest since 1872 — but one that resonated with many Liberal and would-be Liberal supporters was a perceived attack by the Conservative party on the rights of Muslims and naturalized citizens, who feared Bill C-24 meant the federal government would be able to strip them of their Canadian citizenship.
Trudeau promised he would not be a prime minister who would seek to divide Canadians, but rather one who would take every opportunity to bring people together.
"We know in our hearts that this country's unique diversity is a blessing bestowed upon us by previous generations of Canadians. Canadians who stared down prejudice and fought discrimination in all its forms," he said. "We know that our enviable, inclusive society didn't happen by accident and won't continue without effort."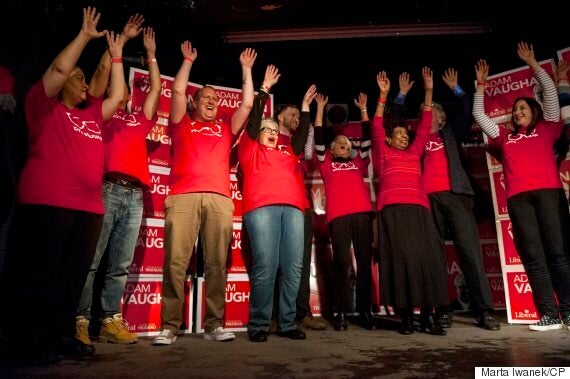 Liberal supporters do the wave on election night in Toronto. (Photo: Canadian Press)
The Liberals' big win marked their return as a powerful political force in Canadian politics after a decade of decline under leaders Stéphane Dion and Michael Ignatieff.
André Lamoureux, a political scientist at the Université du Québec à Montréal, called Monday's election result a spectacular and somewhat unexpected victory for the Liberal party, since polls suggested a minority government at best.
"This is a gain of about 155 seats compared to 2011. It's impressive," he said. "The Liberal party has particularly gotten out of its impasse in Quebec, giving itself a foothold among francophones, which had been its main weakness since the 1980s."
Martin Bergeron, who lives in Quebec City, said he expected Trudeau to win big in the province.
"The Conservatives [are] demonized and the NDP didn't deliver," said Bergeron, 29. Young francophones, he said, don't dislike the Trudeau name as the older generation does.
"We are really influenced by the image here," he said of Trudeau's appeal. "The image of that party [the NDP] died out [when former NDP leader Jack Layton passed away] and that's what happened."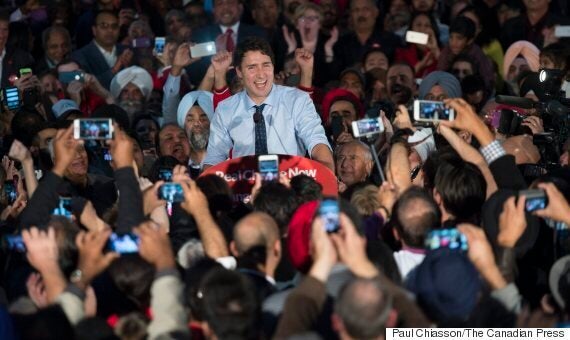 In B.C., the Liberals won a surprising 17 seats, including in some Conservative heartland ridings such as Kelowna and Pitt Meadows—Maple Ridge—Mission.
The Liberals held only 36 seats out of 308 when Parliament was dissolved on Aug. 2 and the election campaign launched. With 30 new seats added to the House of Commons for this election, there were 338 up for grabs.
The Liberal leader ran a nearly flawless campaign. Trudeau campaigned on a promise to cut taxes for the middle class, provide more generous child-care benefits, and spend billions more on infrastructure projects. In order to do that, Trudeau said he would run three deficits of up to $10 billion — the only party leader to pledge not to run a balanced budget.
"Trudeau talked about the issues that mattered to people, especially on the economy, on taxes and the middle class from day one to day 78, and he had a platform to back what he was saying and neither of the two parties or leaders did," senior adviser Gerald Butts told The Huffington Post Canada late Monday. Voters wanted change, and Mulcair didn't offer any solutions to the economy, he said.
"Overall, … Trudeau had a positive vision and a positive message, and people are sick of the negativity and nastiness of the Harper decade," Butts added.
Sébastien Dallaire, Leger's vice-president of public affairs, said the Liberals' decision to "bluntly" talk about running those big deficits was a turning point in the campaign.
Halifax voter Jane Davis told HuffPost last month that Trudeau's "modest" deficit plan got her attention and it was one of the reasons she thought of voting Liberal.
"I feel quite strongly about the idea of stimulating our economy and investing in our much needed infrastructure. It just makes good sense to me," she said. In her Halifax riding, Liberal Andy Fillmore beat popular NDP incumbent Megan Leslie.
"We need that stimulus," Darshan Kang, the Liberal candidate for Calgary Skyview who was elected Monday, said. "Here, we want to put bread and butter on the table for Albertans. We lost 55,000 jobs in Alberta, and people are worried," he told HuffPost after Trudeau's Calgary rally Sunday attended by about 2,000 people.
At his final campaign stop in North Vancouver, Trudeau told another large crowd that his party was the most progressive option in this election.
"This election comes down to this," Trudeau said. "Thomas Mulcair wants you to believe that real change can wait. And Stephen Harper wants you to believe that better just isn't possible. Well, tomorrow, let's prove them both wrong."
It was clear from the campaign trail that Trudeau's Liberals had the momentum. Thousands of people crowded the streets for a glimpse of the Liberal leader, showed up to his rallies, and joined the party as volunteers. The crowds were much smaller for Harper and for Mulcair who, by mid-September, saw his early position as the first-place challenger eroded.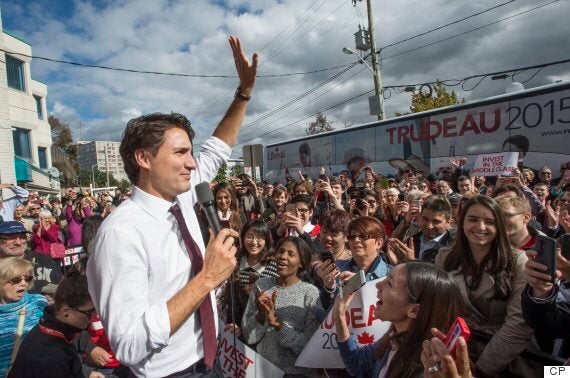 The Liberal leader waves to a large crowd during the last week of campaigning. (Photo: Canadian Press)
But NDP insiders blame one issue for the party's downfall: the niqab. They point fingers of blame at the Conservatives and the Bloc Québécois, who campaigned aggressively on the niqab after the issue bubbled up in the news because of a court of appeal decision.
"It was the turning point during the campaign. Our opponents felt the NDP campaign was going too well,'' declared Karl Bélanger, a senior NDP strategist. The Tories and the Bloc thought they could make gains at the NDP's expense and they reminded voters that the New Democrats were not in favour of banning the unpopular face veil from citizenship ceremonies.
The niqab made Quebecers realize that the NDP did not correspond to their values on certain issues, Conservative Sen. Claude Carignan told HuffPost Saturday, during a Harper rally in Laval, Que.
"In the last election, people didn't know what the NDP stood for; they just voted Jack Layton, they didn't know its politics or its ideology," he said.
Despite losing support across the country, the Tories went from five seats to 12 in Quebec, with strong local candidates and a regional campaign aimed that showing voters that their values were actually Conservative party values. The NDP, which had won 59 seats in Quebec in 2011, won 16 on Monday.
Clearly, however, Quebecers were not that bothered with the niqab. The Liberal party, which was most strongly opposed to the Tories' ban on the veil, won a majority of the seats in the province.
Polls suggest the NDP was declining in support before the niqab debate. What the niqab debate in Quebec did do, however, was push the NDP's national poll numbers downwards and suggest to Canadians who wanted change that the Liberals were the more feasible option for change, said Dallaire.
Did the Tories and NDP underestimate Trudeau?
Bruce Hicks, a visiting fellow at the Glendon School of Public & International Affairs at York University, told HuffPost that Harper made a "miscalculation" in opting for a 11-week campaign.
"I think he thought it gave him a tactical advantage because he had more money and he had official office and he thought the Trans-Pacific Partnership would deliver him a huge bolt in the campaign," Hicks said. "But where it worked against him is that it gave Justin Trudeau and the Liberals sufficient time to overcome the negative campaign ads which suggested that Justin was not ready.
"Those 'not ready' ads created a low expectation which, as Justin grew throughout the campaign, people went back to their original calculation of him, which is that this guy is very charismatic and the Liberals are a party that we have known in power and they are not an unknown quality," he said.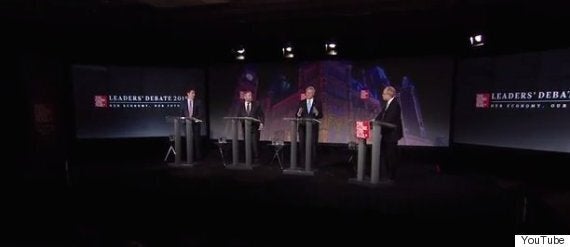 The federal party leaders debate during an event hosted by The Globe and Mail in September.
The campaign also featured, for the first time, five debates, none of which appeared on the major English TV networks. The NDP and the Conservatives had hoped the Liberal leader would show himself to be inexperienced and out of his depth during the debates. Mulcair had previously suggested he would "wipe the floor" with Trudeau in a debate , while Harper's spokesman Kory Teneycke suggested Trudeau would exceed expectations "if he comes on stage with his pants on." Instead, the Liberal leader demonstrated that he very much belonged on stage with the other leaders — not always winning but never embarrassing himself too badly.
"I think Conservatives have consistently underestimated Justin for years and years and years," a senior Liberal said.
Conservatives continued to insist until the last moments of the campaign that the Liberals' appeal had nothing to do Trudeau — and that this was an anti-Harper vote.
"It is not that there is any great love for Trudeau. There isn't," a senior Conservative involved in the campaign told HuffPost. "This campaign has little to do with who he is; it is about who he isn't and who they do not like.
"He is an amateur actor who can memorize talking points...There is no Trudeaumania sweeping the nation."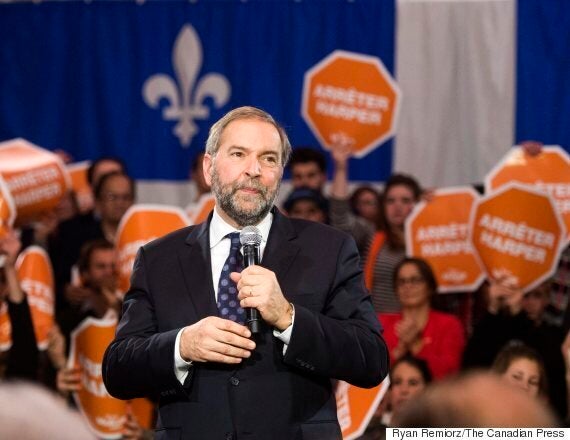 NDP Leader Thomas Mulcair saw support in Quebec erode. (Photo: Canadian Press)
On Monday, Conservative strategist Guy Giorno blamed the collapse of the NDP vote for the Tories' declining fortunes.
A Conservative source told HuffPost the NDP had made a strategic error after Labour Day by moving from a "stop Harper" message to a "ready to govern" message. "People don't want an NDP government. Their support was based on being the strongest anti-Harper choice," the source said.
Meanwhile, the NDP blamed the Tories for choosing an 11-week campaign that caught them by surprise, drained their resources, and made it very difficult for them to run a safe front-runner campaign. Their supporters later griped that media obsessed with national polls were portraying their party as also-rans, and moving strategic voters towards the Liberals. Mulcair insisted up until Monday that his party was still in the race.
The Conservatives, marred by infighting after the Duffy trial in August, sought to flip the channel from the economy to leadership, to security and terrorism and the niqab, back to the economy and trade deals. Then they changed it again to a game-show shtick to demonstrate how much money the Liberals would cost Canadians, to finally, the culmination of a campaign 1,500 supporters showed up to see Harper pose with Canada's best known crack user, former Toronto mayor Rob Ford.
Even Ford Nation enthusiasts could see the Liberal leader had outperformed expectations.
"He … has excelled on stage," said 71-year-old Kay Panchmatia of Etobicoke, Ont. "He's done better as a presenter. He has charisma, which is an attractive quality in leaders and can be very helpful."
Trudeau's largest applause of Monday's victory speech was when he spoke about Canada as a country built by people from different corners of the world who spoke different languages and worshipped different creeds.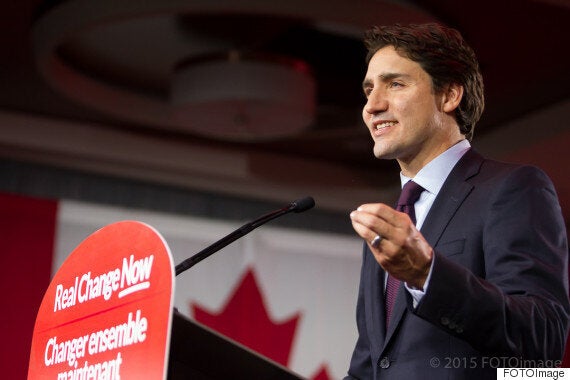 Justin Trudeau addresses the crowd in Montreal on election night.
The debate over the niqab and stripping dual citizens of the citizenship worried a lot of new immigrants.
Gisele Aucoin, a Calgarian at Trudeau's rally Sunday said she thought Harper had misjudged minorities, immigrants and refugees. "I think these people are very sensitive to these types of things, I think he shot himself in the foot," she said.
Fatia Wais, an Edmontonian who came to Canada 20 years ago and wore a bright yellow hijab, said she was voting Liberal after years of supporting the Conservatives because Trudeau made her "comfortable."
"I don't want to feel like I am a second-class because of my religion," she said.
Surrey, B.C. resident Arjan Bhattal, 27, told HuffPost he was attracted to Trudeau's message of inclusion.
"His message is really positive… more human and humane."
-With files from Zi-Ann Lum, Ryan Maloney and the Canadian Press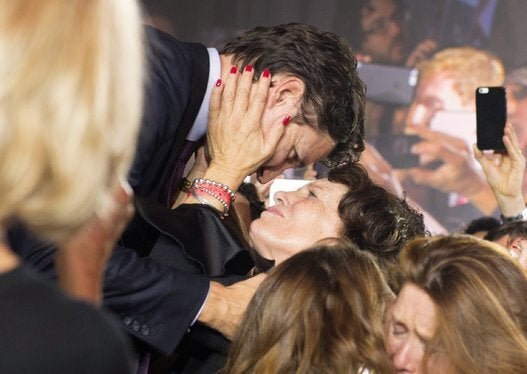 Canada Election Night 2015